Before you pick up your rifle, mount, and scope, hold on, read the handy information I came up with to fix them up yourself or get them fixed by a gunsmith. Here in this article, you'll get to learn how to mount a scope with perfectly vertical crosshairs to get the maximum results.
Nowadays, most rifles come with a pre-drilled facility, and the best option is to find a scope with already tapping or drilling work done from the factory. In addition, it makes mounting the scope easy.
So, before we head to the significant steps for mounting a scope, let's have a look at the tools and accessories you need to collect before you start mounting a scope yourself. 
Need Tools to Mount a Rifle Scope Correctly
Usually, people do not know how to mount a scope at home properly, but today after reading this piece of help, you'll fully be aware of rifle scope installation. The tools you need to make it up with this job are below.
Screwdriver Set
You need to manage a screwdriver set that keeps every type of screwdriver with straight and curved faces. For fixation of various screws, you need them. So, get high quality and solid set of screwdrivers first.
Gun Vise
Gun vise is one of the essential parts of mounting a scope on a rifle or when you clean up your rifle in a daily routine. It grips the gun well and creates a balanced position that allows you to open the screens or fit them up without any snag or movement in the gun's position. 
Laser Bore Sighter
For having the top firearm bore sighting alignment, you need a high-quality laser bore fighter device. It helps the hunter know how much your scope is aligned and can get the target vision. So, do not miss out on this small helpful component.
Reticle Leveling Base
The precision in shots is everyone's wish, but the critical factor that helps you get it is the reticle leveling system. It enables you to balance the reticles and ensure the scope is fully balanced to have an accurate and precise shot. 
So, these are the four indispensable tools that you need to arrange while you decide to mount a scope yourself. And now we'll move forward to the simple steps that will tell you how to mount a scope on a rifle properly.
So, follow the easy Six steps below to become the master of mounting a scope on the gun. 
6 Steps To Mount Scope (Pick Your Gun)
So, first of all, pick your gun up, check it thoroughly and if needed, clean it well. The proper way to mount a scope starts with cleaning the gun, scope, and mount. Then we begin answering the question of how to mount a scope properly.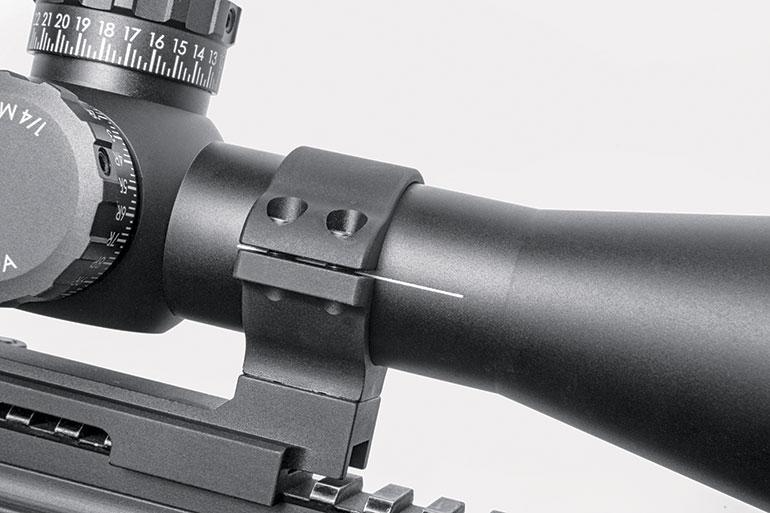 Although it is one of the most over-debated questions about how to attach a scope to a rifle, it's not rocket science at all; all it takes is some steps to follow. And there, you'll get to know how to mount a rifle scope correctly. 
1) Match Rings and Bases
Nowadays, it's not difficult to get a tapped and drilled scope; most scopes keep this feature from the manufacturing point. If you follow the rifle scope mounting instructions below, you will be able to answer how to mount a scope yourself. Match rings height with the scope diameter, and get those that hold a tight grip of scope.
If you are not familiar with how to install a rifle scope or how to mount a rifle scope without drilling, by the time you will reach the end of this manual, you will fully be aware of the mounting process. 
2) Fix Mount Bases
Now, it's time to fix the mount bases unquestionably; there should be no room for flexibility because the gun's recoil can play havoc to your eye or face. To avoid such issues, you should also know how to mount a rifle scope on a tripod. Finally, if you want to read more valuable information, you can consider reading how to zero in a scope.
Whether you want to learn the process of how to mount a rifle scope on a Ruger 1022, or any other gun, the standard benchmark practices are the same for each case. I hope this guide will help you develop a full-fledged understanding of how to mount a rifle scope at home. 
3) Alignment of Reticle
When you have tight the lower half of the rings, now take a position back of the rifle, and fix the upper half tightly. And keep enough room to rotate the scope to adjust the reticle. When it is in the position of the reticle and horizontal, it means you are good to remove the flexibility you left intentionally.
So, if you want to learn how to mount a rifle scope on ar 15 or muzzleloader, the reticle fixation and alignment process are the same for both. Although for having ultra-premium results, you should also know what does moa means on a scope; it helps you understand the significance of why one should know how to mount a scope on an air rifle. 
4) Adjust Proper Eye Relief
If you are serious about how to mount a rifle scope with perfectly vertical crosshairs, you should not ignore the proper eye relief distance. It is the distance between your eye and the initial point of scope share.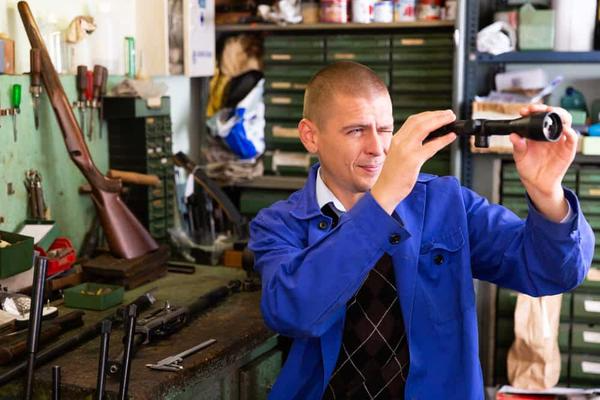 So try to keep it more as comprehensive as you can. Without having a proper eye relief distance, you cannot get the soul mounting procedure. And you will remain curious about how to set up a scope unquestionably. 
5) Check Balance and Tighten Screws
For having proper scope mounting after maintaining appropriate eye relief distance, now it comes to checking the balance of the scope on the gun. Moreover, if you want a good scope mount for m1a, you can consult with the Best M1A Scope Mount. 
The rifle scope installation process is near an end, do not quit, and keep reading; in the end, I'll give you some experts' tips to make the process more fruitful. 
6) Bore Sighting
Bore sighting helps you get the exact hitting point, whether it is perfect or not. If not, you can still customize the settings, and it is how to mount a scope step by step properly. Before you go on the field, you should take 3 to 4 shots on paper and try to assess the variation of each shot.
No matter if you are willing to learn how to mount a rifle scope on a Picatinny rail or how to mount a scope on a rifle without a rail, follow the process above thoroughly. I hope this manual would have helped you know how to mount a scope on a rifle without taking the help of any gunsmith. And I bet this process will get you a scope that will make each shot a sure kill.
And you'll get the highest quality image with clarity and brightness. I wonder why people don't give weightage to learning how to mount a rifle scope; it is way more than worth it.
Some Extra Scope Mounting Tips
The process of mounting a scope is not limited to the points above, but if you follow these sets, you can get a proper mounting for sure. To make it more useful and to make the process easier, you should also take care of things below:
Get a high-quality mount
Arrange all the necessary tools before you start the mounting process
Get a scope and mount that match flawlessly
Do not treat any component roughly or harshly
Check twice and again check the firm grip of mounting of scope on the gun
So, it is how to mount a scope flawlessly and adequately. All these are the key factors that add value to the mounting and make it stronger.