A great rifle with an excellent scope is not enough; there are so many different factors you need to keep in mind to have a perfect shooting or hunting venture. The most underestimated and the most important one is the reticle. Finding the right reticle for your optical device is not children's play.
This article will tell you all about rifle scope reticles, types, applications, outlines, and more. If you do not want yourself to get frustrated with ambiguities and opacities, you need to learn how important is the reticle in getting a perfect shot every time you lock in the target.
There are 12 major types of reticles in the market, and I gathered them all here to tell you what they are all about. To find yourself with a perfect match for your hunting style, you should read this article word for word. So, let's take a look at the table of contents.
Table of Content:
What is Reticle on a Scope?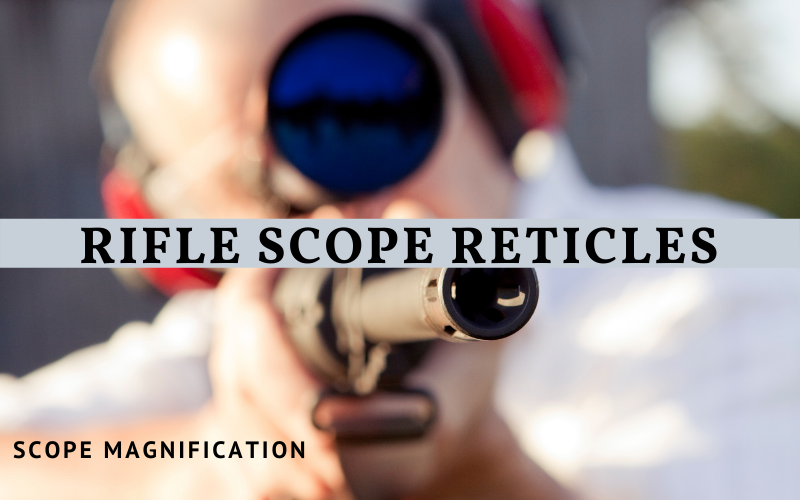 A reticle is a series of lines in the eyepiece or the aiming point in the field of view. It tells you the exact point you need to focus on while hunting. To establish it properly, you can set it on the wall or in the sky and customize it the way you need it. The crosshairs come in two ones that cross each other to help you get the image of the target into focus.
To know all the significant types of rifle scope reticles, let's look at the points below.
12 Different Types of Rifle Scope Reticles
There are various scope reticle types, but I'll explain the 12 most popular and most helpful scope reticle types in this article. If you look at the rifle scope reticle images with the narration I will provide you below; you will surely be able to know the nitty-gritty of all the different rifle scope reticles. So, let's begin the show by grabbing the first one.
1) Illuminated Reticles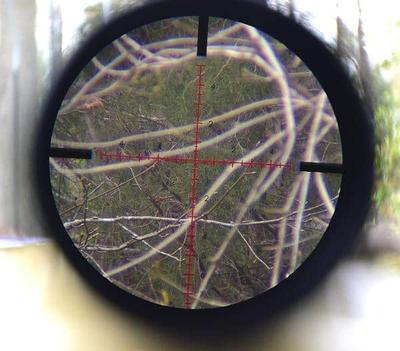 As the name of this reticle shows, it is an illuminated reticle with a handsome amount of lighting to get the max clarity with your vision. It turns the tables in your favor with all the possible help you need in low lighting conditions. So, your style is the primary factor in deciding whether you need illuminated or on illuminated Reticles. 
However, suppose you are looking for the exact target reticles that compensate for low lighting scenarios or dusk and dawn time. In that case, you can go for an illuminated reticle without having any second thought. However, if you want to explore some great optical partners to help you view nature, birds, and animals, you can read the best binoculars for the money. 
2) Non-Illuminated Reticles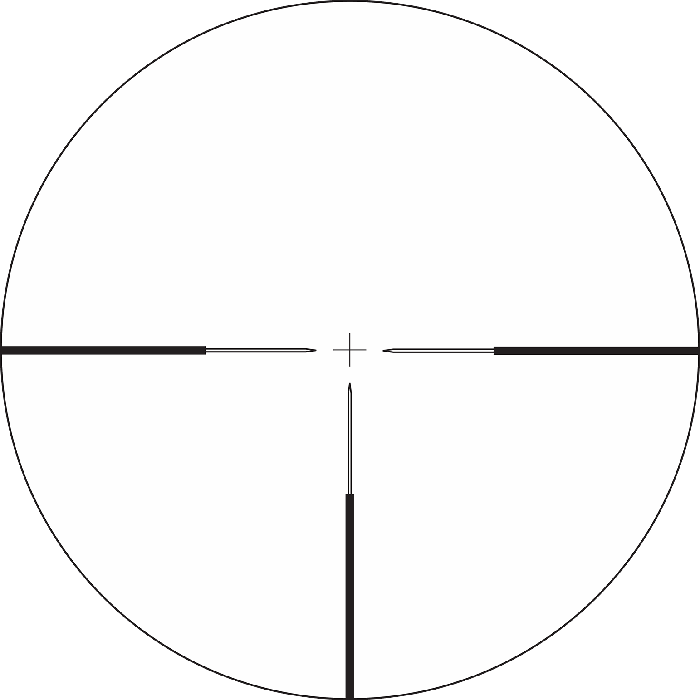 If you are looking for reticles to use in daylight, you have the most acceptable choice to make in the shape of no illuminated reticles. These are the best to provide the ultimate clarity in sunlight, but not in any other lighting condition at all. Unfortunately, these rifle scope reticles have no built-in lighting system to provide your eyes light while hunting.
So, if you need a reticle to compensate for the low lighting conditions, you should avoid buying non-illuminated testicles at any cost. It is terrible to use it in situations other than daylight. 
3) Duplex Reticles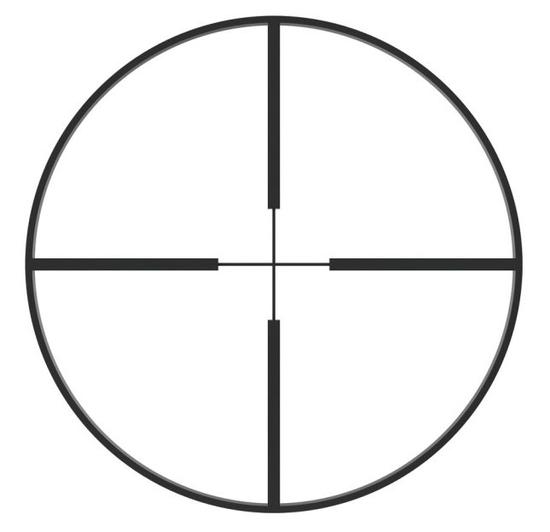 If your target is moving or standing still, the duplex reticle can make it up with either case. Choosing a reticle decides the fate of your target aiming, and it is the improved version of crosshairs. First, the four lines come from different sides but with thicker shapes. Later, when they reach a point of intersection to make you clear the focus point, all lines get thin drastically. 
These rifle scope reticles are the real deal to target the prey with a clear margin, and it is indeed one of the best reticles for most types of shooting. For having a perfect shooting experience, you need to arrange all the components up to the make. Hearing protection is a must for a great and protected shooting; to win one, you can consult with the best hearing protection for shooting. First, however, I hope you are clear about the duplex reticle and how it works.
4) Dot Reticles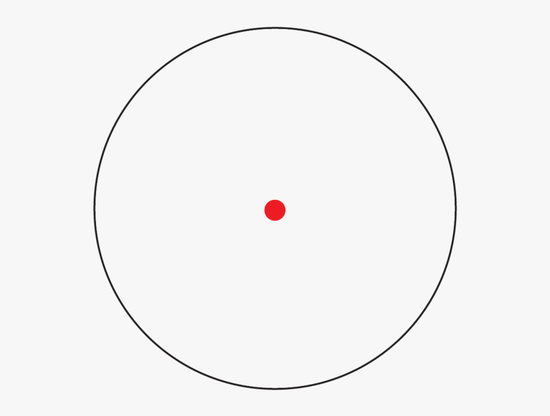 The dot reticle is one of my favorites because of its simple and clear vision. It shows a single dot in the middle of the view and points out the mark you need to target. If you learn about Zeiss rifle scope reticles or any other reticles, you'll find this one the most useful and popular amongst all.
The rifle scopes with dot reticles come in different colors: neon, red, green, blue, and orange. The red dot works to the optimum level by creating a good match with crosshairs, and you get the max clarity of the targeting point without any snags and lags.
5) Crosshairs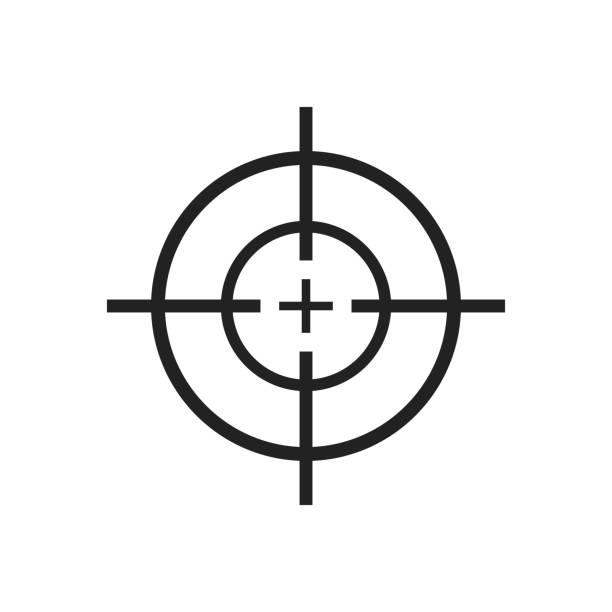 It is one of the most common and most popular rifle scope reticles. In this reticle, to get the target within proper focus, two lines intersect each other at a point, and that's the point that tells the actual focus point. 
These are scope crosshairs with a simple process of getting the target in range. It tells you the exact mark of taking a perfect shot. So, feel free to invest in this super reticle to get the max results in all lighting conditions. There are so many other details that belong to this reticle, and they are based on the design of crosshairs reticles. However, if you want to learn the night vision supporting tools, you can read the Best Night Vision Goggles. 
6) Leupold Reticles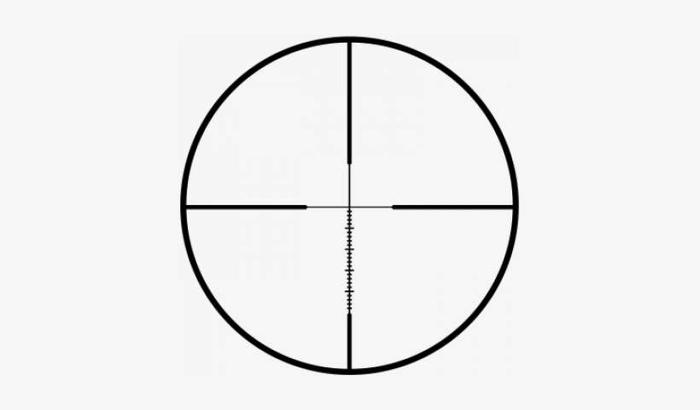 The Leupold scope reticles are one of the most popular ones amongst hunters and shooters around the globe. Leupold is a big name in the optical industry and has been producing great assistance for hunters and shooters for decades. It has crosshairs and comes with numbers and cross marks on the lines.
Vertical and horizontal lines give extra information of distancing of the target, but this information is not so useful for pro shooters and hunters. On the other hand, beginners get a lot of help by reading these numbers, and they can achieve the targeting goals with winning margins. Overall, the dots help you determine the exact distance, and it is the critical element to take a perfect shot.
7) Mil-Dot Reticles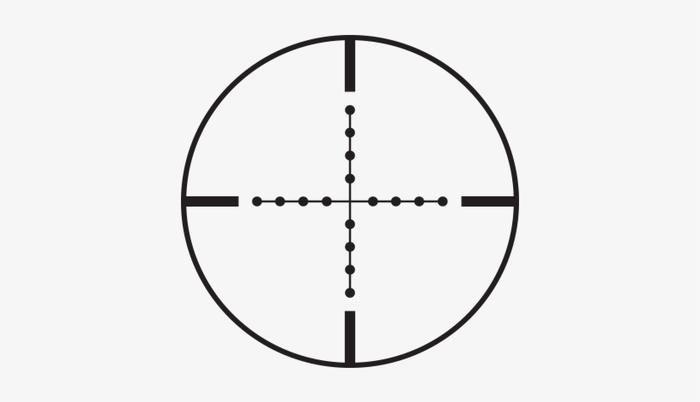 These are very close to crosshairs, and these reticles do not come with lines but dots. The mil-dot reticle scope with matching reticles can do wonders for long-range shooting and hunting. It is the best choice for snipers, shooters, and hunters globally. All the dots share a similar gap that is very useful for hunters to guess the distances and measure them accurately.
It is not suitable for beginners and intermediates but beneficial for pro users. It is a luxury reticle option that takes hunting and shooting to perfection irrespective of the distance. However, if you want to explore some bino options for long-distance viewing, you can read the best zoom binoculars. 
8) Christmas Tree Reticles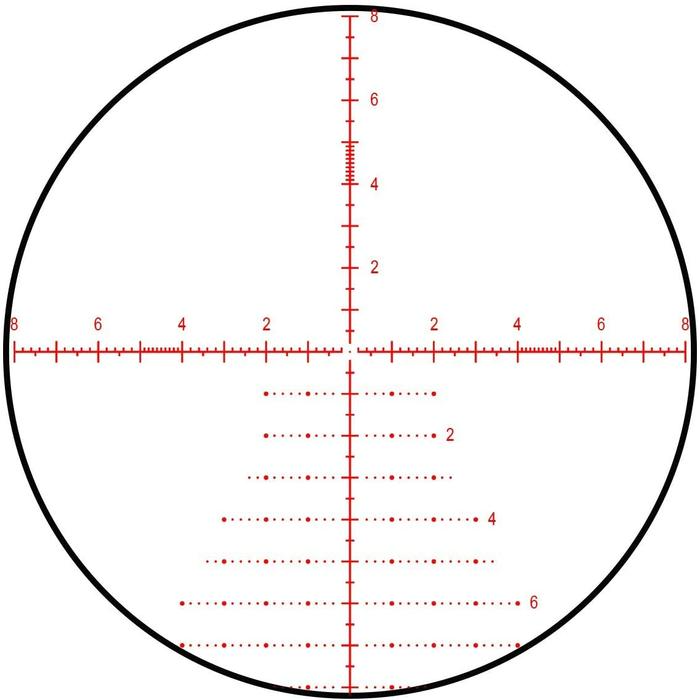 The Christmas tree reticles are based on crosshairs and duplex patterns, and it is the best form of the reticle for military, tactical, and hunting needs. Multiple horizontal lines can mark the targeting point with precision and accuracy. There are different scope reticles styles that you can go for, but it is the one that is good for multiple users.
Whether you use it for military, tactical, hunting, or shooting, it is equally good to make it up with all these uses. The dots appear like a Christmas tree and are very helpful for compensating the wind drifts and rough weather conditions.
9) German No 1 Reticle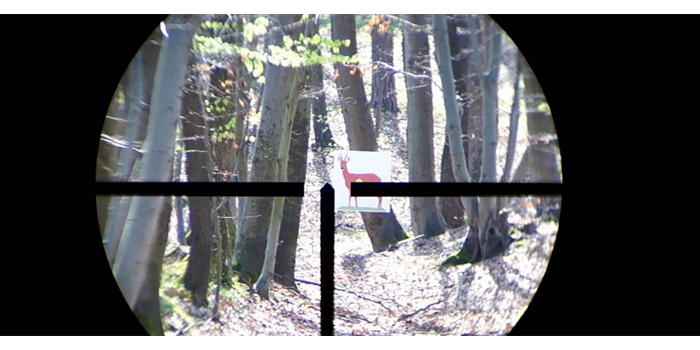 There are multiple German rifle scope reticles available in the market, but the most popular and valuable are German #1 and German #4. The German #1 is the combo of duplex and crosshair patterns. There are no vertical lines but two horizontal lines. One comes from bottom to up and touches the horizontal lines in the center of the view.
So, the middle point that you get with these lines tells you the exact mark to lock in your target with perfection. I hope that I justified rifle scope reticles explained with an unbiased approach. However, if you want to learn about some long-range scopes within a low budget, you can read the best long-range scopes. 
10) German No 4 Reticle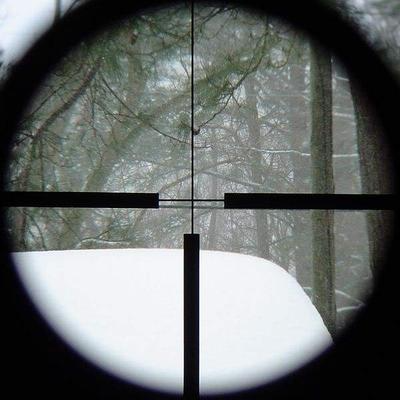 The German No 4 reticle is based on a duplex pattern, and four lines intersect each one in the center, in which the one line from up to down has a thin shape, while the other three are thick. If you are looking for cool reticles with no room for miscalculations, you can rely on them freely. It gets you an exact idea of the mark, and you can lock in the target without making any mistake at all. 
11) BDC Reticle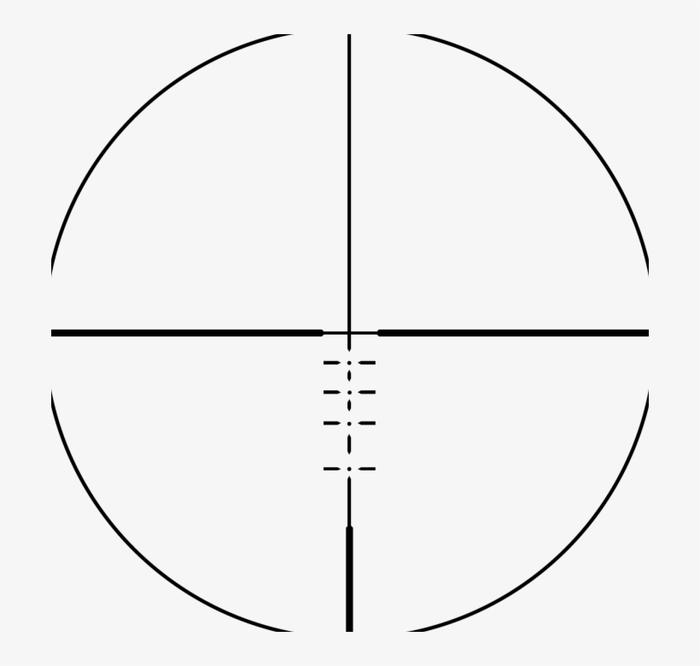 BDC stands for Bullet Drop Compensation, and it is the greatest reticle for long-range shooting and hunting. So if you are looking for rifle scope reticle replacement, you have the most acceptable option in the shape of a BDC reticle. There are two horizontal and two vertical lines in the view, and the starting point is thick, and when they get closer to each other, they get thin. 
It is the best choice to place the bullet right on the mark because it gets you multiple calculation distances, and you need to assess the one that works for you. It is a combo of duplex and crosshair patterns. It also compensates for the vision in wild wind drifts, and when you know your aiming point, it is the ultimate reticle to help you out in the scenario. However, if you want to explore some binos, you can explore the best binoculars for long-distance. 
12) Vortex Reticles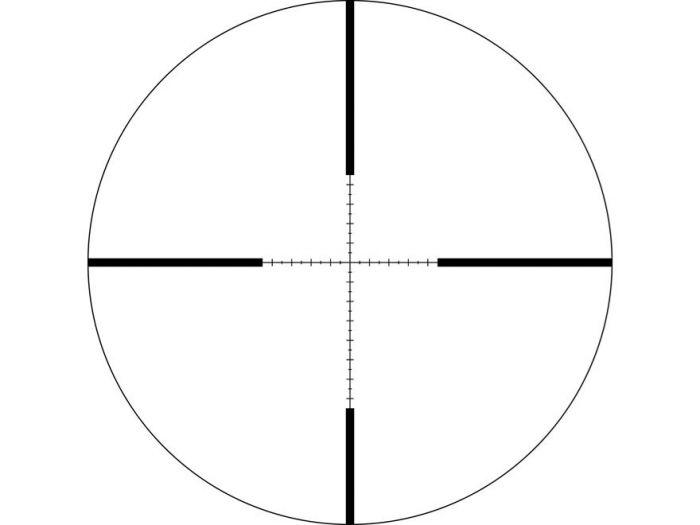 Vortex is a well-known figure when it comes to optical aids. Vortex has introduced so many reticles to help you with all types of hunting, tactical, shooting, and military needs. These rifle scope reticles are super good at accurately estimating the distance. I found vortex scope reticles very neat and valuable. 
However, if you try Swarovski rifle scope reticles, I hope you won't find a vortex reticle on the backfoot. It will lead the hunting and shooting requirements from the front. You do not need any rifle scope reticle repair when you have cortex in your shooting kit.
Moreover, if you know how to read a scope reticle, you can maximize the chances of a perfect shot by 100%. However, if you want to attain the success rate with all the perfection, you also need to be aware of the rifle scope reticle adjustment.