Usually, people think that you cannot sight in a red dot scope without shooting at all, but I know it can be. How you do, matters the most. So, you need to keep the process in mind and follow it to get the desired results; and tell them all nonbelievers that you can sight in without shooting even. 
Here in this article, I tell you all about the best way possible to sight in without shooting and how you can avoid missing your targets and save your rounds, time, and of course, money. I have been in the rifle and scopes field for over a decade now; you can rely on my experiences, findings, and recommendations. 
All you need to do is do the six steps rightly & accurately to find how to sight in a red dot scope without shooting, and the output is already there in your thoughts.
Six Steps for Sighting in a Red Dot Scope 
Most shooters bore their rifles before they shot. It helps them get closer to the target. The steps to follow for bore sighting are given below. If you could make it up with all these six steps, you are good to go for sight in a red dot scope without shooting. Let's try to learn about this one after another.
1) First Learn on Paper
Suppose you are a new shooter and not aware of rifle usage at all. You must have to go through this paperwork process. And if you are an experienced fellow, you can skip this first step and lend to the second direction.
Learning everything on paper means you will have to practice on paper before you go into the field. Firstly, you'll draw the scenario, all the red dots, rifle position, target position, measurement of the distance, shooter's position, and you will do all this on paper.
It helps you select the perfect rifle for your shooting, along with the best optical partner for the particular shooting task. Once you are done with the selection, this process will help you align the rifle in the right direction.
Additionally, it will help you fix the scope without any breakdown or any other misadventure. You will also learn how to improve your eyes to look through the scope and the ideal position you need to take at the shooting time. Finally, it helps you assess the factual activities by not spending a single penny even. 
So, go to your room, grab a piece of paper from the shelf, fix it on a standing board, let's draw all of the things we discussed above. Then, if you feel that you have understood fully, you are good to go for the next step.
And if you are not confident about this yet, tear this paper out, bring a new one, repeat the process, and keep doing this till you understand it fully.
2) Measure the Distance between Shooter and the Target
One of the most critical factors of a successful shooting experience is knowing your target's position. Before you go to oil the trigger, you must know the target's exact location and how much distance you and your target share. Once you learn the positions you and your target are holding, you should measure the distance between you two.
If you are not in good understanding of the distance, you should have. Usually, an experienced shooter must easily hit the target from 100 yards, the minimum for a professional fellow. However, a shooter can cover an area of 250 yards super conveniently.
On the other hand, if you are new to this field and never have used rifles and scopes before, you'll take a couple of days to hit the target within 20 to 30 yards with accuracy. 
On the very first day during practice, you may miss some rounds, but that's ok. It's part of the training process, keep on focusing and try again. Just in few days, you will be ready to take a shot without missing. 
3) Collect Tools for Preparations
When you mount or fix the scope, you often have to collect some folks and other installation accessories for the process, such as mounting plate, knobs, etc. In addition, you should keep a sharp eye on the distance for eye relief.
It plays a vital role in providing you an appropriate vision with utmost clarity. It also helps you save your face, forehead, and your eyes from the recoil of the rifle.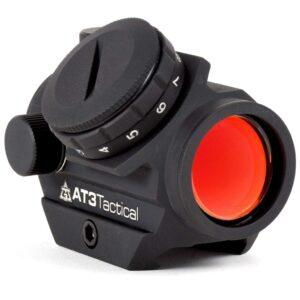 When you push the trigger, the rifle's recoil gets back instantly and can play havoc with your eyes or face. You should take preventive measures; the gun should be empty, not loader at all. At this stage, you need an open space for doing practice. Do practice on a board to get the perfection in the shooting. And keep on doing this till you feel confident enough.
In gathering all the tools, the most important things are mount space and eye relief distance. Therefore, these two should be considered in the first place before you take a shot. 
4) Immoveable Mounting
Before you buy a scope for your rifle, take a detailed look at the mounting space. Is it enough to get it fixed on the gun perfectly? While mounting it, keep the integrity of the scope optimum, and make it immovable in any case. That's how you get a stable and balanced shooting experience, whether short to mid-range or mid to long-range. 
Usually, because of a lack of experience and knowledge, you mount the scope with a bit of variability and flexibility. So, it distracts your shot when you pull the trigger, and suddenly, you miss the target because of movement in scope. So, it would help if you fixed it up with absolute invariability.
If you make sure the mount is fixed unquestionably, and there is no room for further tightness, it means you are good to go for sight in a red dot scope without shooting.
5) Locate the Target
After doing all these four steps thoroughly, the next is to locate the target and then lock in for taking a successful shot. Sometimes, the target continuously moves from one place to another, and that makes you distracted somehow.
Therefore, it would be best if you were focused enough to carry your rifle with the target's movement in a balanced form.
Firstly, try this within 25 yards, not more than that. If you can hit the target within this range, it means you are ready to fly high now. But you will have to do all this with due diligence and hard work.
There is no need to waste the rounds, money, and time in the field; prepare all these tools according to this guide and take the proper position as it fits the scenario.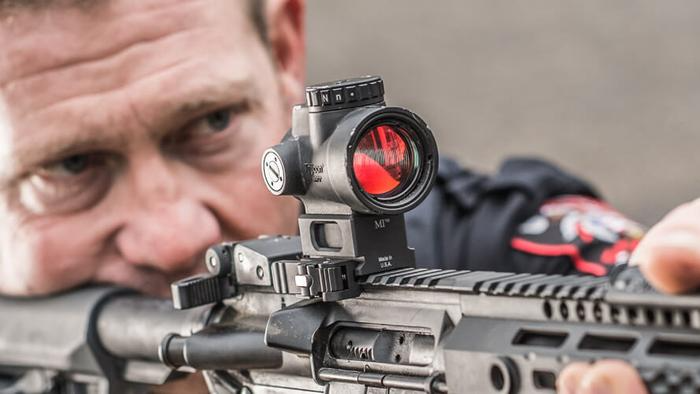 Once you are done with the shooting within 25 to 30 yards, you may go for the next level, 100, 500, 1000 yards, not on the paper, but into the field.
6) Final Thoughts
When you are done with the first five steps, now it's your turn for the final thought to come to mind just before you pull the trigger. You should invest much time in this to get the closest shot, right on the target. Ask yourself, are you confident enough to take down the target successfully? 
If you get "Yes", that's good. And if you got the answer as "No," you need to take things up repeatedly and revise all the steps to diagnose the problematic area. Then, once you are done with it, go for the solution immediately. 
Manage your thoughts, get them in control, and be confident while locking the target. You'll surely get your prey down in a second. 
Does a red dot scope need to be sighted in?
If you bought a red dot scope and have mounted it correctly, it's quite a critical process to sight in the scope for shooting accurately and effectively. But yes, you can do it through the bore sighting process somehow.
Are Red Dot Sights good for beginners?
The red dot scope is perfect for beginners, and it gives extra care to them by providing a quick and short shot. But, of course, it is even more valuable and fruitful for the shooters with a bit of experience. But, in both cases, you can enjoy the best shots with ultimate quickness and sharpness.
How far can a red dot sight work?
The Red dot scopes are best within the range of 100 yards. After this, the accurate and effective shooting depends on the scope's design and the size of the target. If it's big, you can still hit it successfully, but if it is not so, you may have to face missing rounds, your time, and money as well.
Can you see a red dot sight at night?
Yes, they are so excellent at working effectively at night times. One of the best advantages of this scope is that it is fully illuminated, which helps the scope work in dark modes. You can get ultra-clear images at night and in sunny daylight as well.
If you have read all the details mentioned above, you must have learned about the boresight process and how it works? It's challenging to sight in a red dot scope without shooting; it seems to be impossible even. But by following this boresight process, you can get the closest shot you intend to get. I strongly recommend interpreting these points to get yourself an effortless shooting experience with the max success rate. This guide can take you to a new world of shooting and hunting romance if you could make all these points up and implement them in your beginning practice sessions.

Summaries Note On Red Dot Sight