Home decorating is an exciting subject for many, but when it comes to decorating a home with unique ideas, such as using wild animal parts, heads, antlers, teeth, etc., it becomes super fun. Utilizing antlers is another visual treat for adding beauty to your home adornment, and this article will tell you how to mount deer antlers step by step.
First, you need to place the antlers on the wood in an ideal position where it sticks correctly and looks good from angles. Now, it is time to drill holes in the wall through the wood piece and tighten the screws. You need to be careful while attaching the antlers to the wood with screws and treat them with gentle hands, or else you may find them in broken form.
What Does Mount Deer Antlers Mean?
Mounting deer antlers is a process of showcasing the antlers, and it starts with getting antlers to preserve them rightly. If you follow the instructions in this article, you can showcase the size, magnificence, and type of antlers in the right way possible.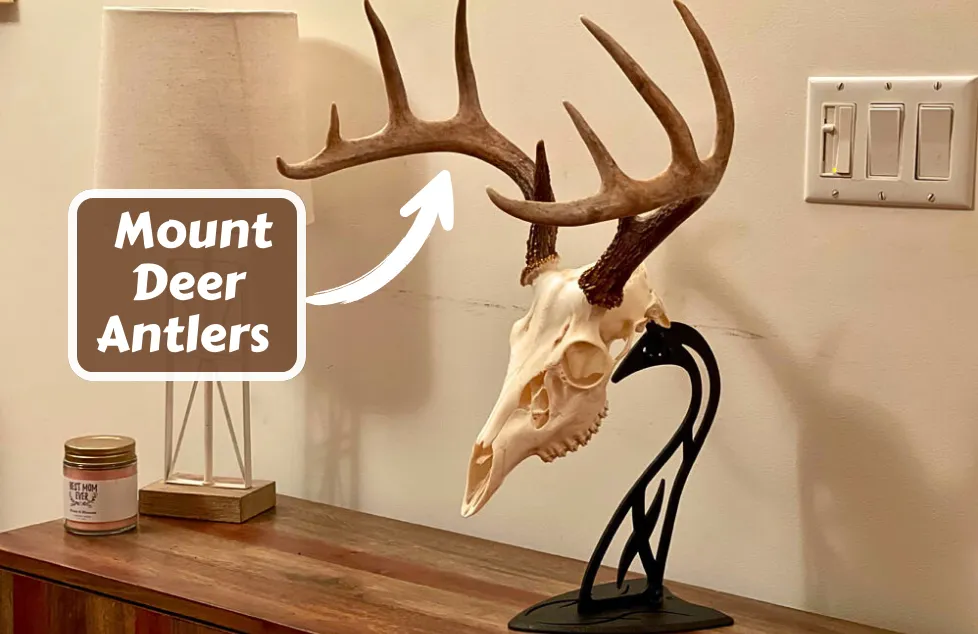 Moreover, if you wonder; how to mount antlers on wood or any other surface? Whether it is a European mount, head plate mount, plaque mount, or any other way, you must be picky about what works best. It would help if you read the article in full.
How to Mount Deer Antlers On A Plaque? 
Let's not be in a hurry and take time to find the best placement, as it is all for adding beauty to your home. When mounting antlers on a plaque, you must remove all the unnecessary tissue and meaty objects from the skull. Now, use wire and screws to attach the antlers to it. For better placement, you can also put some stuff like velvet or any other related fabric.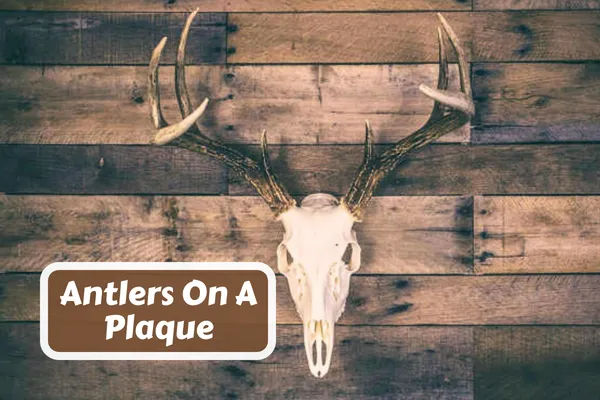 How to Hang Deer Antlers On Wall Step-by-Step?
I have prepared a decent step-by-step manual on hanging deer antlers on the wall, and you don't need to investigate any more pages. Let's take a quick look. 
Prepare Antlers Properly: Before you do anything else, you need to eliminate all the flesh and meaty substance from the skull plate and make sure the antlers are completely clean
Mount the Antlers with Precision: Now you need to get screws and a screwdriver to mount the antlers on a plaque.
Choose the Wall Placement: Now you are ready to mark a place on your desired wall and ensure it is neat and clean from the surroundings. 
Use Marker for Spotting: With the help of a pencil or a marker, draw a line where to wire for hanging antlers.
Final Touch: Now you have come to the final stage; here, you must ensure everything is in its proper place, and nothing is flexible enough to form on the floor during mounting. Moreover, if you wonder how to mount deer antlers with skulls, the procedure is the same as you read above.
Different Types of Mounting Deer Antlers
Wildlife buffs and hunters love to hunt deer not for meat only but to get antlers for the adornment of their homes. There are multiple ways to do the job, but choosing the one that suits your case is tricky. However, I have made it easy for you by gathering everything below. So, if you want to be a pro for how to mount deer antlers with a kit or without it, look at the first heading below.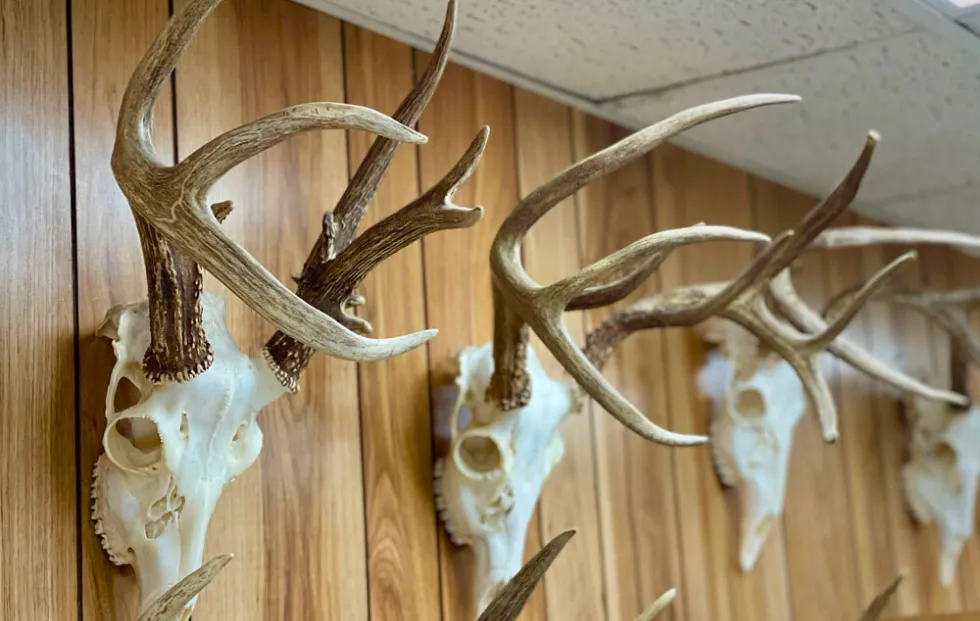 1) European Mounting
Exhibiting deer antlers is a popular way to decorate homes globally, and the European mounting process is the one that rules over hearts. You have to boil the skull first, remove the flesh and make sure the skull is fully sterile. It takes no cost but a few minutes. Once you have done the cleanliness, you can mount it on a plaque by applying glue. It is a super easy and inexpensive way of hanging antlers on the wall.
2) Shoulder Mounting
Another popular way to mount free antlers is shoulder mounting, which asks for fiberglass material that comes in deer's shape to mount the enters on it. It also gives a way to create a head that gives you a straightforward way to put antlers on it. Before you head further, you can also learn how to identify common animal tracks . 
3) Pedestal Mounting
It is another simple and easy-to-approach method that allows you to mount antlers on the ground. You can use wood for the base, and stones and metals can also help you create a solid and attractive base for Mounting. Moreover, screws will help you fasten the antlers firmly. 
4) Skull Hooker Mounting Way
In this method, you can grab a frame and fix it in the skull to mount antlers. It is one of the most modern ways to exhibit deer antlers at offices, homes, and other exotic places. There is a bracket that plays a role in it, and you can make it up of metals. It is an expensive and easy-to-go way to mount deer antlers. Mounting Deer Antlers is full of thrill and a learning process, and if you justify the job well, you get a rewarding outlook with super good looks. 
How do you preserve deer antlers for Mounting?
First, you must efficiently remove all the flesh and meaty objects such as tissues and other stuff from the skull, and then clean the skull with hydrogen peroxide solutions. You will get evasion from deterioration and will get a perfect platform for mounting antlers.
How to mount shed antlers?
You need to arrange a plaque or a board and attach the antlers to create a balanced equation on the plaque. You also need to cover it all with the help of any other ornamental components and ensure it gives a new, unusual outlook with no flexibility in Mounting. 
How to mount deer antlers without skull?
A skull lid with an amounting lot can help you mount deer markers without a skull. The automated kits have the features to reproduce the head shape for antlers, and there is no need to get a whole head for minting purposes.
Mounting deer antlers is a job that asks for some skills and mastery. However, you can do it all yourself if you know the roadmap. Whether you choose European Mounting, pedestal mounting, shoulder mounting, or skull hooker mounting, each has unique features for exhibiting antlers. Let's share your passion for wildlife with a unique and fascinating way of Mounting. It styles your life and enables you to make your way in the community.

Wrap Up