Shotgun is one of the most popular guns, and it is the best for deer, coyote, and turkey hunting. Shooters love to use it in competition, for home defense, and on-the-field hunting. Despite their acceptability, shotguns do not perform well until you get them a reliable optical partner.
Good visual support helps you achieve the impossible, and you get to see the wonders you haven't experienced before on the field. Before you select a scope for your shotgun, do thorough research first. If you are new or have no time to make this thing up, never worry; I'll help you make the right decision with the utmost ease.
In this article, I have added some profound shotgun scopes; all are pre-tested, result-oriented, and the best available in the market. If you go through the details below, you can undoubtedly get the best shotgun scope that will become the apple of your eye once you use it. 
5 Best Shotgun Scopes for Hunting Details
1) Vortex Optics Strike Eagle Second Focal Plane
Second Focal Plane
Designed for Short to Long Range Shots
Huge Magnification Versatility
Zero Resettable Turrets
Single Piece Construction
Price Friendly
2) ATN Thor LT Thermal Shotgun Scope
Ultra-Low Power Consumption
Lightweight for Premium Quality Stability
Easy to Mount
The Advanced Heat Detection Sensor
One-Shot Zero System
3) Steiner T5Xi Tactical Shotgun Scope
Offers the Ultimate Precision
Fully Waterproof
Razor Sharp Clarity
Turrets Covered with Caps
Special Competition Reticle
Throw Lever Facility
4) Leupold VX-6HD 4-24x52mm Side Focus Scope
Lightweight with Rugged performance
Twilight Max Light Management System
Ideal for Low Light-Illuminated Reticle
Vast Magnifier Power for Long Range
100% Fog, Shock, and Waterproof
5) Match PRO 6-24X50 Shotgun Hunting Scope
Tool-Less Locking Turrets
Illumination 6 On/Off Settings
Max Adjustable Parallax for Accuracy
EXO Barrier for Protection
First Focal Plane for Precise Performance
Fully Multi-Coated Optics
Usually, shotguns are misunderstood as not needing a scope for aiming, but this is a misconception. On the contrary, the gun can do wonders with the help of an excellent scope companion. Nowadays, a great scope can open up a bank of opportunities for the shooter.
So, stick to this article to the last word, and you'll find a whole new world of shooting and hunting shots is waiting for you. So, let's keep it straight and know about the optics you are looking for. 
1) Vortex Optics Strike Eagle SFP Best Cheap Shotgun Scope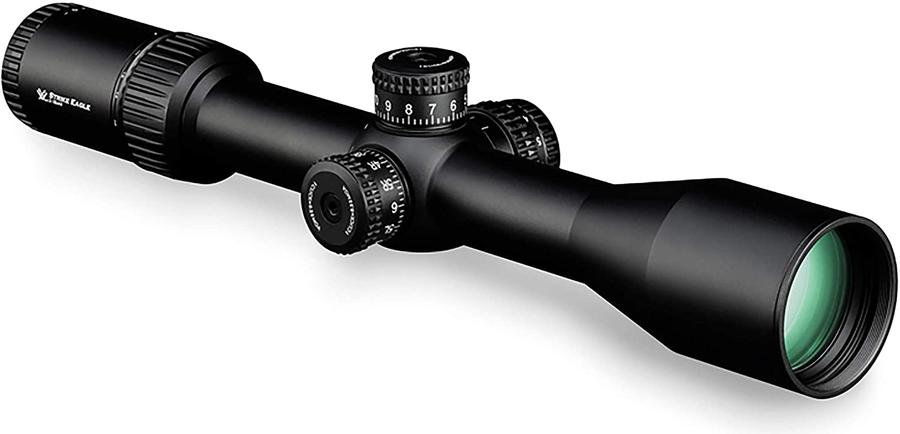 | | |
| --- | --- |
| Model | 4-24×50 |
| Objective lens diameter | 50 mm |
| Adjustment graduation | ¼ MOA |
| Max elevation adjustment | 80 MOA |
| MAX windage adjustment | 80 MOA |
| Parallax setting | 20 yards to infinity |
| Material | Aluminum |
It is the best shotgun optical aid for turkey hunting especially and comes with a second focal valuable plane for a fixed view every time you use the scope. Its precise rock-solid building gives an ultra-strength to the scope's body and ensures accuracy and stability to the max level.
Moreover, the respectable turrets allow the shooter to adjust the windage and elevation to fit the scenario. So what else do you get in this best shotgun scope for turkey? Do read the pieces below.
Second Focal Plane
The target's image grows or diminishes when you adjust the magnification, but the reticle remains the same. It is the best equation for those shooters who aim to shoot or hunt in low lighting conditions. You get extra support for the compensation of the lighting needs, and it enhances the crisp and clear target visibility by a significant margin.
Extra Strong Fully Multi-Coated Lens
The lenses of this best cheap shotgun scope are extra protected with fully multi-coated layers of aluminum. It makes the scope for shotguns an ideal optical friend. It keeps the security protocols higher and leaves no stone unturned to make the scope lens and other glasses safe from potential threats.
Of course, the more your lens is safe, the more you can get the clarity of the target. The best scope for 223 also provides you with a variety of scopes that carries the feature generously. 
Huge Magnification Versatility
The Vortex Optics Strike Eagle SFP comes with a vast 24x power magnifier. It allows you to close the image of the animal 24 times nearer to its actual distance. And this is a fair enough magnification power to lock in the target successfully from long ranges. So, keep the standard high, and give your shotgun a chance to get your desired meal today.
Single Piece Construction
The single-piece building gives enormous strength and ensures the integrity of the shots. No matter the weather conditions and how rough it is, the vortex shotgun scope can survive every punishment effortlessly. And it doesn't make you feel any distraction or disturbance while locking in the prey. So, invest in scope rationally, choose the one that complies with your wish list the most.
Price Friendly
No one can deny the importance of pricing while buying a product. And the same goes for the best shotgun scope purchase. Luckily, this Virtex model comes with great monetary benefits and saves your pocket from undue profiting. Moreover, it amazes you immensely when you look at its first-class and the best aiding traits. 
Make Buying Decision
If you are looking for a shotgun with an 8x scope within budget and want all the quality underlines, you are good to go for the scope. It offers some excellent and diverse adding touches that no other scope offers in this pricing range.
In addition, it makes your vision visibility crystal clear, allows you to set the rifle to zero with the help of respectable turrets. So, value your shotgun by bestowing it a reliable optical partner.
2) ATN Thor LT Thermal Best Shotgun Scope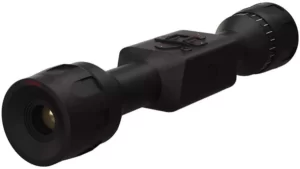 | | |
| --- | --- |
| Material | Aluminum alloy |
| Sensor | 160 x 120 px/17 µm 60 Hz; 32 |
| Field of view | 11×8.3 |
| Core | ATN Obsidian Core LT |
| Eye relief | 90 mm |
| Reticle | Multiple patterns |
| 3D accelerometer | Yes |
The price of this ATN Thor LT Thermal is probably not feasible for some shooters, but believe me, it's pretty fair if we look at its best and world-class features. It gives you tons more than you invest in it.
No matter what weather condition you are using, it provides equally unbeatable and entirely crystal clear target imaging performance. It is one of the classics amongst American shooters. Please go through the detailed features below to know it deeply.
Ultra-Low Power Consumption
The scope can detect the animal from a considerable distance through its heat. And it doesn't require any extra light to see it through fog and dark environments. You get the ultra quality picture with the minor power consumption, and once you charge it fully, it can go a long way consecutively, without a break.
It gives you more than 10+ hours of performance in one go. You can also have this distinct plus aiding trait by having a scope from the Best Scope for 17 HMR. It will make you knowledgeable about the scopes, features, outlines, and more.   
Lightweight for Premium Quality Stability
It is probably the most helpful feature a scope can offer to you. The more you keep a sharp eye on the light of the weight and keep it within limits, the higher you can get the stability of the shots. And without stability, there is no reflectivity of shooting you can enjoy. You need to have a lightweight scope such as this great shotgun tactical scope to get it generously.
Easy to Mount System
30 mm gets you zero rifle scope while adjusting it on the mount. It is so easy to mount, as there is just one single piece, you need to pick it up, and all the mounting process needs no extra tools and fixing appliances. And the same goes for the detaching process of the scope.
So, save your time, and enjoy the quick target acquisition. To get a reliable and durable mount, you can go through the best SKS scope mount. It contains a wide variety of scopes and the process of how to mount a range perfectly. 
Advanced Heat Detection Sensor
This worldly and distinct feature allows the shooter to see the animal, your prey, with the help of its heating detection. So whether you are aiming for hunting in fog, low light, or any other weather extremity, this super exclusive feature in this best shotgun scope helps you detect the target unequivocally. 
One-Shot Zero System
You are good to go for this super shotgun red dot scope to save your time. All you have to do is to set the zero reticles on your first pint, and there you go for the perfect shot.
So lock your target in and pull the trigger confidently; the coyote will be on your dining table tonight. It also introduces the new skills for a perfect shooting venture; give it a try and see yourself what it gives you. 
Make Decision To Buy
This best 20 gauge shotgun scope is probably one of the most suitable options you can go to attain a quality. It provides you maximum battery timing and a heat detection sensor for abnormal weather conditions that helps you gauge the target location accurately. Moreover, it is so easy to mount to save you plenty of time for enjoying the hunting genuinely.
3) Steiner T5Xi Tactical Budget Shotgun Scope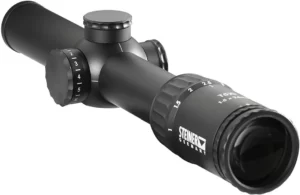 | | |
| --- | --- |
| Sport type | Hunting |
| Material | Aluminum |
| The objective lens diameter | 50 mm |
| Finish | Matte black |
| Main tube diameter | 30 mm |
| Type of focal plane | 2nd |
| Magnification | 1 to 5x |
Steiner is a name not new to the scopes world. It's been a long time since the Steiner produced some excellent optical devices to add value to shooting and hunting ventures. If we look at this model T5Xi tactical budget shotgun scope, it is one of the market's best and finest visual products. I have used it myself, and it performed beyond my expectations. 
Offers the Ultimate Precision
Its unique cutting edges design, with sharp clarity, makes it a perfect and best shotgun scope. It is a pride of American shooters because of its incredible precision. If you aim to have a 100% accuracy provider scope, you can freely go for this one. German engineering and US-Based construction create a magical equation to make it the first choice of millions of users. 
Fully Waterproof
Its argon purged technology provides the ultimate moisture and water elimination. Usually, shooters have to face water and moisture that can damage the lens and other glass surfaces poorly, but you get rid of this issue by having this super-protected sighting aid.
In addition, it keeps the lens dry and readily available for use 24/7. So in any situation you put it in, you will feel it is equally suitable for all the conditions. 
You can have some more options for enjoying this super aiding trait; for doing so, click on the Best Muzzleloader Scope or the best Scope for AR 15. Both keep a vast collection of the finest and most reliable optical devices within budget. 
Razor Sharp Clarity
The first-class engineering and best quality material make the clarity unbeatable. Steiner carefully adds all the finishing touches, polishes the lenses well, and beige launches the scope for use; it conducts world-class tests to assess the strength of the features. These checks make it the super best device for ultra clarity and a sharp picture of the targets. 
Special Competition Reticle
This scope comes with a tremendous extended illumination area to adjust the windage and elevation as the situation demands. It is designed for precise shooting performance, backed by a unique competition reticle (SCR). It also increases the strength of the scope's body limitlessly, and you get the perfect shooting opportunities you have ever had so far. 
Throw Lever Facility
It is the new and latest feature for adjusting the magnification quickly and sharply. When a shooter locks in the target and suddenly a weather glitch or any other disturbance occurs, the vision of the target gets blurred. There you need a sharp and crisp setting for changing the magnification range. It enhances the success ratio of shooting to a great extent.
Make Buying Decision
If you want a person who likes change and the latest technological aids, you can try this super updated and fully equipped scope for the perfect hunting endeavors. It is a reliable and durable optical partner for your shotgun.
I call it the apple of shotgun's eye, and it is indeed. So, to enjoy new experiences and to have exceptional hunting adventures, you are good to go for this great shotgun tactical scope. 
4) Leupold VX-6HD 4-24x52mm Best Shotgun Scope for Deer Hunting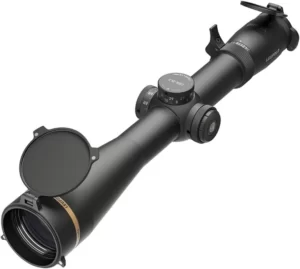 | | |
| --- | --- |
| Material | Aluminum |
| Objective lens Diameter | 50 mm |
| Finish | Matte black |
| Focal plane | Second |
| Max Adjustment for elevation | 75 MOA |
| Max Adjustment for windage | 75 MOA |
| Eye relief | 3.8 inches |
Leupold is a significant and prominent name in the field of scopes. It has introduced some excellent sighting equipment for the shooters' world. If you seek a severe optical partner for your shotgun, you landed just on the right page. Here you will get a diverse range of best shotgun scope for deer hunting to take your shooting to new pinnacles. So, let's get straight to the features one after another. 
Lightweight with Rugged Performance 
Lightweight traits always count in the primary attributes of great scope. It keeps your stability higher and allows you to move the scope as the target moves. And this movement goes so smoothly that you do not even feel any glitches while doing so.
It helps you engage the prey with more accuracy than a heavier scope can do for you. Fortunately, this Leupold VX-6HD 4-24x52mm scope comes with the least weight and unquestionably provides you with rugged performance. 
Twilight Max Light Management System
The Twilight Max light management system is designed to provide the quality that no one can make possible for you in the market. Its clarity, crispness, and sharpness are just inexplicably outstanding.
You get the max possible clarity by having this rare aid. Even if you are shooting or hunting in harsh weather conditions, whether it is raining or fog is all around, you can gauge the target super conveniently.
Ideal for Low Light-Illuminated Reticle
Its fully illuminated reticle is super best for low lighting conditions. It is also suitable for long-range hunting and provides a clear quality image every time you use it.
Furthermore, it helps to mount the scope with the utmost ease and saves your time and money because you can mount it easily on your own. All you have to do is to ensure this feature is built-in while deciding on scope purchase. 
Vast Magnifier Power for Long Range
If I get a situation to rate the scope features, I will consistently rate the vast magnification in primary and top-line traits. It gives you freedom of adjusting the image as it is visible to you ideally.
This Leupold VX-6HD 4-24x52mm scope allows you to have a 24 times closer shot of the target. If you want the same for some other rifle scope or even more than this, click on the best scope for Remington 700. Here you can find some great options for enjoying the high magnification ranges. 
100% Fog, Shock, and Waterproof
Argon purging technique makes the scope fully fog and waterproof. Moreover, the one-piece construction ensures that the scope remains shockproof in any challenging situation it gets in. Additionally, the confidence you get by using this phenomenal optical device is just excellent and out of the world. 
Follow Factors To Buy
You name the feature, or prepare a list of desired traits you want to have in your scope, and then match it with the attributes we discussed above, and you'll find the answer to why to choose this. It gives immense satisfaction when you get a 24 times closer picture of the target, and it helps the bullet go right on the point. Moreover, it furnishes the ultimate crisp and precise target acquisition.
5) Match PRO 6-24X50 Best Shotgun Scope for Coyote Hunting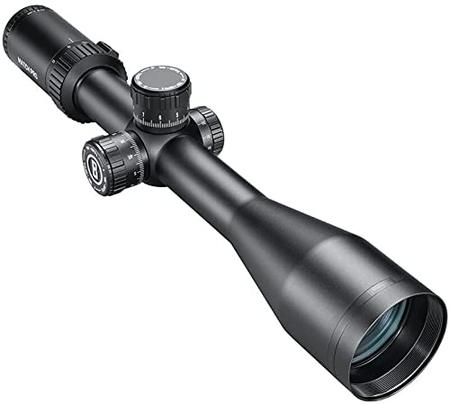 | | |
| --- | --- |
| Color | Illuminated |
| ASIN | B09DQ74CW7 |
| Parallax adjustment | 10 yards to infinity |
| Main tube diameter | 30 mm |
| The objective lens diameter | 50 mm |
| Min magnification | 6x |
| Max magnification | 24 x |
Bushnell is the name behind this Match PRO 6-24X50 scope, and it is a USA-based company. Bushnell earned a lot of recognition all around the USA by providing the masses with some best shotgun scope for coyote hunting and shooting.
For those who love outdoor and wildlife hunting, Bushnell cares for them all, and here it presents one of its classic pieces of optical assistance with a list of attributes given below. 
Tool-Less Locking Turrets
It is a new and unique-of-its-kind feature, the tool-less locking turrets. The tool-less locking turrets mean there is no need for tools to get the turrets fixed. Whenever you need to adjust the windage or elevation settings, you can do it without fingers.
All you have to do is roll out the ring a bit and use the knob on top of the scope and one on the left of it. It takes no repairer, no fixer, just your fingers, and turrets will be all in your control. 
Max Adjustable Parallax for Accuracy
The parallax settings help the shooter to get the closest prey they can hunt. This Match PRO 6-24X50 scope offers a tremendous adjustable parallax setting that provides a minimum of 10 yards to infinity range, which helps you hunt the closest target even. In addition, it allows the shooter to enjoy varying degrees as it feels good in the scenario. 
EXO Barrier for Protection
When you are shooting, your scope always gets a significant threat from extreme environmental conditions in the most crucial times. But, the EXO barrier coating successfully helps the scope save its lenses and other glasses from resisting water, moisture, and fog.
Keep all these harms off from the lenses. And it provides you with the target image with clarity, and life of scope extends for years because of this worldly protection. 
First Focal Plane for Precise Performance
No matter what magnification setting you have adjusted, you will get the same reticle for gaining an accurate view of the target because of the cost focal plane. It helps you change the reticle, as the change happens in the magnification range.
On the other hand, the second focal plane cones with one fixed setting. These two worldly opposite aiding traits you can also get in the best scope for 300 win mag. It is an article written by me with various great scopes, offering the unique focal planes to fill your needs as you want. 
Fully Multi-Coated Optics
One of the most overrated and most significant features in any scope is its lens cover. Luckily, this Match PRO 6-24X50 scope cones with vast advanced fully multi-coated layers of aluminum to protect and secure the lenses and remaining all the glass items in this scope.
It gives a new life to the scope lens and provides a vibrant picture of the target. It contrasts better and adds colors to make it more transparent and easily visible for the shooter.
Make Purchase Decision
If you look at the distinct attributes offered by this Match PRO model, it is so excellent. If you have prepared any list of outstanding features yourself, match that with the features of this scope; you'll get to learn, you are almost there.
And you have the right option to satisfy your needs. It introduces new worlds of hunting and shooting to you, keeps your level up, boosts your confidence, and enhances your success rate of target acquisition. 
Buying Support for Universal Shotgun Scope
You don't know what material type is suitable for scope or what magnification will suit your shotgun. But don't worry, I am here to help you answer all these questions in this buying guide. If you can follow the seven steps below, there will be no chance of deprivation of a great optical friend for your shotgun. You need to read the seven steps formula of my expertise for universal shotgun scope mount with due compassion and diligence. 
Eye Relief
First of all, the most important thing you need to assess in scope is your safety measures. Does your scope offer an appropriate eye relief distance it not? Because this is the factor that decides your security standards.
And if your scope is not offering sufficient space for eye relief, you can get your eye hurt any moment after pulling the trigger because the recoil of the rifle hits you back on your watch or forehead. So, be aware of the scope bite issue, and maintain a significant and vast eye relief distance.
Magnification Power
Magnification is the tool that helps the shooter in getting a close-up shot of the target. With the help of the proper adjustment, you can get a crystal clear image of the target, even in fog, rain, low lighting conditions, or any other weather extremity. So, you should always select the shotgun scope with great magnification power. 
Type of Focal Plane
Usually, scopes come with two types of focal planes. The first focal plane offers variability options. When you change the magnification, the reticle adjusts itself with the magnification change, and you can set it anywhere you want.
The second focal plane has just a single fixed setting for the reticle. Usually, the second focal plane of this best shotgun scope helps the shooter in long-range shootings, and it gives every time a fixed and stable view. But, if we create a comparison, the first focal plane is somehow superior to the second one. 
Quality Material
Nowadays, shooters prefer two fabrics for the construction of the scope. The first one is aircraft-grade Aluminum, and the second one is steel. Although scopes usually come in Aluminum, the thing you need to keep in due observation is the quality of Aluminum.
So, always go for the Avant-garde super solid stock of Aluminum for core building of the scope. It enhances strength and stabilizes shooting by a significant margin. 
Lens Coating
Although there are many types of lens coating available in the market, which is the best one, you need to know this. If you intend to fully secure lenses, glasses, and all the scope's body, you will always go for the fully multi-coated optics option.
In it, you get multiple layers of Aluminum to protect the lenses and glasses of the scope from all sides. And, it keeps the dust, dirt, debris, wanted, and humidity away from the lenses, and that's how you get the view of the target with the ultimate accuracy and clarity. 
The Objective Lens Diameter
The most effective objective with a minor diameter is on the inside, and it should always be moderate. It is because it collects the light for a better view of the target, and the more its size will increase, the higher the light it can gather.
Its maximum limit is 42 mm because it causes the weight gain for scope. This can decrease the stability of the shots. So the standard range is 32 to 42 mm, keep your shotgun slug scope within this limit, and you are good to go. 
Price Comparison
Last but not least, or ice of the scope. Indeed, it is a significant factor for making a purchase decision. And it plays the role more than anything else. A shooter also considers the price at the cost of the quality of the scope. And if you get both the best price and high-quality features, that is a pretty ideal situation.
So, go for that one immediately. If you look up the scopes I have added in this paper, except a one or two, all are reasonably priced, but no one is substandard. Because I believe in quality, and I think everyone should. 
Why Does Your Shotgun Need An Optical Partner?
Usually, people think there is no need for the scope to be used on a shotgun, but it's not less than a blessing for engaging the stationary targets more often. Putting it on your shotgun creates a magical bond that gives a new set of enjoyment of unusual shooting and hunting shots.
Moreover, a quality thermal scope and night vision scope can play a significant role in a shotgun. These are the best scopes for hunting coyotes and hogs.
On the other hand, a red dot enables you to take down the turkey within no time. If you want to use the shotgun for your home defense, you are good to go with a red dot optical partner. It is best for the job.
Additionally, a low-power variable visual aid can create a distinct pair with a slug gun to take your shooting to new heights.
All you have to do is choose the best shotgun scope wisely, look at the details we have discussed above, and then decide which one suits your shotgun and for what purpose you are buying it. 
After studying and using so many different optical instruments on the shotgun, I learned a lot about the best combinations between great visual assistance and the shotgun. So, here I propose to you the best shotgun scope out of these five I added in the article to make your decision easy: the Leupold VX-6HD 4-24x52mm scope. It has a tremendously strong body with a vast 24x magnification power that allows you to have a closer image of the target. Moreover, it is 100% fog, shock, and waterproof. That is a plus to add value to your optical collection for your shotgun. 

Best Recommended Product
What is the best shotgun slug scope?
Suppose I am particular about the answer, then there is no other option than Vortex Optics Strike Eagle and Leupold VX-6HD 4-24x52mm scopes. These two can help you with almost all types of hunting, whether it is a coyote, turkey, or deer. Moreover, their optical clarity is just amazingly well.
Why would you put a scope on a shotgun?
A scope with significant variable and indication power helps the shooter, especially when mounted on a slug gun. Whether it is deer, turkey, or coyote hunting, a long-range scope helps every hunting considerably. So, to make your shooting more successful and get your bullets placed right on the animal, you need to buy an excellent scope. 
Can I use any scope on a shotgun?
Carry a great scope with a vast magnification range. It can help you look at the target from long ranges, especially when moving because the magnification enables you to get the image more clearly and accurately. 
How accurate is a shotgun slug?
Usually, the accuracy of a slug shotgun goes up to 50 yards. It is an average range that any traditional gun offers. And this can be increased with the help of an excellent long-range optical companion.