Holosun 510C, Aah! It is an optical instrument that makes you see things accurately and precisely, and you enjoy using such a phenomenal and smooth visual aid. What can beat a red dot when you think of different optical options? Moreover, if it is Holosun 510c, the results will be worth noticing. It might ask for a hefty price, but for once, the rest will be your turn to get benefits for years to come. Come and see this Holosun 510C review below.
I haven't believed the data I found about this, but it attracted me in one way or the other. So, when I first came across this exquisite and valuable sighting aid, it was smooth enough to make me fall for it. It is a top-notch reflex sight for severe applications in diverse usage scenarios. You get automatic brightness adjustment with the Holosun 510c, which provides you 24/7 with the desired outcomes in varying conditions.
What is Holosun 510C? 
It is a reflex optic that works smoothly with severe applications and long guns. The aluminum housing and durable material create an excellent mix for reliable outcomes. When I first held it in my hands, the first thing I experienced and noticed was its lightweight building. Every time I pick it up, it makes me give a call, ready to go.
It works so well with heavy-duty frames and can replace your EOTECH. After going through this Holosun 510c green review, you will be a pro knowledgeable about the Holosun 510C. 
Specifications Summary Table
| | |
| --- | --- |
| Eye relief | Infinite |
| Reticle selection | Ring, Ring Dot, Dot |
| Reticle illumination | Red |
| Eye box | 0.91×1.2 inches |
| Battery life | 50000 hours |
| Dot size | 2MOA, 65MOA Ring |
| Color | Black |
| Weight | 4.94 ounces |
Specifications:
The table of Holosun 510c specs depicts a great picture of what this incredible sighting instrument offers. So, before you make any decision, I recommend you not believe the information only but give it a testing shot yourself. However, the Holosun 510C review will play a critical role in your buying decision if you give it a full-length read.
7 Features of Holosun 510C Red Dot
Let's take the Holosun 510c elite green review as a case, and a list of loaded features is waiting to welcome you on the field. It is superb whether it is about reticle, glass clarity, durability, or reliability. It offers proper eye relief with an eye box, and the customization options with signage and elevation are helpful. Magnification and comfortable mounting make your decision even more accessible.
1) Reticle and Glass Clarity
Reticle is a big winner regarding the coatings on the glass, and I got beyond my expectations from this sight. The reflection is low, and that is something I appreciate. You get 65 MOA and 2 MOA dots; you can choose or work with both. It gets the desired results, and you enjoy quick targeting.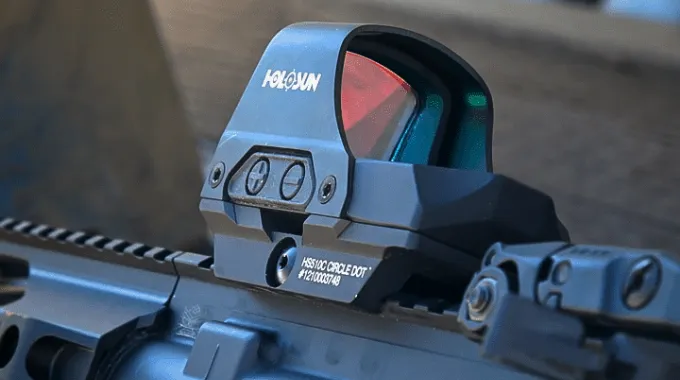 If we do not discuss the durability factor, the Holosun 510C review will not be done. So, let's look at what it has to offer. 
2) Durability and Reliability 
Durability is a thing that impresses me a lot, and it is where I can't take it for granted. The good is made of a solid titanium alloy, and the rest of the body has an aluminum blend. The Holosun considered the cost factor and managed the durability favor as a priority. 
Comparing this fantastic tool with others in the same class, I find a huge difference, and things favor Holosun 510C. Moreover, it delivers reliable outcomes without flaws or damage to the sight while using it in diverse atmospheric scenarios.
3) Eye Box and Proper Eye Relief
The eye box is there on both scopes, and you won't find any difference because of sound calculations and precisely balanced hands. Moreover, eye relief saves your eyes and forehead from the scope bite. 
4) Windage and Elevation Settings
Windage and elevation settings are supportive but with tools like screwdrivers or wrenches. And you get that with the product to change signage and elevation. Once you make changes, you won't need any further change in the field, and it will stay stagnant at any cost.
5) Brightness and Battery Life 
The brightness level is so good in Holosun 510C; you get far better than the EOTech. You can turn it on by simply pressing two side buttons together, and the same will turn it off. When we look at the battery life, it will blow your mind with its more than 50000 hours of battery life. You can use it for months if you know how to avoid high energy consumption patterns. Before heading further, read about the Zeiss Terra ed 10×42 review. 
6) Parallax and Magnification 
The magnification is not here in sight. However, the sight image works fine with night vision and a magnifier. You can gain some extra results if you get a magnifier to work with the sight. If you look at the Holosun 510c magnifier review, you will find it a pure help but with some labor. Usually, the Holosun 510C magnifier combo reviews are good, and there is nothing to avoid.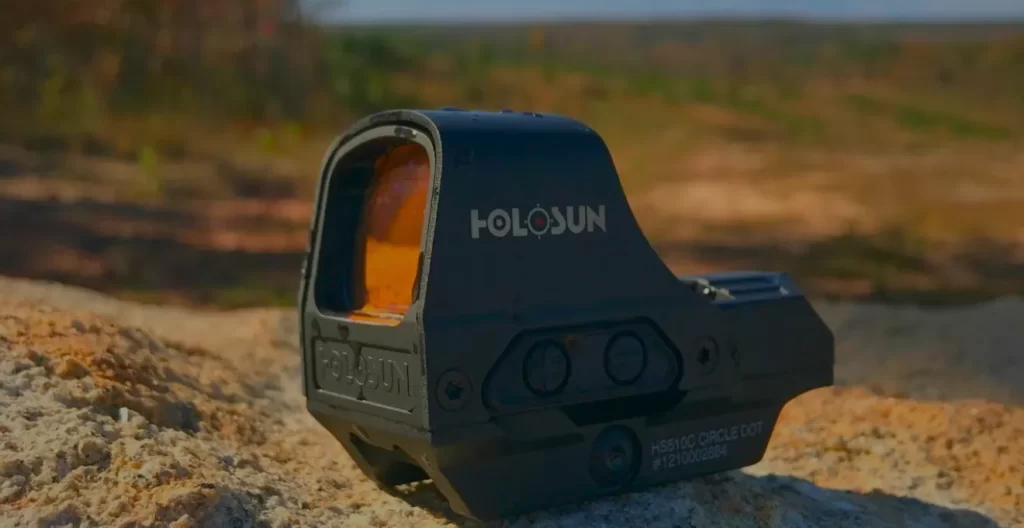 7) Comfortable Mounting and Affordable Price
The mounting process of the sight is so easy and comfortable. If I recall all the detach systems I have experienced with other sights, this one is one of the best. All you need to do is to pot it up and push forward. Now, lock it down with the help of a tool and nothing extra is required. The job is done. The same will go for detaching. The price range is affordable, and you must spend around 300 bucks.
Benefits
It is a luxurious sight with no significant flaw
The economic design is so attractive
Reliability is skyrocketing
Looks are good and mechanism is robust
It offers clear lens and various reticle options
It is super lightweight
You can easily mount it and detach within no time
The price range is super cool for all those of users
Drawbacks
It doesn't have built in magnification options
There is lack of colors in its making.
The changes should be made with bare hands
So, it was all about the Holosun 510C review. I hope you have learned the details about the Holosun 510c problems, benefits, specs, and features. If you compare Holosun 510c vs EOtech, you will find Holosun 510C leading from the front.
Holosun 510C is indeed a tremendous optical aid with some minor flaws which are ignorable one way or the other. Overall, it is beautiful stuff for hunters and shooters. When I decided to write this Holosun 510C review, I first went through all the tests and studies. When I first unfixed it, it was so lightweight and so luxurious. It is an affordable sight with so many quality features and loaded specs. The eye relief is good, and the durability is unbeatable.

Final Thoughts
Is the Holosun 510C good for shooting?
The Holosun 510C is a fantastic sighting tool that gets you the best shooting experience between 100 to 200 yards without a magnifier. Moreover, circle and dot reticles can boost your short-range shooting. Overall, it is a commendable optical assistance for various jobs.
Is Holosun better than EOTech?
The two are similar regarding the technical detail, but when it comes to clarity, accuracy, and precision, the Holosun 510C takes a clear lead over. EOTech. It is easy to mount and super easy to detach. You can get better outcomes with a minor nuisance with Holosun 510C.