Coyote hunting has become one of America's most prominent hunting types; shooters love it and take it as their hobby and passion. These days, shooters are crazy for having the best scope for coyote hunting. It is no doubt a hell of a responsibility to select the one with all the excellent features that fit your needs, and no question about that, it takes a tremendous scope for hunting a coyote. 
If you take coyote hunting seriously and you're looking for the best scope to take your hunting to the next level, Congrats! You landed on the right portal. Here, I will tell you about the best scopes worldly for coyote hunting.
There were no such options to choose the scope you want at earlier times, thanks to the technology that has made it easy for us to give you many options to choose the one you like. Follow this article to the end, and you'll find the scope you are seeking for a long time.
3 Best Scope Magnification for Coyote Hunting
Table of Content:
I will tell you the best optics to pursue your passion for night vision hunting in this manual. Several brands produce tons of scopes every day, but which one is best for coyote hunting? I know this secret very well. Make a wish list of attributes you are looking for in scope, and I guarantee that you'll find every single feature in the scopes I have added in this article.
1) Vortex Optics Strikefire II, Best Red Dot Scope for Coyote Hunting
| | |
| --- | --- |
| Material | Aluminum |
| Mounting type | Cantilever Mount |
| Weight | 1.2 pounds |
| Warranty description | Unconditional, Unlimited, and lifetime |
| Length | 5.6 inches |
| Eye relief | Unlimited |
| Dot size | 4 MOA |
| Battery | CR2 |
High-quality red-green dot reticle
Windage and elevation adjustment
Fully multi-coated lenses
Nitrogen purging & O- ring seal
Cantilever ring mount
Flip caps
Adjustment control buttons
When you have a powerful rifle for shooting and hunting but feel lacking, that thing is a scope full of advantages and features. It will multiply the shooting performance by 100%. This scope Vortex Optics Strikefire II riflescope is the best for coyote hunting day & night with ultimate perfection and clarity.  
Red-Green Dot Reticle
The critical factor while shooting with the red dot is to keep both eyes open. It helps you focus on the target quickly. Moreover, the 4 MOA red, green dot is an ideal feature for split-second target acquisition.
If you aim for shooting at night, the last two settings pair is the best for doing so. The main thing to hit the target is the visibility of the dot; if you can see it, you can take a perfect shot conveniently. 
Windage and Elevation Adjustment
You can adjust the windage and elevation adjustment as you need it. However, if you face a wild wind blow, you need to keep the windage adjustment in due course of action to get a clear vision.
For doing so, you need to remove the dial covers, turn the adjustment covers in the right direction as an arrow directs you on the dial. Now, move the dial accordingly to impact the bullet the way it fits to hit the target right on the point.
Ideal Mounting for the StrikeFire II
The perfect mounting of StrikeFire II is essential for gaining the best results you want. If you tighten the StrikeFire II right on the lower part of the cantilever, it will help you significantly having a stable shooting experience. You can even hit the target moving if you keep the StrikeFire II mounted perfectly, neither too tight nor too flexible to move. 
High-Quality Red Dot Sight
If you want to enjoy the highest quality red dot sight, you have got the most acceptable option to go with, and that is none other than Vortex Optics Strikefire II. It is the most rugged, reliable, durable scope.
In addition, it's ten brightness settings and two-dot colors allow the shooter to adjust the settings as the condition changes. So, always choose the scope with many options when it comes to brightness setting and dot colors.
Fully Multi-Coated Lenses
it is perhaps one of the essential features of this scope. Fully multi-coated layers keep your lens tidy, clean and get you a mysterious view of the target. It also protects the lens from exterior environmental threats. To get a more successful rate in hunting coyotes, you should have a lens fully multi-coated and other glass surfaces.  
Light in Weight
Its single-piece construction makes it an appropriate lightweight scope. No shooter likes to have a heavier optic device, as it disturbed the stability during shooting. However, its total weight comes under 1.2 pounds, which is amazingly helpful for placing the shot right on the target without any missing. So, if you genuinely need the best scope for coyote hunting, you should immediately buy this one. 
Make Purchase Decision
These days' people used to follow hunting coyotes as their hobby, and they invest a lot of money in making this experience worthwhile. What if you do not get the expected features in one scope? To avoid such problems, get this Vortex Optics Strikefire II rifle scope right away. 
2) ATN X-Sight-II Smart, Predator Hunting Scope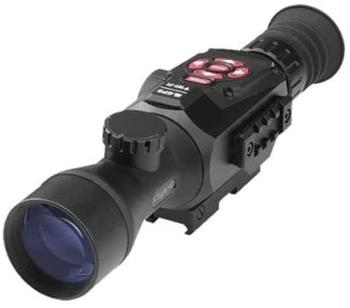 | | |
| --- | --- |
| Magnification range min | 5 |
| Magnification range max | 20x |
| Sport type | Hunting |
| Night vision supported | Yes |
| Illuminator type | ATN IR 850 Pro |
| Sensor | HD 1080p |
| Battery type | ATN PACK 20000mAh |
| Wi-Fi streaming | IOS & Android |
| Scope weight | 1 kg |
Smart HD Optics
Day/Night vision in millions of colors
Built-in smart rangefinder
Ballistic calculator
Had recording option
Tactical remote access control
ATN long-range infrared illuminator
3D Gyroscope and E-compass & E-Zoom
 For the first time, that night vision is available in HD definition. In addition, ATN X-Sight-II Smart's scope has the extraordinary features of performing optimally even at night. It allows you to take your target as close to you as you want.
One of the biggest reasons behind your higher success rate and makes your shooting experience worthwhile. Here, I will briefly explain the attributes of this excellent rifle partner; take a look.
Smart HD Day/Night Riflescope
This is the first time a scope offers full HD vision of the target in day & night scenarios. It helps you lock in the target with utmost clarity and makes sure you place the round in the right place you are expecting it to be.
This super magical ATN X-Sight-II Smart riflescope is setting new standards in the field of shooting and hunting. People are crazy about this most dynamic and unique vision assistance device for optimum performance.
X-Sight II HD 3-14x Design
ATN X-Sight-II Smart offers this amazing X-Sight II HD 3-14x Design, and this is far better than ordinary designs you find in the market. It is nice, bright, and elegant. The intelligent technology allows the shooters to use this scope day/night 24/7. It gives equally good performance in any situation you take into it. It provides the image with lots of clarity and precision.
Day/Night Mode
Are you fed up with the scope's performance limited to lighting conditions? If so, it's not a problem anymore. Because of this outstanding helping device, ATN X-Sight-II Smart provides the day and night vision with clarity beyond your expectations.
If you want to hunt coyotes at night, it helps you get that down with utmost clear vision and Sharpness. The same perks you can enjoy in the daytime. 
Built-in Smart Rangefinder
ATN X-Sight-II Smart keeps this most alluring feature to get you rid of all other accessories for range finding. You can easily hunt a target by locking in from a considerable distance, and it provides you with an ultimate unquestionable clear image; that helps you take the shot successfully.
Shooters consider it the best scope for coyote hunting both day & night. Additionally, it calculates the distance between you and the target and helps you take a shot quickly to get you the desired meal.
Ballistic Calculator
Perhaps the most attractive feature of this ATN X-Sight-II Smart is its ballistic calculator. You do not need to carry complex charts and reticles; feed your weather condition data, and it will design the hunting scenario itself, which will help you get your target down even if you are a new shooter.
This automation function makes your shooting and hunting ten times easier than locking the target yourself. You need to try this best scope for coyote hunting especially. 
Record HD video & Remote Control
How amazing it is that you can save your adventures on a memory card by recording videos with the help of this scope. You do not need an extra data cable for this, and use it from now on to keep all your memories safe for a future laugh.
Additionally, you get an excellent remote control with the device to control the various features of this scope such as ballistic calculator, HD video recording, rangefinder, etc. 
Make Purchase Decision
If you have gone through the details above, you must have known the reason why shooters love this device immensely. If you aim for shooting in the day or at night, you have no other better option than this ATN X-Sight-II Smart riflescope.
It is one of the finest scopes of all time. It gives you a video recording option, remote control system, day/night vision, smart built-in ranger finding setup, and more. I hope you got the answer to why I choose this. 
3) TORIC UHD 4-20×50 30mm Predator Hunting Scope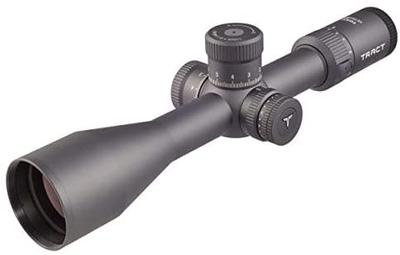 | | |
| --- | --- |
| Min magnification range starts with | 4x |
| Max magnification range goes up to | 20x |
| The objective lens diameter is up to | 50 mm |
| Brand name | Tract |
| Scope Dimensions | 16.57 x 7.68 x 3.94 inches; 3.42 Pounds |
| Compatible for | Rifle |
| Sport type | Hunting |
| Focal plane type | First |
TRACT's advanced ultra-high-definition optics
Large eye ox design
High transmission glasses
First focal plane system
Illuminated reticle for precise target measurement
11 different intensity settings
Precision machine turrets
This scope is a blend of some tremendous worldly features you do not find in any other scope. When it comes to coyote hunting, you need a perfect long-range hunting scope. This scope is a premium long-range shooting optic for shooters aiming to shoot mid to long range. There are several other features these scopes keep in; look into that one by one. 
SCHOTT High Transmission Glass
Its ultra-high-definition system uses an extra-low Dispersion optic to remove the color rimming. Then, with the help of SCHOTT High Transmission glass, it transmits the light and provides you with bright, clear images of the target, even in low light conditions.
So you shoot in daylight or at night, this high transmission glass helps you immensely in both scenarios, and you get your target down in a single perfect shot.
First Focal Plane System
FFP places the reticle in front of the erector, which helps the reticle adjust to make a perfect match with magnification power, and when these two create a good match, the shooter will be able to shoot in any condition. You can drop a bullet any distance right on the target by using the first focal plane along with the right magnifier power.
Illuminated Reticle
It is amazingly outstanding when it comes to shooting for long-range distances; because it allows the shooter to assess the target to gauge its space and then make some required adjustments either by dialing or by dropping a bullet using the reticle.
Thus, it helps you get the ultimate precision image of the target. So, if you are interested in coyote hunting, let's not miss this exclusive device; you'll love it for sure.
Moreover, it provides you with 11 different intensity settings within/OFF switches to make adjustments as you feel fit, an outstanding battery that continuously gives a backup of 360 hours. 
Floating Center Dot
The .o4 MRAD floating center dot does not blur and conceal the target image; it makes sure you get the right aiming point of the target in any light condition, whether fully bright light or low light condition.
Do you want that perfect aiming point to get your mark on your dinner table? Buy this TORIC UHD 4-20×50 30mm scope, and it will get you the target image with perfect precision in any weather condition you are shooting or hunting.
30 mm – One Piece Tube 
Its 30 mm tube, which comes in one piece, is a great helper to provide you with a more comprehensive range of adjustments for ultimate long-range shootings. In addition, it gives immense strength to the device, as it doesn't give room go flexibility or mobility. So, if you want to enjoy extreme long-range shooting, you need to check this TORIC UHD 4-20×50 30mm optics once. 
Variability Options for Magnification 
You get an outstanding range of magnification between 4x to 20x, which is fair enough for mid to long-range shooting ventures. If you need to zoom in on an image of the target, you can easily adjust the zooming settings with a knob only.
It helps you have a clear and broader vision of the target, enabling you to take down the coyote quickly. So, if you want the best scope for coyote hunting, let's grab this one.
High-Quality Performance
If you are a person who is not ready to compromise over the quality features of your rifle's optical partner, the best choice you can go with is none other than TORIC UHD 4-20×50 30mm rifle scope.
Whether you hunt in any light condition or any other weather abnormality, it keeps your vision clear and provides the image with the ultimate precision. Its lenses are made up of the most delicate glass type in the world, and to keep them tidy and clean, it comes with a lens cap; that keeps it clean, protected, and ready to use anytime 24/7.
Make Purchase Decision
The call is yours; you have to decide what you want. Do you genuinely need a high-quality scope to be a partner with your rifle? If so, grab this innovative, ultra-high-quality scope now. It comes with all the great features shooters expect in an incredible scope.
In addition, it gives you ultimate satisfaction when it comes to extreme long-range shootings; it is outstandingly good in locking the target in from the long ranges. So, let's give it a try. 
Buying Guide for Long Range Coyote Shooting & Hunting
These days most shooters use scopes on their rifles to enjoy a perfect shooting experience. But, which one to choose? It is quite a challenging box to get out of. Therefore, you would need an extensive guide like this one you are reading now; it will leave you with a knowledge-based rational decision about choosing a scope.
Remember, your scope will decide your coyote hunting success rate. You should take some expert advice if you are new to shooting; fortunately, I have made this path easy for you as a senior shooter. I have included the best three scopes for coyote hunting to date. To know more, let's dive into details.
Numbers in Riflescope
Mostly, people do not know what the numbers mean on a rifle scope. Suppose these numbers appear in a sequence like this 3-9×40. Here 3x means, you can get the image of the target three times closer to the actual distance; 9x means you can have an image nine times closer than you can see it with your naked eye.
The 40 is the diameter of the objective lens, and these numbers show this is a scope with variable magnification, and you should always go for the variability option. 
Light Transmission
If you think that scopes gather, that's a misconception. Scope plays a role in the transmission of light to the eye of the shooter, and he gets a clear and brighter image of the target. Scopes do this transmission job with the help of lenses.
If the light transmission ratio is anywhere above 95%, you should go for the scope immediately. It's a great device to help you with your target image. 
Magnification Power Alternatives
As we earlier pointed out in the reference of 3-9x magnification, your mind must be tilting; this is something significant in scope, And it is. Magnification gives the freedom to the shooter to adjust the image as it fits in the situation.
If he needs a closer vision, the zoom-in option is there; if he wants to take a broader distant picture of the target, he may zoom out easily. That's how magnification alternatives help the shooter in locking the target unquestionably. 
The Objective Lens Size
Let's get started with the description of the objective lens size; if we talk about the standard benchmark size for all types of shooting, it's up to 40 mm. Going for more than this will increase the scope's weight, which is not something good for the shooter to take a perfect shot.
So, choose the one with a moderate size between 35 to 40 mm; that's pretty much enough to provide you with blameless performance. 
Scope Mounting
There are various types of tubes used in scopes; if the diameter is 1 inch, you will need a 1-inch ring; if the diameter is 32 mm, you will need 32 inches wrong for that. These rings are commented with your forearm to hold it tightly in a position.
It helps you take an unshakable shot quickly. You should also check your rifle before shooting by standing right behind it, and looking through the scope will tell you are in a good position or not?
Type of Lens Coating
There are different lens coating types available in the market; each one has other functions to perform. It may be noted that it is fully coated, multi-coated, or fully multi-coated; I recommend you select the last one with fully multi-coated layers to secure your scope's lens.
It protects the lens extraordinarily and gives you a ready-to-go lens every time you use it. All the scopes I have added in this guide give you fully multi-coated layers protection; go for one super confidently.
Field of View Range
FOV plays a vital role in giving the right to left vision through the scope. The more the magnification power goes up, the more the field of view goes down; on the other hand, the range of field view increases as you decrease the magnification power.
FOV is estimated in feet at 100 yards. Its range is directly connected with the formation of the eyepiece in the scope. You can have this feature and all other excellent traits by having scopes included in this manual.
Professional shooters prefer having a great scope rather than having an expensive rifle; at the end of the day, it is an excellent scope that enhances your vision and clarity to hit your target. I have been in coyote hunting for more than a decade, based on my experiences, and I suggest you buy the super excellent Vortex Optics Strikefire II Red Dot Sight scope. It is the best scope for coyote hunting you can find anywhere on the online portals, markets and stores. I have tested all these three scopes myself, and I found ATN X-Sight-II Smart riflescope on top of the list. You will surely fall in love with this super exceptional device, as I fell years ago.

Best Recommended Product
What magnification do I need for coyote hunting?
If you could maintain accuracy with due diligence, you can easily hit the coyote within 600 yards. You can take this shot ideally with 1to 4x magnification power super conveniently. Another option you can also go with is 2 to 6x for this task.
What is the best predator scope?
There are several scopes with great features you can have, but I will tell you about those I tested myself and found pretty good in bunting predators. You can have Vortex Optics Crossfire II, ATN X-Sight-II Smart, or Leupold VX-Freedom. All these scopes are best for the job you would buy.
What colors can a coyote see?
The world is full of colors; all colors are not for everyone; the same case goes for Coyotes. According to the studies, they can only see yellow and blue colors; the rest of the color schemes are not visible to coyotes at night.
What is the best AR for coyote hunting?
AR 15 rifle is the best to hunt coyotes. You can do this job by using any other good rifle, but you need a substantial, apart, and outstanding scope for that. It will help you lock the target from a long distance.