The popularity and love for birding have grown rapidly, and when you look at the Hawk, it always looks fascinating and magical. If you live in Florida and don't know much about hawks, you got down to the right page to know all about hawks, their types, age, size, color, habitat, and more. In this article, you'll learn the nitty-gritty of hawks in Florida.
Not all hawks are the same, and not all hawks and eagles are the same. There are huge differences in every single thing. If you love watching hawks in Florida, you must know there are tons of types of hawks in Florida, and you get to see each one in a specific time slot, not all the year. Why? I'll tell you all in detail. So, before we head towards the types of hawks in Florida detail, let's take a look at the table of content.
How Do I Identify A Hawk?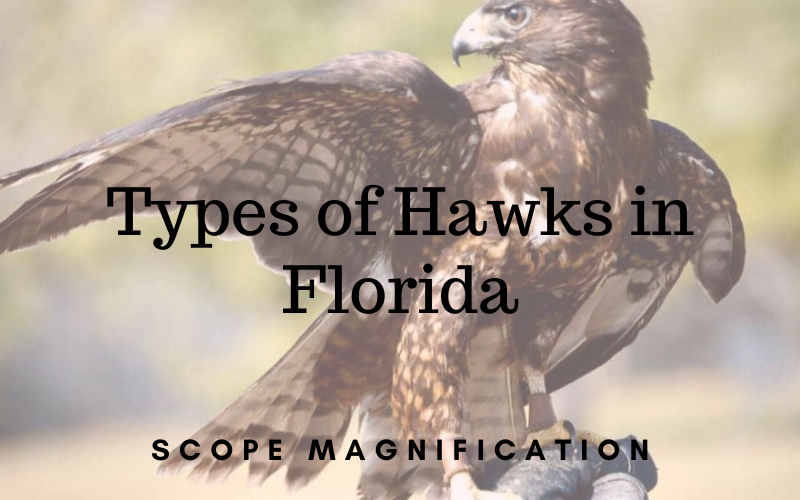 New Article: Best Scope Rings and Mounts
A very overrated question is a falcon a hawk? No, it is not. When these two take flight, you can easily find that the falcon has pointed wings, whereas the Hawk has fingers on the wings. These two are somehow similar, but hawks are bigger than falcons in size.
On the other hand, if we look at the wing spread, the Falcons have bigger wings than the Hawks. So, when you see a bird with a bigger size and shorter wings, it must be a hawk or vice versa. There is also a difference between Florida hawks and eagles. Eagles have much bigger sizes than hawks.
It means hawks take the lead over falcons in length, and eagles take the lead over hawks in size. Also, eagles have a larger wingspan than hawks, which are more spread and slender. At the same time, the Hawk has short and rounded wings. So, let's head towards the detailed overview of the types of hawks in Florida. 
9 Types of Hawks in Florida
There are nine types of hawks in Florida you can see, and each one is not there all the year but stays a place for a specific period and migrates from one place to another due to the severity of weather conditions. Some hawks are so beautiful, while some are powerful. If you want to find them, you need to know the right time and place. To know them all in detail, let's follow the flow of words. 
Latest Article: Best Binoculars Brands & How to Focus Binoculars Properly with or without Glasses?
1) Broad Winged Hawk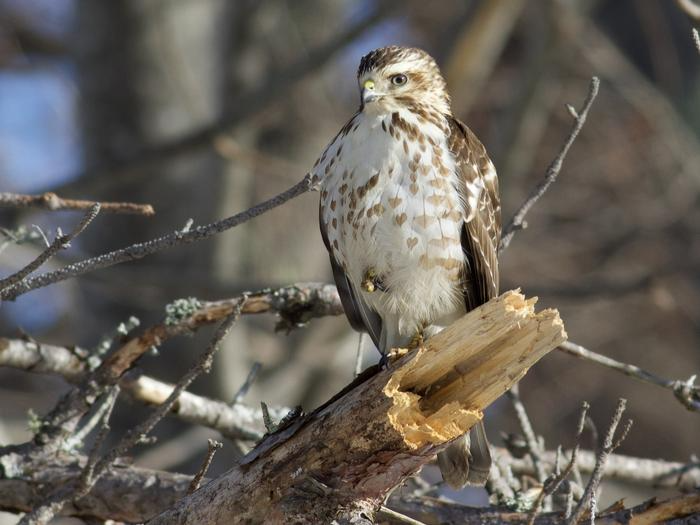 It is one of the hawks that you cannot easily spot and struggle hard to find. It has a stocky and short body and lives in forests on trees. They like to hunt all the time, but with patience. They sit for hours to observe the prey, and when it enters their zone, they do not take a second further to catch that up. These are large hawks in Florida because they're widespread. 
You can find them in Florida, but not in communities. To find them, you have to go into the forests in deep. They migrate from one place to another when the season changes, and once they have spent fair enough time, they get back to Florida's forest all over again. One broad winged Hawk travels more than 4000 miles during migration.
Their length varies between 13 to 17 inches, and these hawks weight goes up to 450 grams only. However, if we look at the wingspan, it goes up to 33 inches in total. If you want to observe them in all minute detail, you should read the best binoculars for birding; it will earn you the best opt8cal partner to enjoy bird viewing. 
Latest Post: Types of Microscopes & its comparison chart
2) Red Shouldered Hawk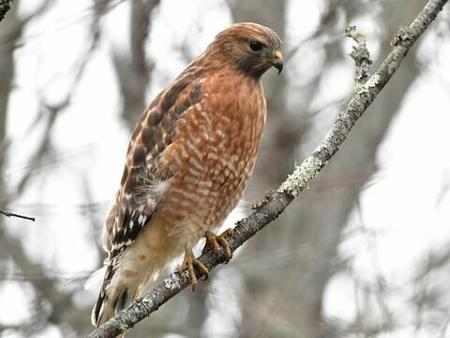 It is a little in size hawk with brownish and resists colors on feathers. The belly color is white, and they have large tails than most of the other hawks in Florida. If you live near a wooded area, you can easily spot them near your house, but they like to live in forests as well. 
Of we take a look at these hawks diets, they are so good at hunting. They take a flight, cover the prey's head with their wings, and put all the burden on not letting it go. If you want to observe them in detail while hunting, you need a good pair of binoculars, and to buy one, you can read the best binoculars for wildlife viewing. 
The length of red shouldered hawks goes up to 19 inches max, and the weight lies between 600 to 800 grams. Their wingspan is more than the broad-winged Hawk, and it goes between 40 to 42 inches, which is pretty amazing and helps the Hawk hunt well and take a smooth and fast flight. 
New Blog:All Types & Parts of Compound Microscope
3) Red Tailed Hawk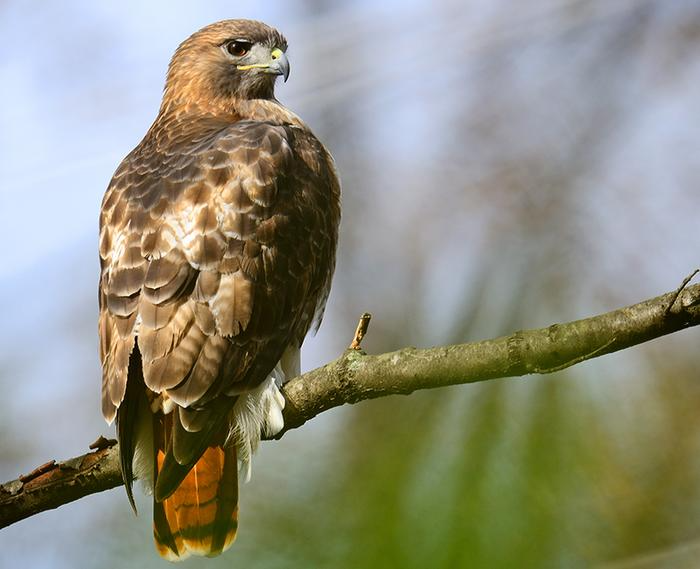 Another beautiful hawk in Florida is the Red-tailed Hawk. It is very large and can survive in any weather condition super easily. It has a long red tail, and you can spot them everywhere in Florida. They have no specific habitat and roam around with liberty. They build nests in trees on the top, and you can also find tenor neat in the cities on billboards, buildings, and towers. 
Because of their habitat in the community, they often have to face the destruction of homes and build new ones all over again. But they are so fast and can create new best within a week only. All other hawks are difficult to spot but not this one because of its long red tail.
These hawks lifespan can stretch up to twenty years, and their length goes between 20 to 26 inches. In addition, the wingspan is massive and goes up to 65 inches. In contrast, the weight of these hawks is also huge and lies between 800 to 1600 grams.
Read Also: Difference between Falcon and Eagle
4) Swainson's Hawk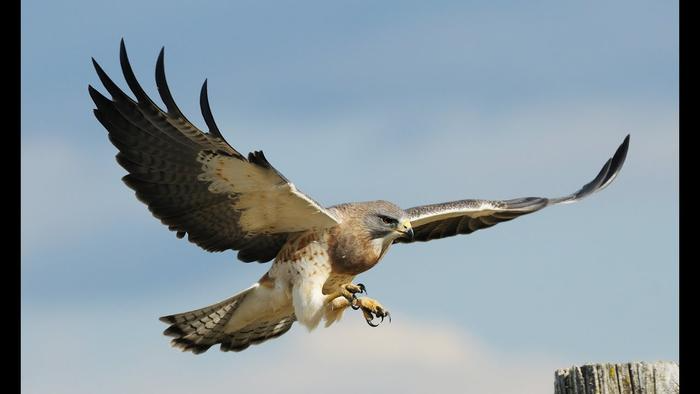 If you want to see Swainson's hawk in tons, you can go to the southeast coast of Florida, where you find so many. When the spring goes off, they migrate to Chile and Argentina, and after the season comes again, they come back to their habitat. They usually take two months to complete their one trip. They are so good at flying, even one of the best hawks in Florida.
If we look at their eating pattern, they like to eat insects a lot. Their length goes between 18 to 23 inches. And won't of these super beautiful hawks goes up to 1300 grams. So the wingspan is pretty massive and touches 55 inches in total.
New Post: Light Microscope and its Parts
5) Short Tailed Hawk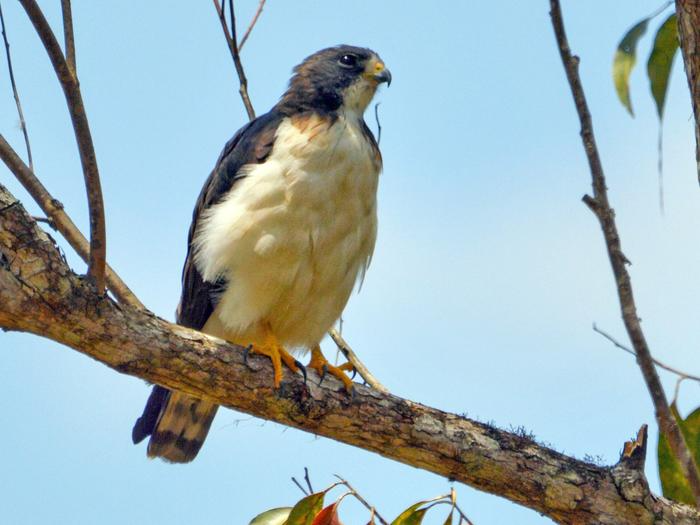 The short-tailed hawks are very similar to broad-winged hawks. But they have a white belly with brownish shades over the upper body. In addition, they have shorter tails and a colored patch on the side of their neck. The hunting style of these hawks is inexplicable. It is because there are so good and unique at their hunting. 
They take a flight and for themselves on the prey to grab it and have. A quick meal without struggling a lot like others. They usually like to hunt small birds, not bigger ones. If you wonder about the hawks height, weight, and length, they have a max of 17.5 inches in length, 530 grams in weight, and 42 inches wingspan. However, you can also learn about crane birds from my recent article on the types of crane birds. 
Latest Blog: Guidelines for Sight Adjustment & MIL vs MOA Which one is Better
6) Peregrine Falcon Hawk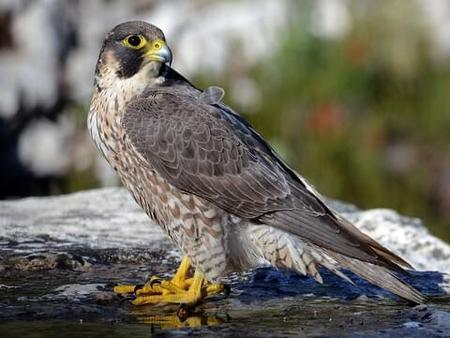 Technically, it is near a Falcon species, but it has been assumed as a duck hawk for years. So it shares the looks of Hawk and falcon. You can spot it all over Northern America. It tracks a lot, and in a single year, it almost takes a flight of 15500 miles, which is pretty amazing. 
It takes flight from Alaska to Southern America, which is too far, and it is the bird that takes the longest flight than another bird in the world. You can find them on all continents except Antarctica. They do not live in nests, so they don't build nests.
The length of these hawks goes up to 23 inches max, the weight lies between 1.4 to 3.5 lbs., and the wingspan is between 30 to 48 inches, which is pretty massive.
New Blog: Gifts for Astronomy Lovers
7) Osprey Hawk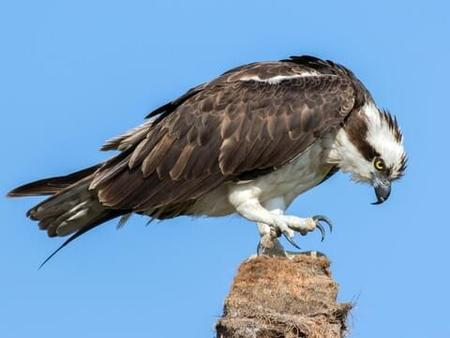 It is now a separate family from other hawks, and it hints at fish so well. It has big with short wings, and you can find it anywhere in Florida. It is not difficult to spot at all. It has massive talons that help him hint fish under the water without making a mistake.
Once it observes the fish underwater, it flies around to lock in the target; once it closes it, then it goes straight to the prey and lowers down its flight by using its slender wings and father the fish and takes the flight back to the sky immediately. It can lift bigger fish than its size because of its magical big size talons.
Its length goes up to 23 inches, and the weight is huge, up to 2 KG. Its wingspan is also massive and goes up to 70 inches. Not allhawks wingspan go beyond this figure.
Read Also: Different Types of Rifle Scopes 
8) Cooper's Hawk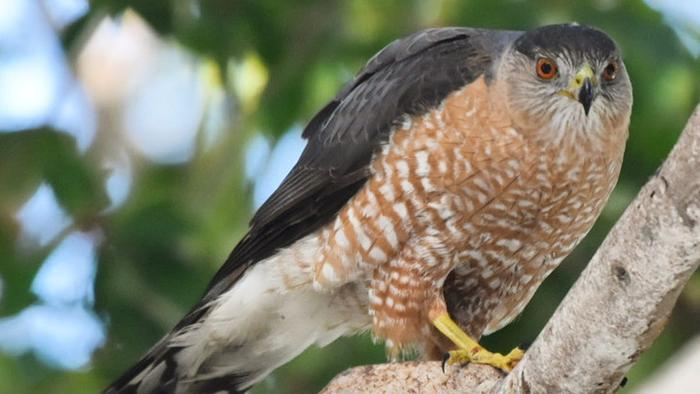 If you learn about all the hawks on the face of the earth, the Cooper's hawk is the one with medium size, gorgeous coloring shades on the feathers, and a sharp and fast hunting style. It is a super bird that follows its prey. It goes after the prey in bushes for miles and doesn't let it go from its reach. 
You can find them on poles, in streets, and on trees. Their length is moderate and is between 14 to 20 inches. The weight of this super quick Hawk is about 650 grams max. And the wingspan goes up to 35 inches. So it has everything in moderate limits and ranges.
However, if you want to observe its sharpness and fastness, you need to buy a good pair of binoculars. To buy one, you can read the best budget binoculars. 
9) Sharp Shinned Hawk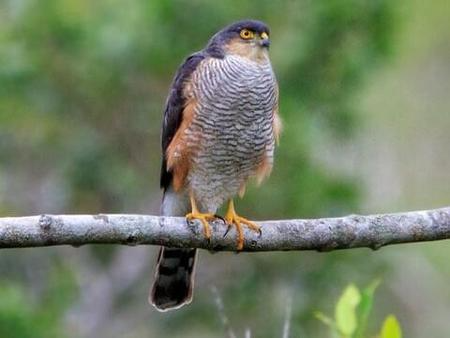 Last but not least, the sharp shinned Hawk is the smallest bird in Florida when it comes to types of hawks in Florida. They hide in camouflage and wait for the pet for hours long, and once the prey enters the kill zone, they do not let it go at any cost. Their deadly flight blows the senses of the prey, and it gets caught. 
If you want pictures of hawks in central Florida, you need to have a good opt8cal device that allows you to click images and save your memories for years to come. To buy one, you can read Monocular vs Binoculars.
Their length goes up to 13 inches max which is quite small. And weight doesn't go beyond 220 grams max. The wingspan lies between 15 to 26 inches if we look at the wingspan.
So, these are the nine types of hawks in Florida, and if you don't know what is the most common Hawk in Florida, it is a red-tailed hawk. You can find it everywhere, in all seasons. It has got no serious concerns about its existence by the IUCN.
I hope the information I shed in this article will help you understand the hawk's family well. There are nine major types of hawks in Florida. If you do not know why these hawks love to dwell in Florida, there are multiple reasons: distinct habitat, diverse variety of food, and an amazing climate pattern for these raptors. Moreover, hawks are different from eagles and falcons. Hawks are bigger than falcons and shorter than eagles. 

Conclusion
How long do hawks stay in one area?
It depends on the type of Hawk, but if we look t the research works conducted by IUCN, the red-shouldered Hawk can live up to 45 years in the same place. All other hawks usually change their habitat yearly, and some change it with season changes. 
What is the biggest Hawk in Florida?
If we see the size, wingspan, and length of the red-tailed Hawk, we come to know that it is the biggest Hawk that you can find in Florida. They keep short tails rounded, broader wings to catch their prey and take a smooth and fast flight. Moreover, they are the most common hawks that you can find seamlessly in most parts of Florida State.
What kind of hawks eat squirrels?
Once again, the red-tailed Hawk takes the lead here. The read take shawl eats squirrels, mice, rats, and other beasts. They love to eat them by keeping a sharp eye with patience and hunt with power and skill. 
What kind of Hawk is grey and white?
Usually, the hawks come to adult age, change their color, and look grey and white from different parts of their bodies. You can also find black hawks in Florida, but not the full body will be black. Instead, there will be some colorful white bands on the belly and wings.