A Compound microscope is a device that consists of two convex lenses of short focal lengths to use them examining high resolution and vastly magnified images. At the same time, a simple microscope has one convex lens for the same job.
The lenses of a compound microscope come with replaceable options and varying magnification powers such as 4x, 10x, 40x, and more. Its magnification can go up to 1000x, and for having great results, objective lens and eyepiece play an essential role. It would help to manage quality objective lenses, a vast field of view, and variable magnification to enjoy a luxurious microscopic experience.
To know its uses, functions, parts, and more. I prepared this insightful manual to answer your queries. All you need to do is lend your eyes to the words for a few minutes, and in return, you'll get to know what level you want to learn about Compound Microscopes.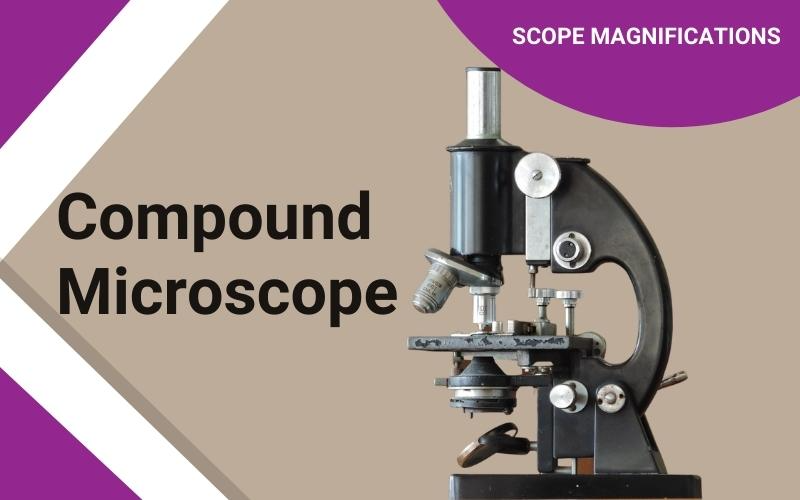 Read Also: Different Types of Rifle Scopes 
4 Types of Compound Microscopes
After knowing the details of parts and their functions in the compound microscope, we can now move further. Now, I'll explain the types of compound microscopes available in the market, and you can choose the one you need to fulfil your objective.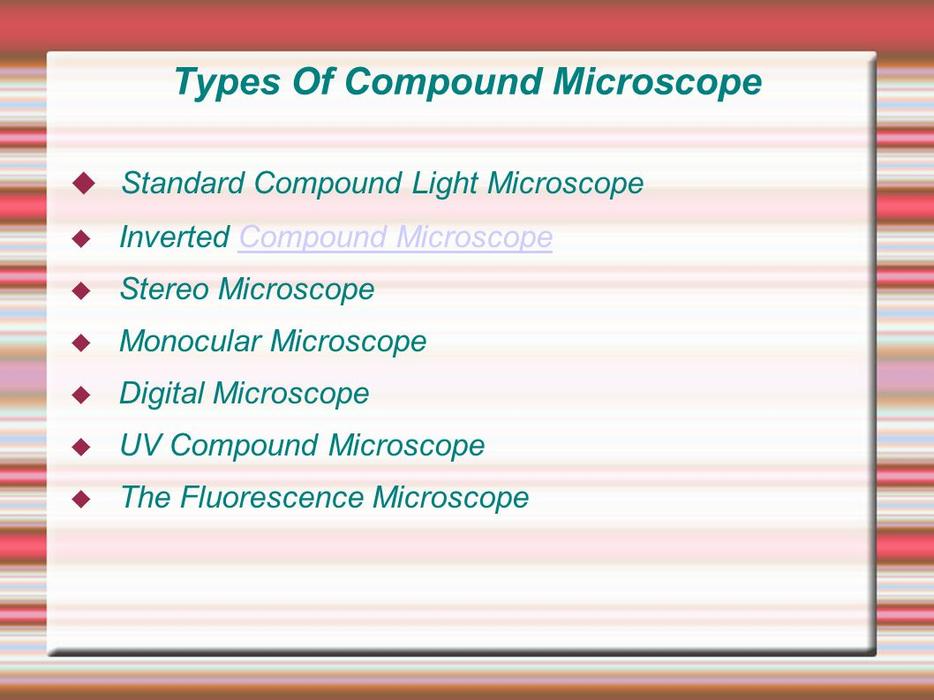 Each type has unique sets of objective lenses of the compound light microscope and other components. So, let's begin the show by grabbing the first type, a microscope for schools and students. 
1) Microscope for Students
Microscopes for schools and students are super portable and small-sized devices that offer multiple variable options in magnification. Usually, it comes with 4x, 10x, and 40x magnifying power. The compound microscope objective lens varies with the brand and type of the microscope.
Most of these microscopes come with battery backups, and you do not need to have any extra supply for that. Usually, people are unaware of the difference between toys and students' microscopes. But, you should pay attention while buying one for your child.
These are so economical and get your child to learn without breaking in the process. You can use it in the classroom, in the lab, or at your home.
2) Toy Microscope
What are compound microscopes used for children? The answer is toy microscopes. You can find this microscope in toy shops super quickly, and you get multiple accessories along with the device. The accessories include tweezers, plastic pipettes, specimens, prepared slides, and more. If you look at compound light microscope definition detailing, you'll find this one distinct from all others. 
Theseare notthe devices you should use for professional purposes because they submit a low resolution, and the results they provide are not up to the mark. Its eye relief, the field of view, vision quality, and brightness are low. You can buy this microscope for the initial learning of your child and beginners.
3) Laboratory Microscope
These are somehow similar to the students' microscope. You can use them in laboratories for examining various samples. If you use a student microscope, you have to use many integer attachments. The laboratory compound microscope functions very uniquely, and it comes with a lock focus, a rotating nosepiece, and almost four to five objective lenses.
You can put strong and big samples on the stage to examine with big size and heavier weight samples than a student or toy microscope. The laboratory compound microscope magnifying power varies, and you can use either 10x, 50x, 100x, 500x, or 1000x. It depends on the usage and the same you want to examine.
4) Research Microscope
These are the high-quality and big-budget microscopes. You cannot carry them quickly, they are not portable, and you use them at a fixed place you once installed. The quality of research microscopes is unquestionable and this compound microscope labeled as the best for labs, field usage, and offices.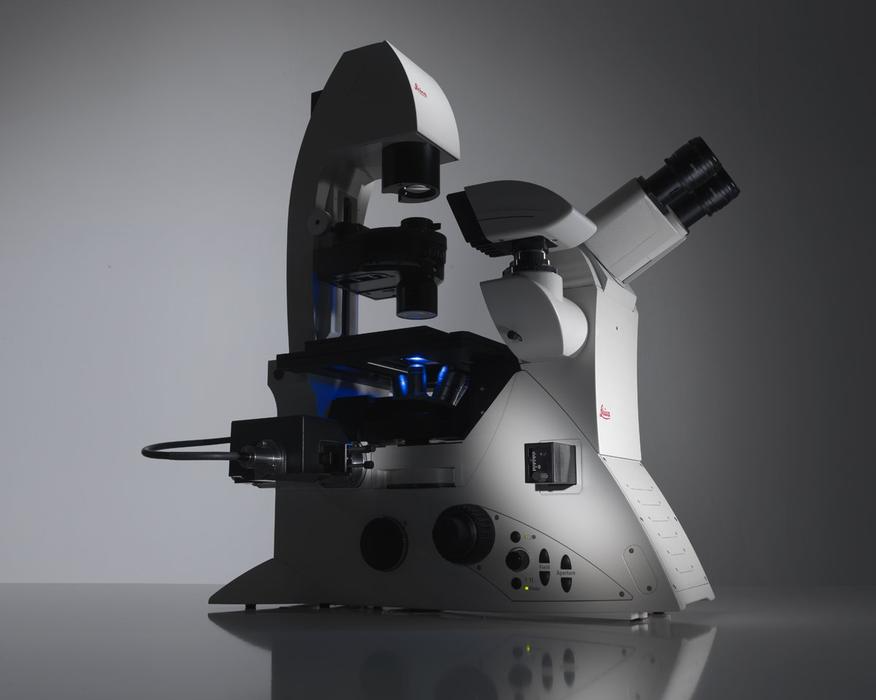 By the time you go down, you'll learn compound microscope uses, how you see magnified images, and its pros and cons. Different groups of people use one research microscope most of the time, so it should be adaptable enough to relate with the needs of individuals and group works.
You can conduct blood cells, biology, botany, chemicals, and other stuff. It is a super device that charges your pocket a heavy price once but goes a long way to help you with various research work.
Using electron and compound microscopes has multiple pros and cons. Which are listed below
PROS
It is super easy to use them
compound microscopes are more economical than electron microscopes
You can examine the live objects their samples super conveniently
High resolution for quality image
Enables you see the minute things that you can see with your naked eye
Diverse application of both microscopes
Come with a built-in lighting system
The compound microscope allows you to observe live samples 
CONS
You cannot see the atoms and molecules by using an electron microscope
Compound microscopes are used on nature walks, but it's not very frequent
Electron microscope provides black and white image only
So, this was a brief detail of the pros and cons. If you want to know the compound microscope price, it may vary with the quality and brand. But, if you manage a budget of up to $1000,
8 Parts of Compound Microscope
A compound microscope combines two words, micro and scope. The word micro means small, tiny, and petite. While the scope means is to observe, evaluate, and examine. So, this microscope has a range of types based on parts, functionality, and more.
This article will cover all of its types, the compound microscope. After going through the compound microscope diagram, we'll head towards the parts and functions of a compound microscope.
1) Eyepiece
An eyepiece is also called an ocular lens. When it comes to compound microscope parts and functions, the eyepiece has a crucial role. Initially, the microscope produces images at almost 250 mm from the eye placement. The eyepiece then magnifies it, and your eyes become able to see it. You put your eye on the exit pupil of the eyepiece point, and it delivers light to your eyes.
If you look at the compound microscope diagram, you will find it on the top, next to the microscope's arm. There are many other parts of the compound microscope; to know them all, keep reading.
Latest Blog: Guidelines for Sight Adjustment & MIL vs MOA Which one is Better
2) Arm of Compound Microscope
It is the area that plays the role of a bridge between different significant parts of the microscope. It supports the main tube body. This tube is the medium of light transmission between the objective lens to the ocular lens, and it lies between these two. It connects directly to the microscope's base and goes up to the eyepiece.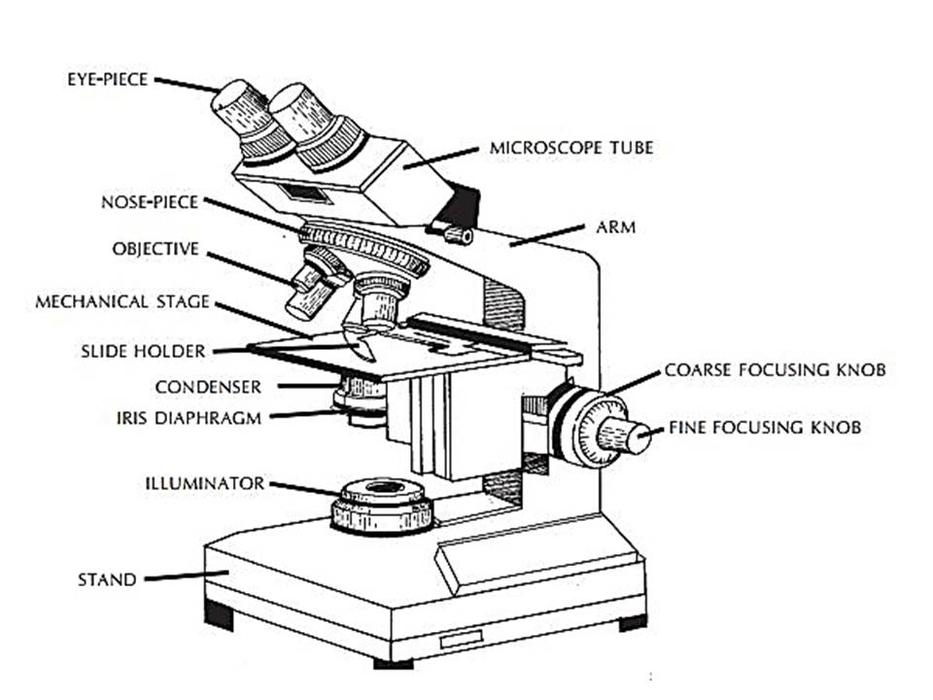 It holds the components tight enough not to allow anyone to damage any sensitive part during usage of the microscope. If you are not sure which one is a characteristic of a compound microscope, either its main tube body or the arm, I would say these two are contingent and are indispensable for the smooth working of the microscope.
New Post: How Far Away is Jupiter and Saturn in KM?
3) Focus Knob
The focus knob plays an essential part in focusing on the object you put on the microscope stage. It is settled on the microscope's arm, and you can make it up or down as you need to specimen to get in focus. If you look at the compound microscope definition, you'll get to know much about variable magnification and its adjustments.
The critical factor helps you observe and examine the small items you cannot see with your naked eye. You can adjust the magnification, specimen, and other settings as you need them in the given situation. 
4) Stage Clip
A stage clip helps you hold the slides in a fixed place. It allows you to move knobs from left to right, up to down, which is inevitable for making required changes. There are various compound microscopes, and each one has minor differences in mechanism to observe things differently.
The types of compound microscopes don't make any considerable difference to the main job of the device. The stage clip is a valuable tool to keep the object within focus. When you put a thing beneath the objective lens on the stage, the stage clip helps the device take it on for examination. 
5) Objective Lens
Objective lenses collect light to brighten the image through the microscope. Compound microscope meaning gets fulfilled when it delivers your eyes an effortless observatory facility. If you go through the compound microscope pdf in detail, you'll learn that the objective lenses are super important, and each microscope carries almost four objective lenses.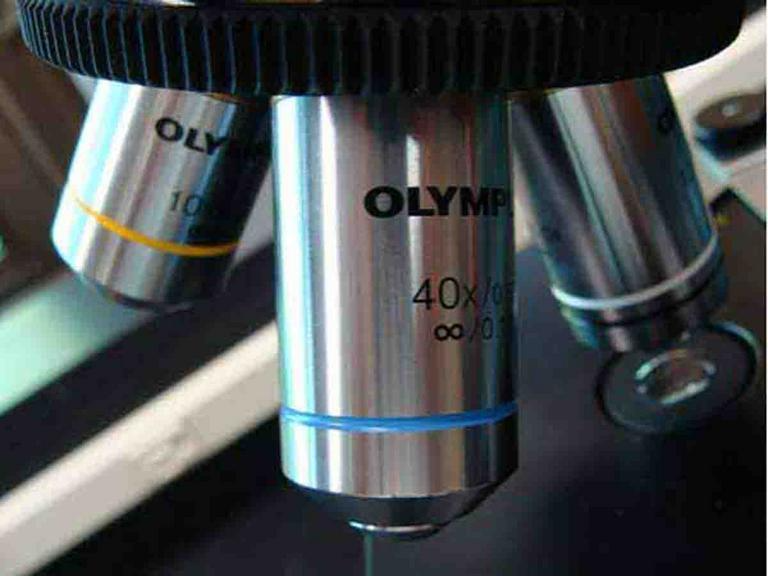 The count of lenses may vary with the type of microscope, but its job remains the same. To know more about other microscopes, you can consider reading the types of microscopes. 
6) Stage
The stage is located next to the objective lens, and you keep your intended object on the stage for the evaluation purpose. The best compound microscopes provide a well-finished stage and objective lenses to look through.
If you look at the compound microscope definition biology, you'll realize the effectiveness of this microscope. The compound microscopes focus light magnifies the image, and at the initial point of the eyepiece, you get to see a clear, vibrant image with clarity.
7) Condenser
To illuminate the specimen, the microscope's condenser gathers light from all the external sources and transmits it to the cone of light that enlightens the stage area to make the view clear.
If you are wondering, does a compound microscope have one lens? No, it does not. A compound microscope comes with multiple lenses. No compound microscopes have a single lens; it usually offers almost four lenses with varying magnifications.
8) Base
The base is the bottom of a compound microscope. The compound optical microscopes provide a smooth base that supports all the tools used in the device, and it backs the components to withstand all the burden and weight you put on the device while using it.
The compound and stereo microscopes differences are not so vast; both have some common and some different traits and functions to perform. If you are interested in knowing a light microscope, you can visit a light microscope to understand the device entirely.
Difference Between Scope vs Microscope
The scope is an optical instrument that helps you watch big objects from considerable distances. When your eyes cannot see those objects clearly, you need a monocular, binoculars, or scope to compensate for the discrepancy.
You can watch animals, birds, nature, and other things with the help of scope. You can use magnification to zoom in on the image of the object. On the other hand, a microscope does the same for minutes, and small tiny objects are not visible to your naked eye. 
It helps you observe the tissues, blood cells, bacteria, chemicals, and many other objects. You place the sample of anything on the microscope stage. Using the eyepiece initiation point, you can see those small items that were not visible before this process. It has various types, and each one has a unique set of jobs to perform. 
What is a Compound Microscope?
It is an optical device that helps you examine small tiny objects that you cannot see with your naked eye. It is different from a simple microscope based on convex lens count. A compound microscope comes with two convex lenses. Meanwhile, a simple microscope comes with one.
A compound microscope has a diverse application, and it offers a built-in light system to clear the image. It is super easy to use and price-friendly to an electron microscope.
Explain How a Compound Microscope Allows You to See Magnified Images?
The compound light microscopes use dual lenses simultaneously, which helps you see the objective lenses and the object. The objective lenses collect the required amount of light and magnify the image.
It passes the light through the ocular lens, and you get to see a clear image of the object you placed on the stage. If you look at the compound microscope diagram above, you get to learn this mechanism even in a much better way. 
Who Discovered Compound Microscope?
Janssenwas the son of a spectacle maker, and historians believe that his father must have helped him know the technicalities, and it must be the point that helped him invent the compound microscope. His full name was Jenssen Zacharias. He invested in this device back in the 1590s. He was a young boy and was a very keen observer of his father's work.
How Do Compound Microscopes Work?
A compound microscope has multiple lenses, and it uses those lenses to magnify the image you want to see. This image is known as a specimen, which you put on the stage for observation. You can move this stage up or down to get a focused image of the sample, and you find some knobs on the arm of the microscope; by adjusting them, you can change the settings, magnification, and more.
I hope this article has helped you understand the compound microscope in a better way. All these microscopes share a vast difference, and their functionality with components differs a lot. Compound microscopes have four different types, I explained above.

If you haven't gone through them all, you can go above and develop your understanding of the subject better than ever before. I have been using various microscopes such as research microscopes, toy microscopes, students' microscopes, and more.

If you follow the details I shared above, you will surely win the microscope you need to buy without making a mistake on the very first purchase. Sometimes, without having proper detailing of the product, you order something that doesn't go smoothly for you. To avoid such issues, you can rely on the information you read in this article.

Summarized Note