Usually, people do not know the exact difference between falcon and Eagle, and they consider both are the same. But, it is not valid. The ancestral background of both is the same, and they look alike up to some extent, but not entirely. Today's science has found various reasons to split them into groups. Based on DNA exploration, scientists named them Accipitriformes and Falconiformes. 
Moreover, both have so many similarities but similarities as well. If we look at the genetic facts, we know that eagles are more like owls and falcons look like parrots. So, both have different niches and habitats. This article will answer all your questions related to these two. What makes them different, and what is a suitable ecosystem to fit in for each one, which is better than the other one in sharp vision, speed, size, food, fight, and more. 
Difference between Falcon and Eagle
So, this is how these two share different weights, heights, ages, wingspans, and more. In table we discussed that there are various sizes these two have. It means we get to know a lot about their types, habitats, niches, vision, ranges, and more.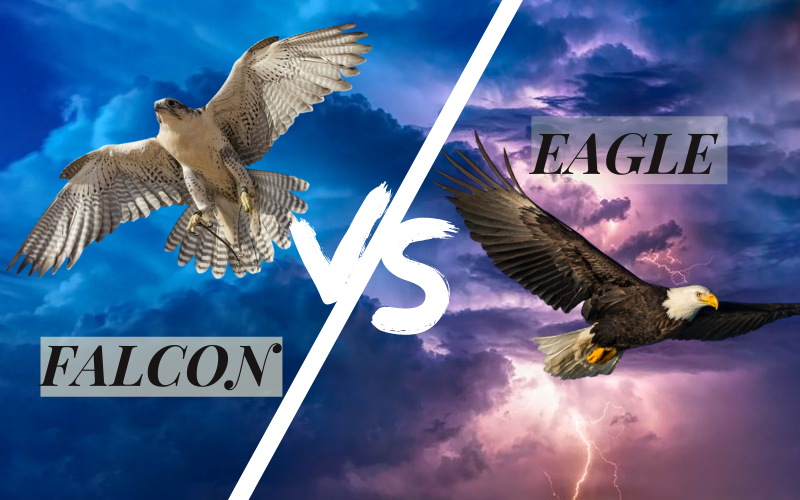 | | | |
| --- | --- | --- |
| Particulars | Falcon | Eagle |
| Weight | 8 to 74 ounces | 5 to 15 pounds |
| Height | 9 to 25 inches | 26 to 43 inches |
| Activity structure | Diurnal | Diurnal |
| Lifespan | 5 to 6.5 years | Can up to 40 years or more. |
| Training level | Intelligent | Intelligent |
| Wingspan | 20 to 48 inches | 70 to 91 inches |
I am damn sure you'll fully be aware of all the major and minor differences between falcon and Eagle after reading this extensive guide that I wrote to help you with the queries. So, first of all, let's look at the specifications or the significant differences.
Latest Blog: Guidelines for Sight Adjustment & MIL vs MOA Which one is Better
Habitat's and Home of Falcons and Eagles
You can find American Kestrels with a large variety of falcons covering the 48 States of the US. The Gyrfalcon keeps a small homeland for them, and it mostly lives in mountains, barren lands, and seaside in North America. Usually, people are confused in eagle falcon comparison. But Falcon Vs Eagle has so many things to keep them distinct from each other.
The Peregrine falcon usually builds their nests in skyscrapers, and the Marlin used to live in conifer woodlands. This was a brief detailing of a falcon's habitat, and now we'll move to the details of the Eagle's living style.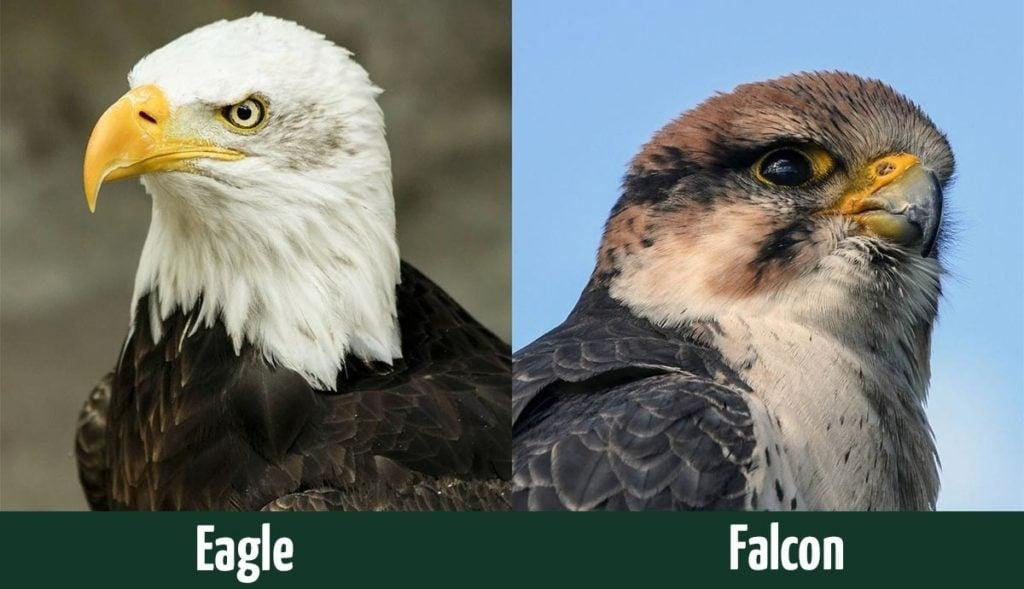 The Eagle has a different style of living, and its habitat is usually found near waters. It lives near streams, lakes, coastal areas, and other water mixtures. They also love to reside on giant deciduous and bald eagles that get back to the nest every year.
Eagles prefer to build their nests on trees having more than 50 feet in height. The more they build their houses on heightened trees, ensures they are protected from predators and human access.
On the other hand, the eagles with yellow eyes are open living birds, and they love to spend most of their time in open lands and the mountains in west America. When it comes to bald eagles, they also prefer to live in open areas and build their nests in the hills and high places.
Latest Post: Best Night Vision Monoculars
Prey Species of Falcons and Eagles
The Falcons have a range of species to prey on, and they usually rely on their aerial dive to catch the target. The American Kestrel can provide various feeding options such as grasshoppers, reptiles, rodents, etc. At the same time, the Gyrfalcons have a unique taste for prey, such as Willow Ptarmigan and other upland game species.
People call it with different names such as falcon hawk-eagle, sparrow hawk, duck hawk, and Peregrine falcon. Falcon vs Eagle vs hawk share a slight difference in look but have a massive set of dissimilarities based on speed, size, and behaviors. Eagle size is more significant than a falcon.
Falcons may also capture little owls, birds, arctic foxes, rabbits, and more animals for prey. So, this is how falcons go after targets with various options. On the other hand, the Eagles are so sharp and decisive. If we talk about bald eagles, they are so fast to capture food from other mammals.
No matter what the size of that animal or bird is, the Eagle can give a solid try to snatch the prey from it. It also goes after turtles, rabbits, and other options when hungry.
While the Golden Eagle is a fantastic bird, and it can prey on any type and size of mammal super quickly, and it does. It goes after hares, deer, rabbits, and many others. If you look at the preys, there is no condition of size and family, all it takes is a Golden Eagle and a decisive flight to take on. 
New Post: Light Microscope and its Parts
The Behavior of Falcon and Eagle
Now, we will talk about the behavior of falcon and Eagle and will try to find out how they are different in behavior. And let me tell you there is a high difference. The difference between falcon and Eagle has no rocket science. Usually, when you think of Falcon Vs Eagle, you may feel both are the same.
But, they are not, at least not in all aspects. The behavior of a falcon is as fast as it flies. The Peregrine falcon can fly at a speed of 242 mph, and its large wings with a long tail help it pass more quickly than you expect from it.
They usually live in solitary conditions and do not often mingle with groups, except during migration. It is a powerful bird, and its flying dive gives no chance for prey to go off. Falcon vs eagle fight can be interesting, but Eagle can take the lead on falcon because it has a bigger size, speed, and wings.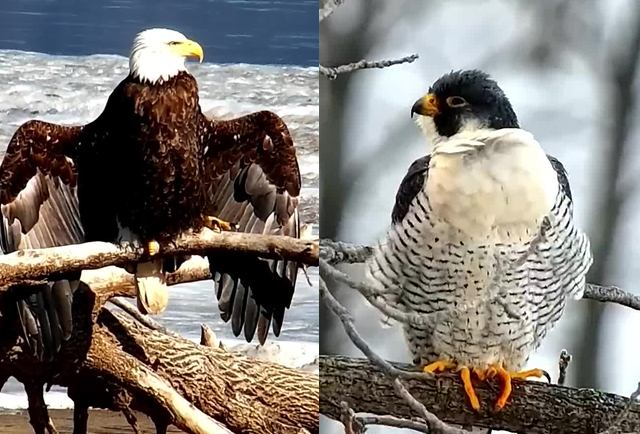 There is not much difference between falcons regarding eagles' behavior. Eagles often like to live in solitary situations and only follow the group living style in migrations. The male and female eagles take part in building nests, and both take good care of the baby eagle. They do not build nests near other nests and find a solitary place for making one.
They have no voice usually, and if you have seen movies that show the eagles are screaming, that is not the whole truth at all. The golden Eagle usually goes hunting in pairs, and one goes after the target to chase it, and the other dispatches it without delaying a moment when it comes in range.
They are so big, but the speed is fantastic. They can reach up to 205mph super conveniently. When it comes to lifting the worthy, an eagle can easily take up more than 8lbs. 
Read Also: Different Types of Rifle Scopes 
Conservation of Eagle and Falcon
It varies with the type of species you are talking about. If we look at the conservation status of Peregrine, it was threatened to be decreased to the east level. Still, according to the Union for Conservation Nature and Natural Resources, most birds are not the primary concern, and they are good in population now.
On the other hand, the ban on pesticides in 1972 by the US Environmental Protection Agency has helped the species to grow and conserve them from poisonous food and trees. It was the critical factor to save falcons from the threat posed by the environment.
Almost all the species of eagles have been facing issues, except the Golden and Bald ones. These are in enormous numbers because of the DDT ban. It. was the ban that gave time to both species to grow their families, and they did so.
In the last four decades, their population has grown up to a considerable extent. If we compare peregrine falcon vs bald eagles, the Bald eagles have a larger population than the Peregrine Falcon.
Latest Article: Best Binoculars Brands
Migration Process of Falcon Vs Eagle
Falcons migrate pretty often, but not all. Some migrate, and the rest reside at the same place to get enough food to eat. And they relocate because of multiple reasons, they want to give raptors a reason to live, and environmental changes are the primary reasons for migration.
Moreover, raptors do not live up in warmer conditions, and they move from one place to another. That is another reason for falcons to migrate from one place to another.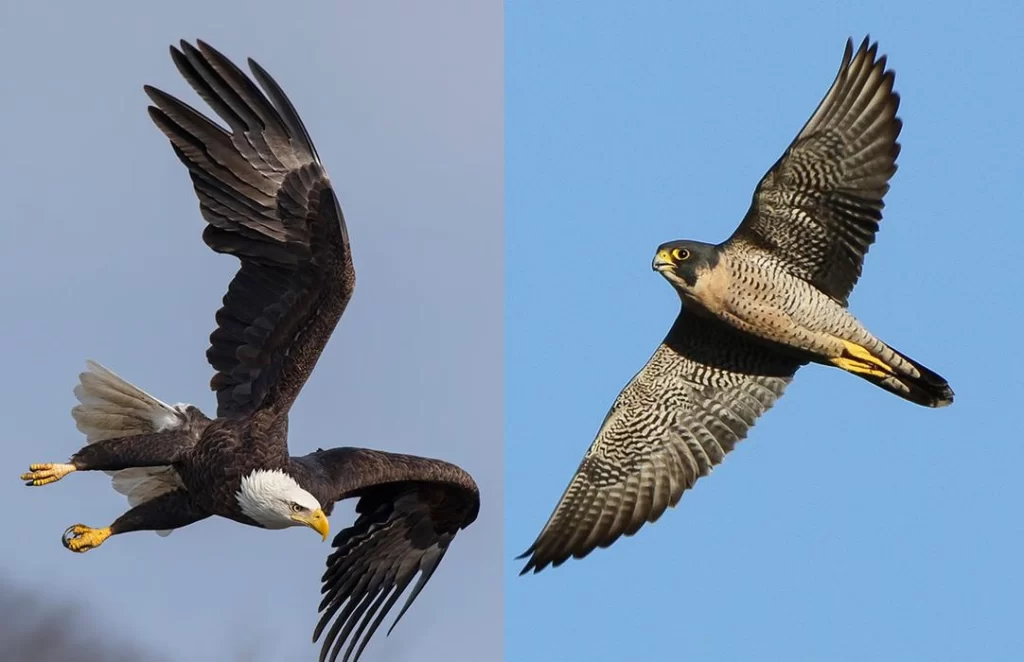 If we look at the Eagle's migration, the Bald eagles migrate from northern areas searching for food, which in the shape of raptors have already been moved due to environmental factors. There they have to compete with so many other preys.
In Europe and Asia, you can find Golden Eagles everywhere. It has a significant population on these two continents. So, Golden Eagles usually do not migrate very often, and they move only if the severity of weather or other threats compelled them to migrate.
New Post: How Far Away is Jupiter and Saturn in KM?
How Much Is A Falcon Bird?
If you look at the overall appearance, it is more of a bird for sure, but when you lol at its speed and its power to lift the weight, that makes you believe it is an animal. But, it is not. It is from a bird family. Size, speed, and population are essential factors in migration. If you look at the falcon size comparison with an eagle, Falcons are more accessible to migrate than eagles.
Relationship with Human
If we first look at falcons' relationship with humans, it depends. Usually, if humans love to feed them and arrange their food regularly, Falcons can build a home nearby your house as well. Some people keep them, grow them, and train them for hunting, but they are not as good as eagles in hunting. When it comes to falcon vs eagles, Eagles are the preferred side for hunting. 
Falcon Vs Eagle is one of the most overrated questions, and if we look closely, we'll get to know that eagles are far more powerful than falcons in almost everything they possess. 
When it comes to eagles' relationship with humans, it is excellent. Back in 1782, it was given the status of a national symbol. And everyone loves keeping it and training it for hunting and other purposes.
And it is excellent for hunting. But, sometimes, they hunt your pets, which is something appreciable. Another reason not to keep them in cities is that they fly so furiously and encounter a plane or helicopter, causing them to crash. Eagle vs falcon, so Eagle is the best.
Speed and Wings of Eagle Vs Falcon
When it comes to speed, Falcons are super good. They can fly up to 242 mph, which is unbelievable with birds. But falcons are more than birds. If you look at the falcon vs eagle size, Eagles are more significant than falcons, which is why falcons can fly faster than eagles with a lightweight body. The Falcons take the lead over eagles when it comes to falcon vs eagle speed. 
If you want to create a falcon vs eagle difference, in reality, you need to look at everything in detail, such as size, speed, hunting capacity, power, and wings. The wings of a falcon can stretch up to 20 to 48 inches, which is quite good but as good as eagles have.
An eagle can fly at a speed of 200 mph, and it is the best for hunting. It is far more extensive than a falcon if you look at its size. Its weight and power are also more than that of the Falcons family. The wingspan of eagles goes up to 91 inches which is enormous.
Both falcons vs eagle eyesight are super good, and I hope this manual will help you differentiate falcon vs Eagle vs hawk vs kite now. And you must be fully aware of the peregrine falcon vs eagle fight scenario. Falcon vs Eagle is a no-match; Eagle is giant, has more powerful, enormous wings, and strong hunting skills, making it a perfect bird over all others.
In Middle Eastern countries, people love to keep eagles as pet birds, and they spend millions of dollars to buy the best breed for hunting purposes. Royal families always love to hunt, and an Eagle can play an inevitable part in getting desired results in hunting.
Difference Between Hawk vs Falcon Vs Eagle
Hawks have short and rounded wings and have narrow tails. At the same time, the Falcon Vs Eagle has almost the same with a slight difference. Falcons usually have pointed wings and long tails that help them fly fast and speedily.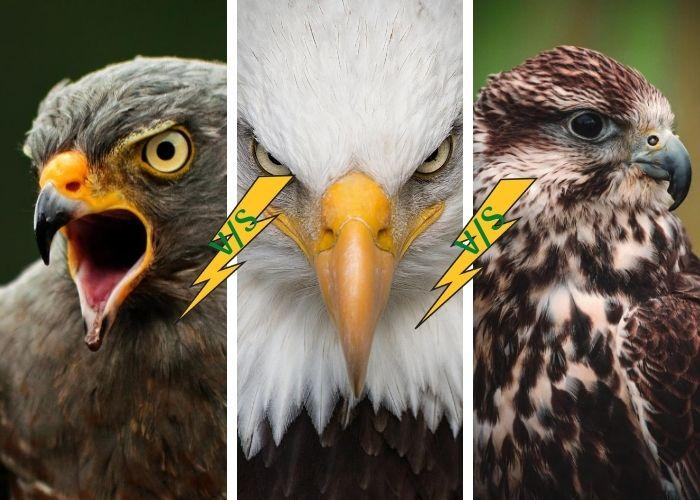 In contrast, the Eagles have a wedge-shaped seat that plays a crucial role in taking a balanced and smooth flight for long journeys or diving in at prey.
Falcon Vs Eagle's Vision
Falcons have a great vision and they can see far better than human beings. It is a scientifically proven fact that falcons can see eight times better than humans.
So, the object that you cannot see with your naked eye and you have to bring a quality binocular, rangefinder, or scope to see that object with clarity and precision, a falcon can do it with its eyes. An extraordinary scope and binos can compensate human beings for their lack of vision as compared to falcons.
It is a fact that every animal or bird who hunts, owns incredible sighting power. But, when it comes to eagles that is something beyond imagination. They also can see eight times better than humans and their vision clarity doesn't get blurred or it doesn't get dimmed because of farsightedness.
It has eyes to capture its prey from two miles. That is indeed incredible to have a great vision to a distance of up to two miles with the ultimate clarity and precision. It is not less than a supreme power to have an extraordinary vision, and you can enjoy the eagle's eye by having a great collection of optical aiding devices such as scope, monoculars, and binoculars.
Falcon Vs Eagle Way of Hunting/Diving
As far as hunting is concerned, the eagles are always better than falcons. Eagles waste no time, focus on the target, lock it in, capture it, and crush it with its talons within no time. On the other hand, falcons do the same, but because of their small size and small wings, they are not as good as eagles are.
Eagles have a variety of species and one of those is Steppe Eagle, it can crush the head of a Wolf, and can break it's skull into pieces super conveniently. Isn't it amazing?  Sounding so powerful and dominant.
When it comes to hunting a rabbit, a fish, or any other animal, Eagles and falcons stay at the sky's height. Eagle can lock in its target forming time and once it has got the signal that the prey is on point, it takes flight instantly with jumping talons, and in the beginning, it uses its wings to pace up its speed and keep its eyes on the target.
When it comes to noticing the target that falcon or eagle is coming to hunt it, it tries to divert the hunter, but as we discussed above, these birds have exceptional visionary power and they leave no stone unturned in getting their target under their hoofs.
All of a sudden eagle has to keep its wings straight and it gets curvy moves to capture the prey with the movements of its wings. Wings help the eagle to fly and capture with its pads. Once the target is in its paws, it takes the prey along and takes another flight to back its home.
Is A Falcon An Eagle?
No, it is not. A falcon and an eagle both have the same ancestors, it is true. Both share some everyday things. But, when we look into the deeper picture of them both, we know that these are different from each other. Scientists are the ones who first claimed that they are different.
Usually, people are curious about Falcon Vs Eagle comparisons, but there is no comparison. In some things, the falcon is better than an eagle, like speed. And in most things, an eagle is far better than a falcon in hunting, size, power, and wingspan.
Can A Falcon Beat An Eagle?
If we look at the speed of a peregrine falcon, with more than 200 mph speed, he can get an eagle horizontally. At the same time, a golden eagle can beat falcons. But, falcons get an edge of a lightweight and slim body compared to eagles. So, this match of Falcon Vs Eagle goes in favor of falcon. 
I hope this manual will help you understand the significant differences between falcons and eagles. Falcon Vs Eagle comparison was an interesting topic for me to read when researching various types of falcons and eagles. Later, I fell for them, and I decided to write about these two.

A falcon has better speed than an eagle, but an eagle has better hunting capability than a falcon. Both have weights, sizes, wings, and overall living styles and habitats. They live in nests, in the mountains, in open landscapes, migrate from one place to another, hunt for survival, and are one of the most powerful species of birds.

Conclusion