Usually, the difference between binoculars and monoculars is of viewing tubes. In Binoculars, you get to use a pair of tubes, and in monoculars, it is one only. But, this is a very central entity to create the difference between Monocular vs Binoculars.
If we look at both usage, it's quite the same with a slight difference in the mode of use. This article will explain the comparison of the Monocular vs Binoculars, their pros and cons, features, outlines, and more. Often, people overlook the monocular optic and go for binoculars without developing an understanding of them both.
But, if we look at the Monocular optic structure, it is half of a binocular in design. And you can use it as a telescope single-handedly. Indeed there is a high difference between monocular vs binocular vision, as binoculars have two viewing tubes. But, if you know how to use a monocular well, you can get the same results from monoculars as any binoculars offer.
Now, we'll make a comparison of each one after another in detail.
Difference Between Binoculars & Monoculars
It is pretty challenging to pick one from Monocular vs Binoculars. But, if you can develop an understanding of both and find out the major and minor differences between both optics, then you can easily pick one for your gaining the hunting and watching results your desire.
So, in this article, you can learn and make the right buying decision between Monocular vs Binoculars. 
Monocular Features Overview
The monocular optic keeps a single viewing tube, as we discussed earlier. Moreover, what are its technical details that make a difference with binocular devices? I'll explain all one after another, for example, which one is better for hunting or any other visual aid.
To know the answer to this question, you need to compare both of them or conduct an on-field experiment. I am going to do it on your behalf. You need to stick to the details below for knowing about my experience with this optical device.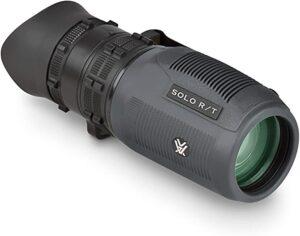 Single Viewing Tube:
As we already discussed a bit, the Monocular device keeps a single viewing tube compared to two tubes of binoculars. If you look at a binocular and cut it in half, the one half will look precisely like a Monocular.
It makes you enjoy the optimum hunting, and observation watch with crystal clarity as any standard scope, binoculars, or other optical device does.
It is a kind of modified version of a telescope device. Moreover, if you know what a one-eyed binocular is called, the answer is monocular. 
If it has a single tube, it doesn't mean it cannot perform up to the mark. On the contrary, it enables you to view the target by providing accurate light transmission through the lenses and prism.
So, all you need to do is to focus on the quality of Monocular construction material and its quality. It is how you can get the desired hunting and observation results from monoculars, or else you will not enjoy the optic performance to its excellent level.
Prism and Lens:
The Porro prism design is trendy in Monocular, initially designed for the binocular device back in 1854. If we look at the monocular lens, it helps capture the light from a distance and amplifies it. But, on the other hand, the prism plays a vital role in taking images, stores them, and upturn it.
And if you want to acquire the high-quality lens and prism in scope or binoculars, you can click on the best 30 06 scopes and best compact binoculars under $100, respectively. Prism and lens are the essential and most expensive parts of a monocular, as they need to be your priority while deciding on a monocular.
The pair of these two helps the monocular take images for sharp hunting from farthest distances on the field and conveniently make that visible to you. Pro-level hunters and wildlife explorers prefer binos over monoculars.
Magnification Power Tool:
Magnification power is a tool no one can deny its importance. It is the top line requirement in a monocular or binocular. The magnification power allows your eye to have a closer image of the target effortlessly.
However, when it comes to Monocular, you need to keep in mind that a single gaze focused on a target gets tired soon.
You cannot enjoy the view for a long time on the field. So, it is a kind of drawback of a monocular. On the other hand, it is good to have Monocular to get sharp images and rapid target acquisition.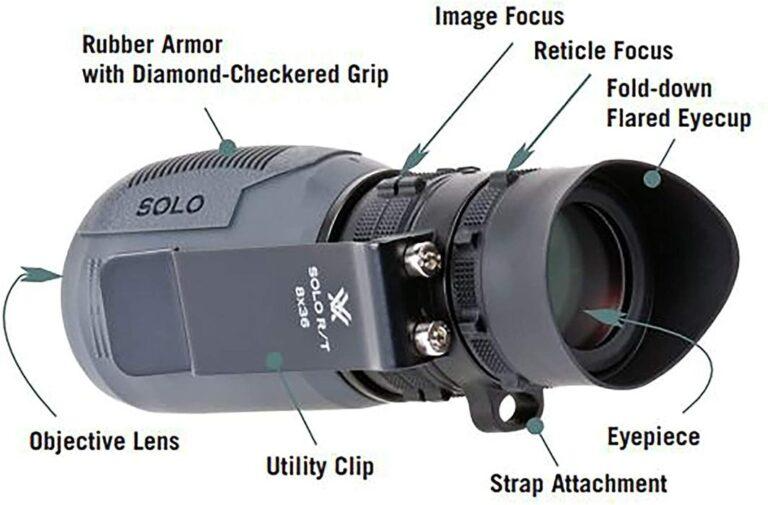 But not to keep watching the objects for long hours. So you must be thinking about the best magnification for a monocular; it can go up to 35x in some expensive ones.
Choose any one that suits your needs. But there is no doubt that magnification is one of the most influential dividers in Monocular vs Binoculars for attaining maximum hunting and observation success. 
Field of View Monocular:
There is no doubt about the win of binoculars over monoculars in the field of view. Monocular offers precision and quick picture, while binoculars provide a wider field of view, usually authentic and compact.
However, to create a comparison in Monocular vs Binoculars, you need to keep in mind that the field of view is the core component to get rid of eye fatigue. For enjoying a wide field of view in scope, you can consult my other recent article on the best scope for mini 14.
If we look at the monoculars magnification, it's suitable for a quick and sharp view but not good for using it at dusk and dawn. Your single eye will not help you well enough to focus on the objects on the field without making your eye face any fatigue. 
Weight and Size:
It is probably the first point that will make you win the race for compact Monocular over binocular. Because of the single viewing tube, it is lightweight and offers a great small size. One eye binoculars are always good in these two with a clear larger winning margin.
But, if we go into deep details, they're comfortable handling the monocular, but not for your eye. Because it's not about the size and weight of the device, it is about the functioning of the single eye with the comparison of idleness of the second one.
But, small size and lightweight help immensely in carrying the monocular; you can even keep it in your pants pocket. 
Easy to Carry and Use:
Monocular is very easy to carry anywhere you want. You do not need to take extra bags or stuff to keep it in; put it in your pocket, and you are good to go. On the other hand, the binoculars are not easy to carry.
You need an exceptional case to put them in, keep them safe from undue burden, etc. So, this goal goes to the goal post of the monocular optical device. Moreover, if you are confused, can you take photos with a monocular or not? So yes, you can take it by connecting it with your smartphone. 
Now you have developed your basic understanding of Monocular, and now I'll recommend a tactical and compact Monocular I used myself and found amazingly outstanding. The Vortex Optics Solo R/T 8×36 Monocularis made of solid material and covered with rubber for a firm grip. In addition, it offers 8-time powerful magnification to enjoy a distant view of the target. 
Additionally, it comes with ultra-adjusting eye cups with max focus adjustment. You can change the settings anytime, at any point you feel comfortable. It is small enough that you can keep it in your pocket. Moreover, the lens is fully multi-coated and lasts long with you. The O-ring seal protects the lens from harmful substances.

Editor Choice #1
Binocular Features Overview
Let's be very honest; Monocular vs Binoculars has no match. Both have distinct traits to offer. If you are looking for optical aid that fills your watch and hunting needs on the field in a natural environment, you are good to go for a pair of binos.
People usually trust binoculars more than monoculars because of their vast magnification to cover larger distances. Moreover, they are so handy and durable to perform in any situation you put them in. So, let's dive into detailed features.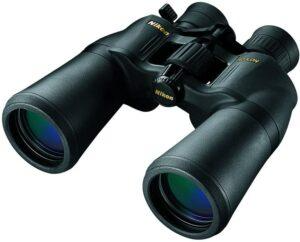 Over All Applications:
Binos usage depends on your intention for what you are buying. It provides you with an accurate view of birds, animals, and wildlife for long hours, and you can explore the mountains, jungles, and sea.
Binoculars are equally effective for all situations and super comfortable for the eye. It gives you relief to use it for long hours in one go and furnishes far better quality than Monoculars.
Dual Viewing Tub:
Monocular vs Binoculars have a significant difference between single and double viewing tubes. It gives a soothing effect to the eyes and covers them well from reflection and UV rays. So, binocular always has the edge over monocular because of its great broad view and better images.
To help you with the choices, you can choose a binocular from my recent article: the best compact binoculars under $200. It is convenient to put you on the choosing end. 
Magnification Power:
The most overrated discussion is the best magnification for covering all types of watch and hunting needs. Usually, the 15x to 20x power magnifier is more than enough to cover mid to long-range distances.
And most binoculars offer it generously. However, if you can manage more than this, you can have extra distance coverage conveniently.
Additionally, let me help you with a persistent question, is 40×60 magnification good enough or not. Yes, it is way better than good. The objective lens diameter of 60 mm with 40x magnification can create a magical equation for the perfect optical support for you.  
Vast Field of View:
If you pick the best monocular, it still cannot compete with the worst binocular. Because when both eyes see through the binocular, the vision becomes so broader compared to monocular vision.
On the other hand, if you are military personnel or a person who likes to hunt or watch objects at night, you should go for monoculars. 
Monocular has better adjustment offerings for night vision than binocular; these are the basic monocular vs binocular pros and cons. Of course, it would help if you kept them on due notice while selecting any optical device for you. 
Lens & Prism of Binocular:
Monocular versus binocular have different sets of lens and prism settings. If you look at monoculars, it has one single set of both lens and prism.
On the other hand, binoculars have almost three different types, from which two are the most popular, and modern binoculars consist of a combination of Porro and roof prism.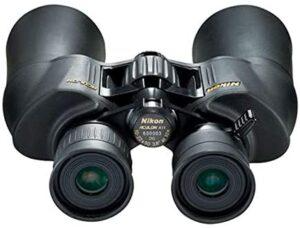 With the mixture of roof prism and Porro tools, you get the extra light to support low lighting conditions. And you get fully into reflective lenses that keep your eyes in the relaxation zone.
So, a single lens binocular is a bit better as you have to pay for one core unit, but in binocular, you will have to pay for twin viewing times, lens, and prisms separately. 
Best for Long Distance and Long Hours:
Which is the best one, either monocular or binocular, for long long-distance and long-hour usage? So, the answer is binocular is far better than monocular for covering long-range distances. Moreover, if you know how to use a monocular and use it the perfect way.
You can get results not equal to binoculars but quite improved and impressive. Therefore, binocular is the best choice for observation of wildlife animals and outdoor ventures.
Additionally, your eye needs an optical partner that makes it feel comfortable for long hours, and binoculars do not bother the eye to work hard for clear vision.
Binoculars have the ability to satisfy your eyes and keep them glad by offering them a reliable and durable sight partner. So whether you are pursuing hiking or aiming for bird hunting, it makes your ways easier than ever before.
Now, it's time for my opinion. After spending years in visual aiding instruments, I concluded that the binocular is better than the monocular. You can go for the pair of binoculars within budget: the Nikon 8252 Aculon A211 10-22×50 Zoom Binocular. It offers variable magnification from 10 to 22x, which means you can get a 22 times closer picture of the target using its powerful and versatile magnifier. In addition, it furnishes a vast 50 mm objective lens diameter to collect the extra amount of light for compensation of low lighting conditions. Moreover, it comes with a fully multi-coated lens and easy-to-control knobs for smooth central focus and outdoor observation purposes. 

Editor Choice #2
What Are the Monocular vs Binocular Pros and Cons?
Both monocular vs binocular have their own sets of pros and cons, but if we sum up the major ones in some points, that'll be handy for you to develop an understanding of the subject. First, monocular is the best option for nighttime; it supports night vision better than binocular. Moreover, it is lightweight, easy to carry, straightforward to use, and cheap; it doesn't cost like a binocular.
On the other hand, if we look at its cons, the first is its discomfort for the eyes. And it doesn't support long hours watch, and your eyes get tired. Its image quality is not up to the mark of binocular. 
While the binocular has many pros and fewer cons, it is super fit for all situations, durable and dependable. Comfortable for the eyes, it gives you the freedom to use it for a long time in one go and save your eyes from UV rays. Moreover, the quality of the image is usually perfect, mainly depends on the size of the magnifier and objective lens diameter. 
On the contrary, you have to extra price for binocular than monoculars. It is heavier in weight and challenging to carry comparatively. Moreover, you have to pay the price for the lens and prisms separately, and not suitable for night vision spotting.
Epilogue:
Based on the comparison between the Monocular vs Binoculars, you must have cleared all your queries. So, we can conclude that one eye cannot see as much as two can. So, the same case goes for monoculars and binoculars.
Monoculars cannot offer that much wonder view as you can get with binocular. And when it comes to the quality and brightness of the image from long-range distances, the binocular is the better option to go with.