Wildlife is an absolute beauty of forests, and those who love nature can relate to this fact. Nowadays, many animal species are endangered, and nature doesn't deserve it. It is mainly humans who are pushing this catastrophe to new heights. The conservation concept is suitable for giving a bit back to nature. What is the goal of wildlife conservation, its importance, types, and need? Let's learn it all and much more below.
Governments and some NGOs are doing great work to conserve wildlife. Moreover, Conservation day is a symbol to grab the attention of the masses toward this catastrophic issue. However, numerous people don't know the manifestation of wildlife endangerment threatening nature, which is unsuitable for humans. We, humans, are social animals, whether social or wild; in the end, we have to share this world. So, why not conserve it?
Definition of Wildlife Conservation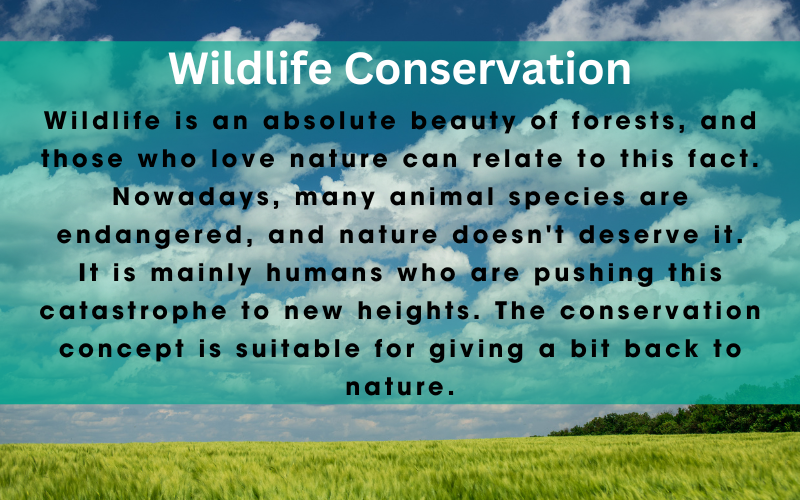 In the past, the term wildlife was used to refer to animals only and no other entity. However, things have changed, and now plants and other organisms also join the definition of wildlife. So, it is why the importance of wildlife conservation has gone up with its scope. Wildlife conservation is an excellent concept; it works to rehabilitate animals struggling with habitat issues, environmental issues, and other catastrophes. 
When you ask: what is the goal of wildlife conservation, it is very much simple but dynamic at the same time. It would help if you learned its types, the pushers behind conservation ideas, and much more. Through this article, I will explain every concept with clarity and a coherent approach. 
Why Need Wildlife Conservation/Importance?
We, humans, have done much to make our place broad, livable, and secure. However, while doing so, we forgot one thing: the protection of other animal species on the planet. The more our population expands, so does the need for space and consumption. It is why we are affecting other species and cutting jungles, making towns and colonies fill out needs. 
If you need to learn the objectives of wildlife conservation, you should understand the importance, and you will achieve the goal automatically. We, humans, cut trees for our purposes and disturb the housing of birds. We go to forests, rivers, canals, oceans, and mountains, take a position, and get something to hunt for to have a good meal; ultimately, it pays back in a severe form of threat to some specific animal species.
Keeping wildlife conservation can help sustain our ecosystem and give us a better environment. The proper habitat system for all the threatened animal species is necessary to shape this world into a good place for us and those in the future. Wildlife doesn't only impact the ecosystem but the civil life of the whole civilization even. 
However, technology can play a crucial role in conserving endangered animal species. So now, we'll look into the deeper side of the connection between technology and wildlife conservation. Let's jump into the following passage. 
Technology and Wildlife Conservation
Technology has the potential to do marvels, and this is what it has been doing to save an animal species. However, there is a lot to learn and to do more. Before I tell you that, you can know how much do alligator hunters make. 
AI Image Processing System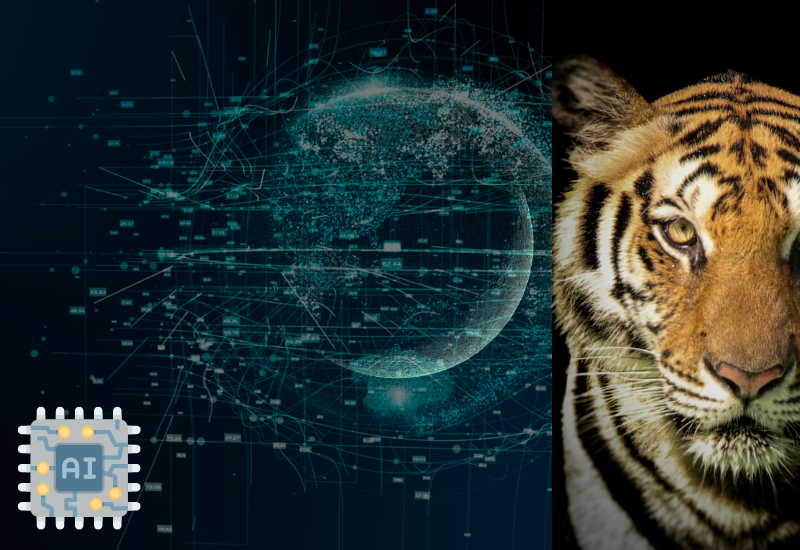 Artificial Intelligence has a huge room to play games, and it can impact lives magically. If you find any misguided data online regarding wildlife conservation, you may get it down with the help of AI automatically. The illegal trade of wildlife is at its peak, and online sources with imaging play a primary role. The AI has the power to recognize those illegal images with a success rate of more than 75%, and it is high.
Drones to Monitor
Drones can significantly help the authorities monitor individuals pursuing any illegal wildlife-related activities. By capturing scenes, and images, you can produce the same to the court of law and proceed with trials against those morons with morality and trust. 
Data Analytics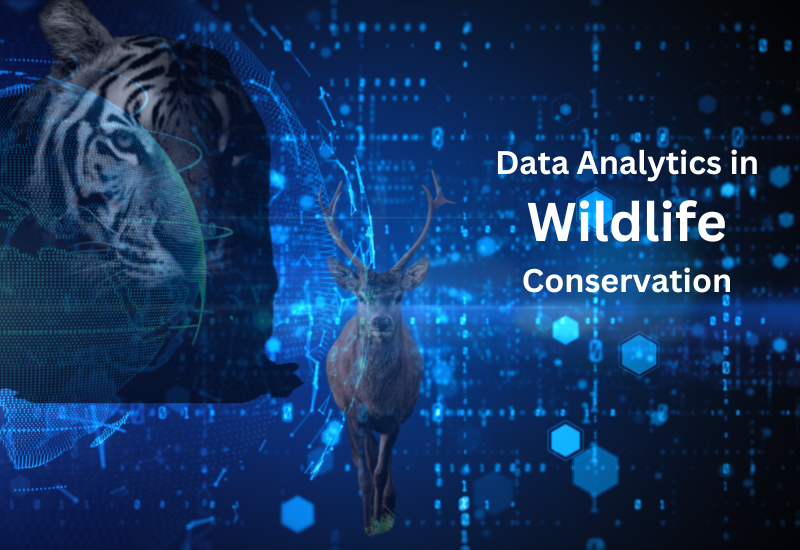 Through technology usage, things become easier to handle and process. For example, data analytics helps you gauge the ratios of positive and negative trends in wildlife. So, you can keep data safe at one point to gain error-free outcomes. It saves your time and gets you on point quickly for doing more to conserve wildlife.
Goals of Wildlife Conservation
The goals of wildlife conservation are understandable and inevitable. Many people ask what is the goal of wildlife conservation, and here I am going to love this mystery within a few lines. Let's get started.
1) Increase the Number of Species
Conservation of wildlife ensures increased animal species by saving them from disappearing. Several animal species are not part of our ecosystem anymore, and many more to count in the future. To avoid such catastrophes, wildlife conservation plays a crucial role by taking remedial measures based on research and analysis.
2) Educate and Aware People
There is a massive need to educate people about wildlife conservation. Some independent NGOs collaborate with the administrations globally to make it possible, but they need to do much more in this regard. Individuals should also play a role in this noble cause. It is more of a job for everyone not to follow illegal practices like smuggling animals, killing them without having prior licenses, and avoiding cutting trees for their minimal benefit.
3) Protects Biodiversity and Ecosystem
Protecting biodiversity is one of the significant goals of wildlife conservation. It ultimately saves the ecosystem for better living standards. If we look at the recent climate changes, there is a massive reason behind these happenings not protecting wildlife. So, governments must take strict actions against violators and offer incentives to the individuals and institutions who are doing well to make up for the wildlife conservation requirements.
4) Preserve Local Heritage and Promote Tourism
Wildlife conservation plays a significant role in preserving local heritage, and it gives a huge shout-out to the tourism of any country. People around the globe admire the States' efforts for this noble cause, and it also gets substantial financial benefits. The old generation of animal species makes you learn much about past times, civilizations, and cultures. Giving civilization due priority can share the upcoming generations a better understanding of life and positive changes.
5) Encourage Masses to Live Sustainably by Protecting Environment
What provides the set of guiding principles for managing wildlife resources? First, educate the masses about its significance for the whole world, its atmosphere, and much more. Then, it would help if you took practical measures individually and collectively. Wildlife conservation encourages people.to live a better life by keeping the environment safe and healthy. It enhances the overall lifestyle in a positive and better manner.
Types of Wildlife Conservation 
If we briefly take a view at the types of wildlife conservation, we will get help in finding the best area you can serve in a better way. Let's have a quick look at the points below.
Habitat Conservation
When humans take deforestation as their way of convenience and earning a livelihood. It plays havoc with the animal species that live in the forest, and if it persists, the chance of disappearing plants, animals, and birds is boosted. So, it would help if you kept deforestation 
Keystone Species
Animals and plants are essential in maintaining the ecosystem and overall food chain count in keystone species. An elephant is an example of keeping the African Savanna ecosystem, and so do the others.
Endangered Species
The world needs to take immediate and prompt action for endangered species. First, you need to do research and then go for the classification of the species which need to be saved immediately. 
Hunting Prevention
Governments can do the most in this field by canceling hunting licenses of the particular animal species which are needed to be saved. Preventing hunting can help in this regard the most. I hope you have learned about the goal of wildlife conservation and know well enough about its types. The types of wildlife conservation help you gauge the steps you need to take in a particular direction.
What is the biggest threat to wildlife?
Losing habitat is the most influential stuff that poses a significant threat to wildlife. Fragmentation, destruction, and degradation of animal habitats, and the same goes for plants and other organisms that can play havoc with nature. 
Why were the principles in the North American model of wildlife conservation developed?
When there were severe conditions of disappearing some wildlife species, the reasons were multiple, irregular, and irrational harvesting, deforestation, and irresponsible land usage patterns. That was the time North America had to take some measures by developing models for saving wildlife.
What are the five basic habitat needs for wildlife?
The needs can be much more, but the five that come first include food, water, nesting, mating space, shelter, and suitable weather conditions. An excellent and protective space keeps the predators away from them. As an individual and collectively, we should respect wildlife space and play a better role as they do for us.
Through this article, I tried to answer what is the goal of wildlife conservation. Wildlife is not only about animals; plants and other organisms play a crucial role in keeping nature alive and making the world a better place to live. You should play your part in this novel cause as an individual and collectively. It is a way that will get you to return for years to come and your generations to come.
Reducing plants and trees, preventing hunting, and keeping nature unchanged, are the best ways to take wildlife conservation to new heights. Nature is no less than a blessing; preserve it by letting it grow in its path.

Final Thoughts