A telescope is an optical instrument that enables you to see objects which are not visible with your bare eyes. It uses multiple lenses, mirrors, and other tools to magnify the object. It looks closer to your eyes than its actual position.
Whether you are a beginner, intermediate, or informed user, this article will answer all your queries related to telescopes. You want a telescope to look at the moon when it is at its peak, or wish to observe the stars that enlighten your eyes with the mesmerizing aroma of light, or you want to discern nature, an excellent telescope can help you live up to all these moments to the fullest.
I know which telescope is suitable for astronomy, planetary viewing, astrophotography, and more. The telescopic technology also develops binoculars, cameras, and other optical accessories. So, let's begin the show with the table of contents.  
Table of Content: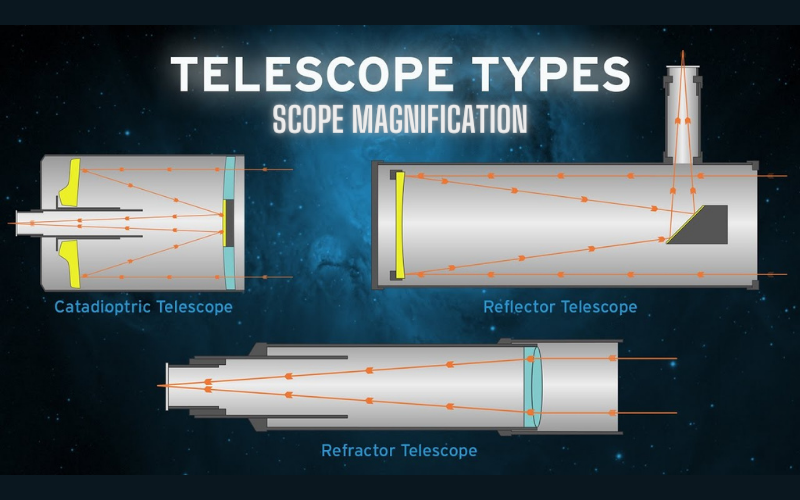 Latest Post: Types of Microscopes & its comparison chart
Different Types of Telescopes and Their Functions
There is a big chain of types of telescopes available in the market, and these types of telescopes have some major and minor types. In this section, we'll grab one after another and take a brief look at its functionality and overall performance.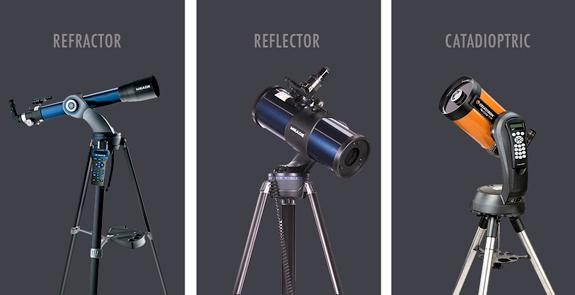 Whether you need types of telescopes for beginners, for professionals, or fieldwork, lend your eyes to the information below and get the real telescope that can do best for you. Each telescope keeps a unique set of solutions, and it will surely be exciting and cause confusion to discern which one is good for you. So, let's not waste time anymore and head towards the first type of telescope. 
Latest Article: Best Binoculars Brands & How to Focus Binoculars Properly with or without Glasses?
1) Reflector Telescope
It is one of the primary telescopes, and Sir Isaac Newton was the inventor of this telescope. It gathers the light to form an image of the eyepiece by reflecting it with the help of mirrors. Using its mirrors can reflect light efficiently, which is the initiation point of the significant job. These are super cost-effective optical devices. The mirrors used in these types of telescopes are so cheap.
If you get an equal and or small aperture in the refractor and a large aperture in the reflector, the cost of the refractor will be higher than the reflector. So, if you get a reflector and are fond of astronomy, stars, planets, and stuff like that, you got the best product to use for the process. Reflector needs some routine maintenance to avoid such big troubles due to debris, dust, and other harmful objects.
Moreover, the movement in routine usage can also cause any alignment issues, so it needs some maintenance at times to avoid such problems. Or else dust, dirt particles, and debris can go inside of the telescope and can damage its mirrors and glass surfaces. You don't need to clean it up daily, but whenever you intend to use it, take a brief look at its alignments and if there is any discrepancy, fix it up instantly and then use it. 
Latest Post: Best Night Vision Monoculars
2) Refractor Telescope
Its name tells all about the functionality of the refractor telescope. It refracts the light and bends it to create an image that travels through the tube to the eyepiece. These are super compatible with mounts, and if you are a beginner, you should prefer using a refractor telescope because it is easy to use, and there is no need for maintenance working daily. Other types of telescopes require diligence to operate them fully, except this one.
It comes with a focal ratio of almost f/8, or f/10, and these are super improved ratios to observe the moon, stars, and planets. It comes with low magnifier power but a wider field of view to better understand the planetary world. These are types of telescopes made for astronomy. The prisms used in these refracting telescopes are so expensive, and it is the critical component that makes this telescope more costly than other telescopes.
The color scheme and quality of images of these telescopes are so high, and no lag and snag can make the pictures substandard. When light passes through the prisms, refraction rates change their intensity. Different wavelengths of light do not focus on the same point that causes chromatic aberration and color fringing in these telescopes.
And now, the high-quality refractor telescopes are coming with great features to overcome this terrible issue. These are well enough to focus the light from different wavelengths on a single point, and that's the key to getting the image with no color fringing and distortion. The newly added specs and features make it a perfect optical device for astrophotography. 
3) Maksutov Cassegrain Telescope
The Maksutov Cassegrain Telescope is a hybrid telescope that uses mirrors and lenses to form an image. You find a curved lens at the front of this telescope and a spherical mirror at the back that gathers the light from the surroundings and gives it a point to focus on.
The catadioptric design of this telescope bent the light inside of the telescope and caused a considerable focal length but small physical tube. Although it is a small-sized telescope, it offers a focal ratio between f/12 and f/14, which is impressive and helpful compared to refractors and reflective telescopes. And this high ratio has a direct effect on the field of view, which goes narrow with the increase in the size of the focal ratio. 
Overall, these are good telescopes to view the lunar, galaxies, and other objects in the sky. Sometimes, the narrow field of view doesn't allow the whole thing to fit in the view. There are different types of telescopes for space, and you can choose anyone as it fits your needs. The Maksutov Cassegrain Telescope also submits smaller apertures, and they need large lenses to do the job well enough.
The more you go for shorter apertures, the higher the chances of performance limitations in it. Overall, it is a perfect device as its design allows it to perform a telescopic job. It has a lightweight body, is easy to carry, easy to use, and requires no daily maintenance; these are its winning edges over other telescopes.
4) Dobsonian Telescope
It is the most underrated and underestimated telescope, but I would strongly recommend you consider it for purchase if you are a beginner. And if you want to enjoy a massive aperture with improved resolution, natural color schema, and affordable price, you are good to go for this beautiful telescope.
These types of telescopes are just like reflector telescopes, and their functionality goes in the same way. The Dobsonian Telescope comes with features in large quantities, and it's a sturdy design, having compatibility with a very popular mount designed by John Dobson. It has a set of merits and demerits every optical product carries.
The convenient fact about the Dobsonian Telescope is its simple structure and procedure. You can set it up in a few minutes, and no need to spend hours in its setup. Another advantage of this telescope is its economic range compared to other telescopes. Moreover, if you want to pursue astronomy like a pro, you need a reliable and accurate device like the Dobsonian Telescope. It is the first choice of thousands of astronomers. 
It might not give you options for up-gradation or doesn't provide you with a very eye-catching outlook, but it is an unbeatable product in astronomy. It is way worthy for astronomers, whether beginners, intermediates, or experienced ones. These are the types of telescopes for low vision because of their small size, but their clarity of vision is unquestionable.
Most Common Telescopic Terminologies
Before we go towards the types and functions of telescopes, we should know some basic terminologies to understand the telescope world in a better way. There are four major types of telescopes, and each one has a unique series of components and functions to perform.
After explaining the terms, we'll head towards explaining those four types in detail. And now, let's grab the first term related to telescopes.
1) Focal Length
The distance between the images of the object is in focus, and the primary lens is called the focal length. Usually, the more you get a bigger focal length, the bigger the telescope will be, but it does not go with all telescopes.
When it comes to types of telescopes, it is the most significant factor that decides the six focal lengths. By what factor your telescope magnifies, it is agreed by focal length mainly. So, it is an indispensable component of the telescope. 
2) Aperture
It is an inevitable tool in a telescope that performs an important job. An aperture calculates how much a light telescope needs and how much it can gather. The more incredible amount of light your telescope can pick, the bigger the aperture, the more you invest in it.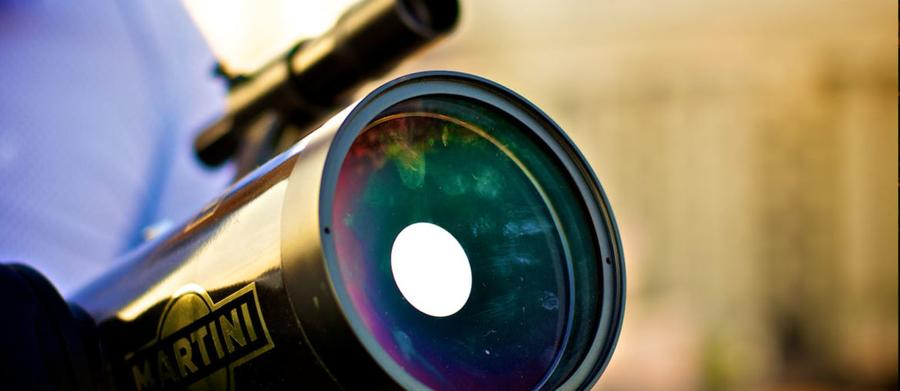 The size of the aperture has a direct relationship with a primary lens. Moreover, it collects extra light for the telescope, and that's the key factor to enjoying vibrant and clear images. Usually, a large aperture is preferred, and users love to invest in its bigger size.
Some telescopes come with small apertures and collect a small amount of light. So, before you buy an aperture, keep in mind its size should be moderate because if you get an extra-large size, that may cause heavier weight to the telescope. 
New Blog: All Types & Parts of Compound Microscope
3) F-Ratio
F-ratio or F-Number is an equation that tells which type of relationship Focal length and aperture share. It goes like this; you have to divide the focal length by aperture size if we look at its equation. After the process, the F-Ratio comes between F/4 to F/14.
So, if you get F/4 or other small numbers, it means your telescope has a small magnification power, but on the other hand, it will submit a bigger field of view. And it is not so good to see the moon, planets, stars, and other farthest objects. And it is ideal for astrophotography.
On the other hand, if you get an F- ratio like F/10, or F/ 12, it means your telescope has a bigger magnifier and a smaller field of view. It may help the telescope to capture the images from long distances. And it is the setup that allows you to see stars, moon, planets, and other farthest objects. These types of telescopes are so good for children to shape their minds with clarity and to get them closer to nature and facts.
Latest Blog: Guidelines for Sight Adjustment & MIL vs MOA Which one is Better
4) Resolution
If you get a 10 inches telescope, that can do twice the job of a 5 inches telescope. The resolving power of every telescope varies, and it can be estimated through a formula constructed by William Dawes back in the 19th century. Manufacturers list the Dawes limit for aperture, and it helps you know the resolution power of the telescope.
Benefits of Telescope
I'll tell you some universal benefits that a telescope offers you. Different types of telescopes come with distinct sets of features and benefits. To find the similarities and advantages you can get in all kinds of telescopes, let's read out the points below.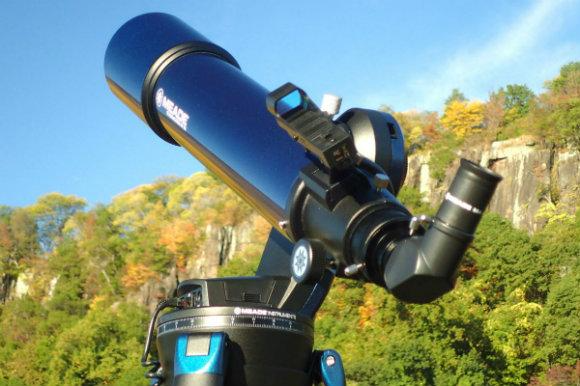 It comes with long focal ratios that offer to use more extended focus and make their way to use the device for the max usefulness 
It creates powerful magnification to zoom in the object that you cannot see with your bare eyes
It provides you with a broader field of view to observe the object to the fullest
Telescope gets the images free from aberration, and it helps you observe the object with the utmost clarity and precision 
Easy to use and easy to set up
No ultra-level training needed to operate them
Some are so economical and the best choice for beginners
Some Extra Tips For Telescopes
If you intend to buy a telescope, I added some pro tips to help you with the best decision-making that can eradicate all your insecurities at the earliest stage of purchase. All types of telescopes require some technical details while buying any of them.
Take a look at the points below to get the finest optical aid for astronomy, astrophotography, moon-viewing, galaxy observation, and more.
A rule of thumb that can do a magical job for you is to maintain min 2.8 inches aperture in any telescope you want to buy
Keep the mirror and lens diameter in due consideration
The more you invest in bigger aperture, the higher the quality of pictures will be
Try to get magnification that gets moderate addition to the image quality; if you go beyond limits, it will present a blurry picture
If you don't want to spend much of your money, you are good to go for Reflector and Dobsonian telescope
Keep these five points in your mind and prioritize them all to gain a stable and reliable telescope.
What are Two Problems with Refracting Telescopes?
Two problems: Chromatic aberration and size limitation. What are these and how do they affect the vision and overall image quality? Let's uncover the myth below.
1) Chromatic Aberration
It occurs when different colors of light are refracted differently by the lens. It causes an image to arise blurry and encompassed by colored ruffles. A lens arches light differently depending on its wavelength, so the various colors of light don't concentrate at the identical threshold. 
If you intend to overcome such issues, one solution to this problem is to use multiple lenses of different materials, which can make the telescope heavier and pricier. Building a refracting telescope asks for exceptional care and expertise. However, it is worthwhile.
2) Size Limitations
Another problem with refracting telescopes is size limitations. The bigger the lens, the higher light it can collect and better the image quality. However, as lenses get bigger, they become heftier and harder to manufacture without shortcomings. 
It restrains the empirical length of refracting telescopes, producing them less useful for astronomy than reflecting telescopes. So, cracking the sizing requirements within medium ranges can turn the issue off. So, these are the disadvantages of refracting telescopes.
Are Dobsonians good for planets?
Yes, the Dobsonians telescopes are so good to see planets. You can watch bands on Saturn, caps on Mars, caps of Jupiter, moon, and more with the ultimate clarity. If you manage to buy the correct technical details of aperture, identification, and focal ratio, there is no doubt that the telescope will perform optimally. 
What type of telescope is most commonly used by astronomers?
If we see the stats in the world of telescope users, we get to know that the Hubble Space Telescope is the top device that most professionals and astronomers prefer to use. Some other telescopes are widespread, but no one can beat the Reflecting Hubble Space Telescope. 
What are the most famous telescopes?
As discussed in the above question, the Hubble Space Telescope is the most famous. And the subsidiary telescopes that follow the trends of popularity are the Keck Observatory telescope, James Webb Space Telescope, and Spitzer Space telescope. So, these are some most famous telescopes. 
Which type of telescope is best?
Each telescope has a distinct series of features and merits, but if we conduct thorough research to find the best telescope, we get to know that the Reflector telescope is the best optical device. It is the best device that adds value to your hobby, passions, and profession. 
How many types of telescopes are there?
There are numerous types of major and minor telescopes that are in use nowadays. If we conclude all those in some significant types, these are four telescopes: Reflector, Refractor, Dobsonian, and Maksutov Cassegrain. There are some other telescopes with minor changes in technical details, but these four are the most complete and most popular.
Can you see planets with binoculars?
If you buy an excellent pair of binoculars, it can help you see the planets, moon, stars, and other objects in the sky. A simple binocular is not enough for this purpose, but great binoculars furnish powerful magnification, a wider field of view, and a substantial objective lens. 
Well, as closing thoughts, I would like to mention that everyone asks a question, which is the best telescope? But, unfortunately, there is no hard and fast answer you can find to this question. It purely depends on your usage preference, style, or need for astronomy, which type of astronomy you want to pursue, etc.

All these things are the key factor behind the selection of a telescope. The types of telescopes I explained above can cover all your needs and wants; you need a device that suits your needs the most. 

Conclusion