Spotting scope is the real deal for hunters, astronomers, wildlife viewers, nature observers, and more. Spotting scope is the best sighting tool for viewing distant objects. So, if you are looking for how to use a spotting scope and get the best out of it, this article is for you. Here you'll find all the nitty-gritty of spotting scope and its usage.
Viewing distant objects while standing in your position is no less than a blessing, and you can have it by getting an extraordinary spotting scope. This article will uncover the secrets behind choosing an excellent spotting scope, its usage, types, and more. All you need to do is stick with the flow of words and get what you seek here.
What is A Spotting Scope? 
A spotting scope is a telescope in a compact form, and it is the best sighting tool to observe objects at a far distance. So, if you love to observe distant birds, nature viewing, and wildlife following, or do a bit of astronomy, you can have a spotting scope and enjoy all these jobs super conveniently.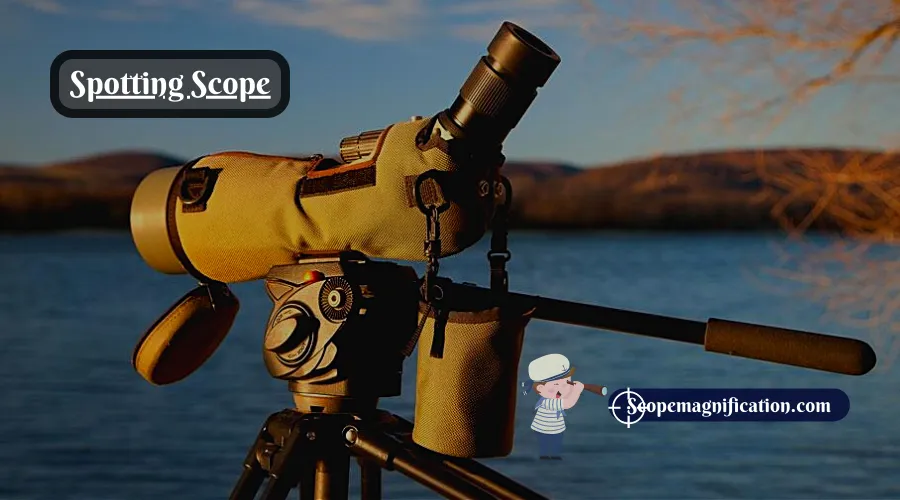 You must be eager to learn how to use a spotting scope, and your wait will end by the time you reach down.
Understand Scope Anatomy
Before I take you to the usage details or anything else, you must know the different parts and components used in a spotting scope. By comprehending anatomy you can better understand the topic. So, let's begin the show right away.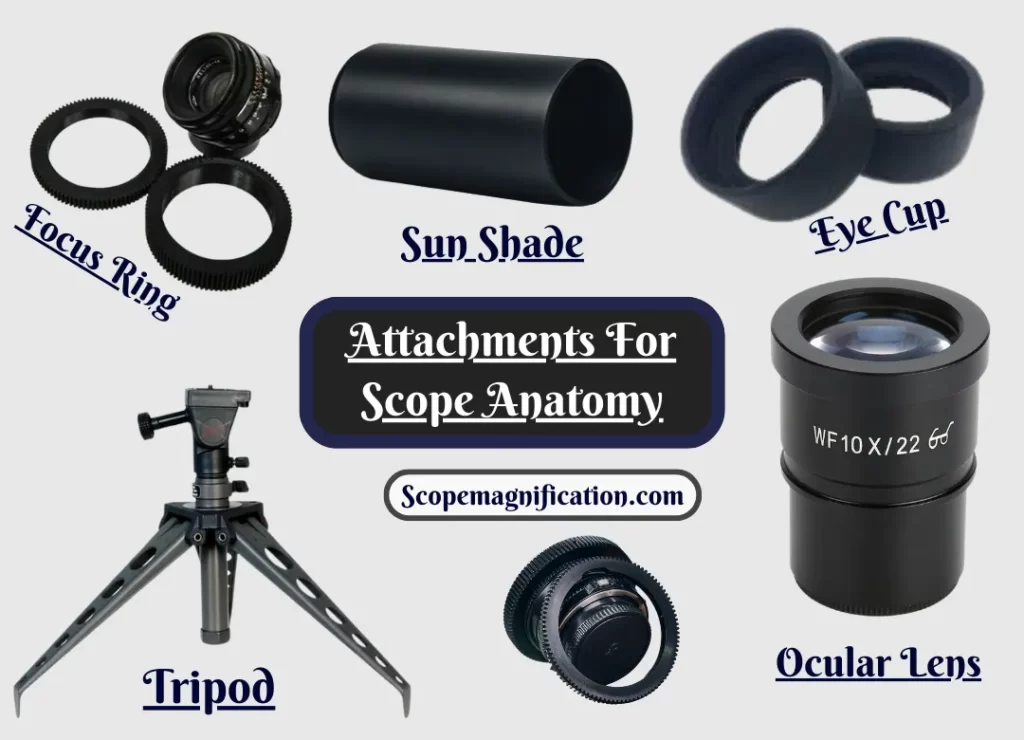 1) Ocular Lens
The Lens makes you see through it to observe a distant object. It locates at the beginning of a spotting scope.
2) Zoom Adjustment/Magnification 
Zoom adjustment is the component tag that helps you get a distant object closer by not moving a step but using magnification. All you need to do is rotate clockwise for greater zoom power.
3) Eye Cup 
It is the part that allows you to put your eye on it and look through the Lens. However, you can cover it when not using it and can remove the cover when to use it.
4) Sun Shade 
It is the component that I was talking about in the above heading to cover an eye cup. You can protect the objective Lens by using a sunshade. 
5) Focus Ring 
It is a ring that helps you get the object within focus by rotating it. You can do so clockwise and anti-clockwise as fits in the situation given.
6) Objective Lens 
The objective lens lies at the end of the scope and is the primary element that helps you point to an object you want to see. 
7) Tripod
A spotting scope is only reasonable to use with a tripod. So, try getting a foldable tripod; you can fold it when not using it. So, spotting scope magnification explained, and the rest of the parts are as well; I hope you can better understand the choosing story now. So, let's not make it late and go straight to the choosing process.
How to Choose A Spotting Scope?
Choosing a spotting scope is no rocket science, but it takes a huge responsibility to make the right buying decision, and that's what you can do if you know about the device. First, you need to learn about the glass quality, the magnification power, price trends, and more.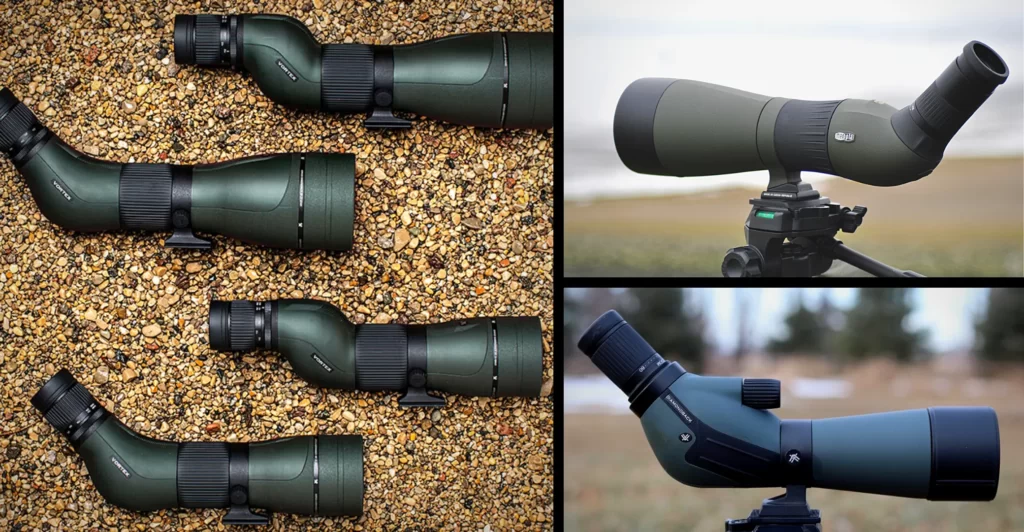 However, before you touch on the details, you can win the best night vision scope for coyote hunting.
How to Use A Spotting Scope?
So, here comes the most favorite section of this article, the usage process. Let's not give it a lousy shot but a close read. After reading the points below, how to use a spotting scope for birding will not be a question anymore. So, let's get started right away.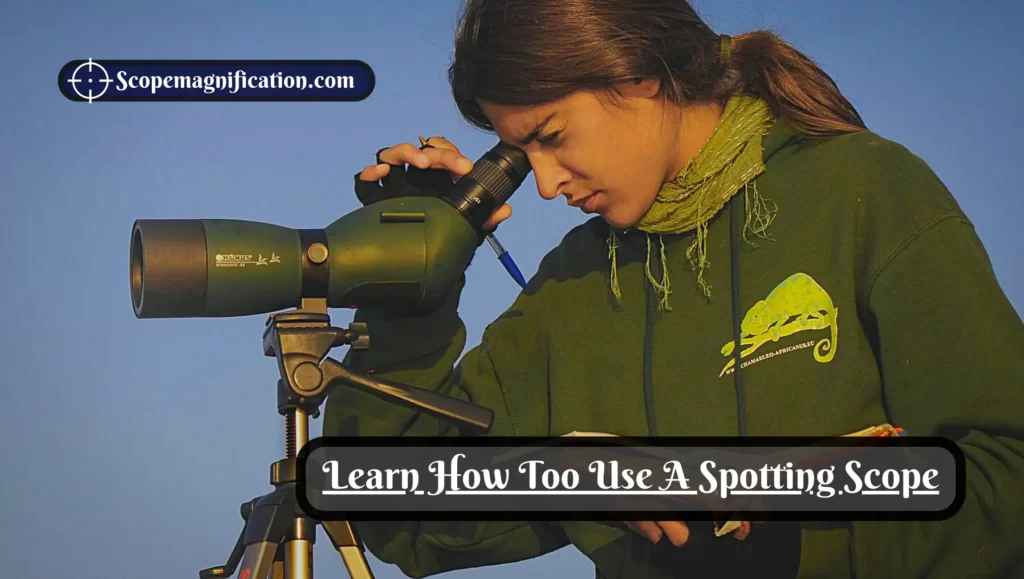 1) Prepare Your Scope and Set it Up
First, you must prepare your scope for setting it up properly. You need to ensure that everything is ready to be in the game. A flexible tripod is good to help you adjust the scope even if the height of the user varies. It would help if you searched for the location you want to observe and then prepared a ground or a surface where you will put the tripod and fix the scope. 
2) Use the Spotter 
Taking a legal shot is inevitable; a spotter can help you gauge the details of the animals you want to hunt. You can also use a rangefinder to calculate the distance between you and the object. When you start learning how to use a spotting scope for shooting, this step is mandatory, or else you won't get desired outcomes.
3) Tilt and Pan the Scope
It would help if you also unlocked the tilt and pan locks. However, if you get the latest tripod, you can only manage all the waves with a handle. If you turn it clockwise, the tip will lock on the spot, and if you move it anti-clockwise, the grip will lose, and you can set it in the direction you want. I hope you are enjoying learning how to use a spotting scope so far.
4) Adjust the Focus 
Adjusting the focus is a primary phase in how to use a spotting scope. There are usually three positions to change: eye cup adjustment, zoom adjustment, and focus ring. You can use these three components to focus on distant objects. Most users go for the zoom adjustment as it offers a broader range to cover distant objects from a standing position.
5) Avoid Glare 
Using a scope in the open field will be easier once and if you use a sunshade to avoid Glare. You can move it from left to right and right to left; it helps you focus on the object without getting distracted by the sunshine.
It is how to use a spotting scope properly. Some users ask about using a camera as a spotting scope, and for those, I want to tell you that it is possible. Utilizing a camera as a spotting scope for more clarity and precision is now Digi scoping. So, the practice is in fashion these days, and most photographers and wildlife observers love using it.
How does a spotting scope work?
A spotting scope works as simply as an ordinary scope, and the only difference you find is that using a tripod is necessary. All you need to do is fix it at a place and focus on the object with no flexibility, and you are good to observe or take a shot.
How to use spotter scope MW2?
If you play Call of Duty: Warzone, you must know its usage. It is a tactical elopement that appears to make enemies for a specific period. You can use spotter scope MW2 to gain the and kick out of your gameplay.
The primary topic of the article is how to use a spotting scope. It starts with the basic arrangements, including a scope, an excellent tripod, using a spotter, avoiding Glare, unlocking the pan and tilt locks, etc. Moreover, covering the Lens would help when not using the scope. Keeping the scope and lenses clean and tidy help you get instant results with precision and clarity.

Wrap Up