If you aim for long-range shooting, you can't even think of it without having a rifle scope. So you need to develop a complete understanding of installing and how to sight in a rifle scope based on technical knowledge. No worries if you are a beginner; I will explain the process smoothly enough to develop a better and coherent understanding. 
Before you sight a scope, you should know what tools, safety precautions, and information you need to know. If you go through the details below, you must know how to sight in a rifle scope. It will take your shooting and hunting experience to new heights. To learn more about the process, keep reading this article to the end.
Adjust A Rifle Scope in 7 Easy Steps
I have been in the rifle scopes industry for over a decade now, made tons of mistakes, and learned many lessons. Here, I will explain how you can avoid those mistakes while adjusting your rifle scope. You can easily understand the procedure as I tried to make it most uncomplicated for everyone. Even if you are a beginner, you will be fully aware of how to Sight in a rifle scope without making a mistake after reading this extensive guide. So, let's start with the first step.
1) Proper Installation of the Scope:
The modern scopes are coming with different functionalities; whether the scope is pre-drilled and tap holes are there, you need to fix it up properly with the help of screws. Or, if it has rails such as Picatinny or Weaver, you need to leave no room for flexibility while installing your scope.
One more thing to remember is that not all scope rings fit every scope base you want to put it on. So, you need to be careful while choosing the scope, and once you have bought it, now you need to install it with the utmost perfection.
Moreover, if you want a perfect sight in for a scope, you need an excellent mount to tie them to create an unshakable bond between these two. Finally, there is no reason left not to have outstanding stability while shooting and hunting.
2) Adjust the Level:
Level matters a lot in the shooting. For making your scope installation fruitful, you need to adjust its level with due diligence and care. For doing so, you need a tremendous mounting device. First of all, get a solid plane shooting bench, and fix your rifle scope on it with the help of a bipod or tripod. No matter what you go for, the results matter at the end of the day. So, choose one that suits your rifle. Once you are done with it, now it's time to check your mount's shakiness and instability. If there is any, eliminate it first.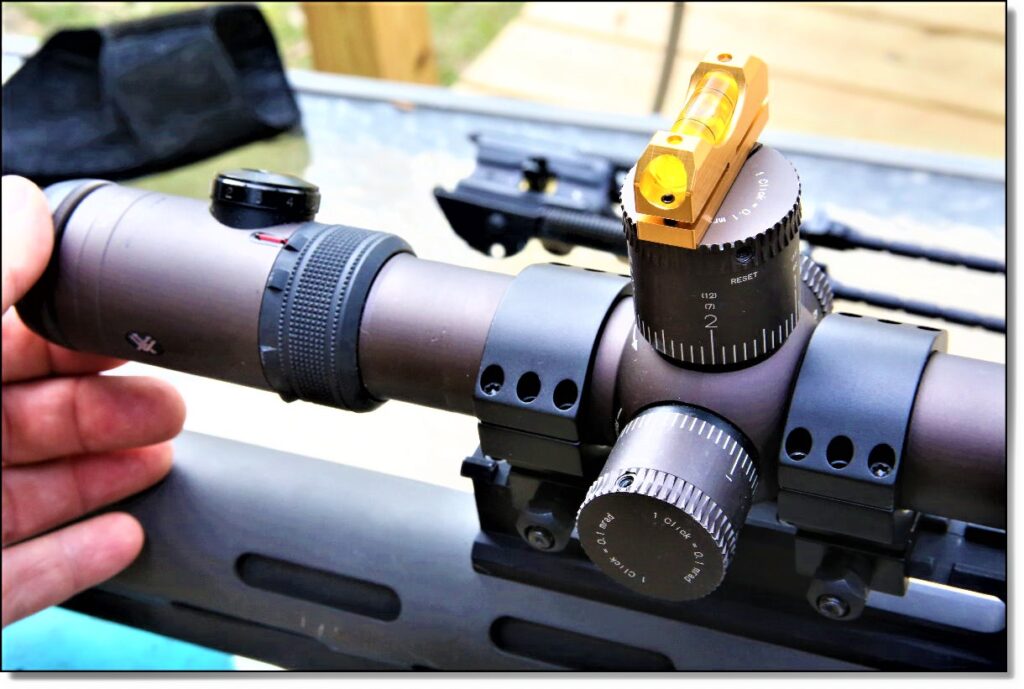 If you get a quality mount and fix it perfectly, it will reduce the recoil up to 95% by holding the scope tight enough. You can find several mounts in the market, having different prices, choose for your rifle scope, and ensure your shooting's quality to the max level.
3) Determine Eye Relief Distance:
Once you have installed the scope well, now you fix the eyepiece in a position that will give a clear image of the target. The critical factor in this play is to maintain an appropriate eye relief distance. It is the distance between your eye and the end of the scope.
If you do not fix it perfectly, your eye can get a scope to bite any time after pulling the trigger. However, if you can maintain it the right way it should be, you will save yourself from the recoil that pushes the scope back to your eye. 
If these two are not that far away, and the scope touches your eye, what will happen? Have you ever thought of it? It can play havoc on your vision, and this can prove the biggest mistake of your life.
To cut a long story short, you have to make sure that your scope and your eye do not connect at any stage. They should have a distance of at least 4 inches. You can go beyond this number, but not less than this. Or else you may face the consequences of Getting Scoped. 
So, let's play safe, and do not risk your precious eye by maintaining the required distance. 
4) Use Paper for BoreSighting:
If you're using an old rifle, you must have gone through this process so far, but you need to get the gun on paper first if it's new. A laser and collimator are the only options that help you immensely doing all this sharply.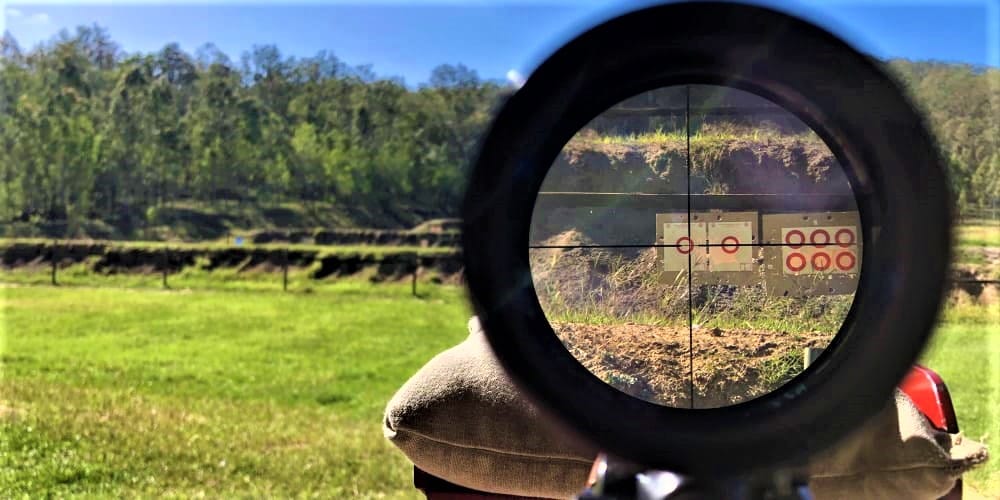 Now you need to get the proper alignment by having boresighting. And remove the bolt to convert it into a single shot. Next, take a shot within 20 to 50 yards. Now, see through your barrel, line it up, and re-arrange its alignment and try to get the best image of the target.
In the same way, by using adjustments, keep on moving the sight until it gets the proper position to provide you with a crystal clear image as you were getting through the barrel. So, now take a shot, initially try it within 25 yards, if you can make it up with this small figure, you can increase it later to 50 and even more. 
5) Use Good Shooting Technique:
Usually, people do not understand what is most important in shooting and how they should do it to get optimum results. It's all about technique, the one you are following. If you know how well you can shoot, you can do it by practicing and concentrating on the shooting if you want to eliminate human error proportions.
While having bench rest and focusing on your target, keep maintaining an appropriate eye relief distance. Try to use some pads to secure yourself even more, settle down with comfortability. 
Now, use your supporting hands to hold the rifle tightly, and in carrying it correctly, your shoulder plays an important role. It would be great to press the rifle's initial point, and your finger is on the trigger.
Now, focus on your prey and try to have the exact precise vision of it. Again, it would help to focus on what you are trying to do and the success rate you expect from this. 
6) Employ Double Check & Check Again:
Now, it is time to check if the rifle is zeroed or not. If it is, you are good to go on the field for shooting. What if you lost rifle zero during the trip, so when you reach the field, you need to make sure all over again, whether you have a zero or not, because the rifle during initial shots is rarely set to zero. 
You need to check it twice, at least. And if you get the answer is Yes, it's zeroed. But, hold on to recheck it one more time. You must be thinking it is annoying or somehow time-wasting, but it is not. Because the essential thing in shooting is the confidence that you get from your rifle and scope. 
And if it is not giving you so, how will you shoot successfully? Moreover, you need to check if you are using a bipod because some people prefer to use sandbags for support. Bipod is a genuine helping device if it is of solid stock. Or else you will not get the stability to the max.
7) Keep Squeezing:
Once you have checked your rifle is set on zero thrice at least, take a group of shots, check them all, and repeat the process until you get near the bullseye. Then, if you can hit it correctly, you can try an even farther target. And keep on doing this to get to the point accurately and effectively.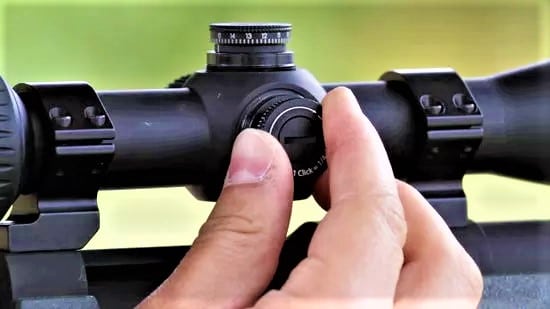 But, one more thing you should consider is the environmental changes. It is not the rifle and scope only that allows you to have a great shooting, but the environment, the wind, rain, a dark mode, etc. So, lock in the target according to the situation. So, this is how you can get your scope sight in the best way and avoid any damage or loss during sighting in. 
Top Rated Scopes for Rifle | Detailed Review
For making your shooting experience a worthwhile venture, I have put all my learnings in this guide, and now I'll tell you how you can become a pro shooter by sighting in a scope perfectly. It would be best if you chose the scope that suits your rifle the most. Additionally, you should get a mounting device that fits with both the gun and the scope. Most importantly, your focus and concentration for setting zero play a vital role in taking your shooting to high heights. In the end, don't forget to clean your rifle and its surfaces.

Final Tip For Shooting
Note: After serving the industry for years, I have concluded that a shooter cannot achieve the desired results until he knows how to sight in a rifle scope accurately and effectively. And the best way to do this task is explained above. After reading this manual, you can easily sight in your rifle scope without seeking help from an expert or senior. So, to make your bad experiences successful in taking your shooting to the sky's heights, learn this guide, employ it thoroughly, and enjoy the deal.