In the teenage, people get primarily divided into two parts. One group of people likes to choose a profession that everyone is doing. The second group of people is not like the first one at all. They want to do some wonders in their life. They try to choose a profession full of adventure that can make their name in the world.
These professions are hunters, shooters, hiking, and many more. Some people also like to be in surveillance agencies to work as top-secret agents. All of these professions are dependent on specific types of tools; one of them is spotting scope. Spotting scope helps the hunters to watch their target from a long distance. There are two types of spotting scopes in the market that have created a long-term debate that is straight vs angled spotting scope.
One cannot answer straight vs angled spotting scope in a single line as it is a never-ending debate. One needs to know a lot about its specs and features to decide which one is better. In case you are new in this field, or you are a professional who needs expert advice, this article will help you a lot.
People say that no one can have a perfect spotting scope without buying and using it for a long time. This perception is not accurate. After reading this article in detail, you will get complete knowledge about straight vs angled spotting scope. Let's get going and decide which one is better for whom.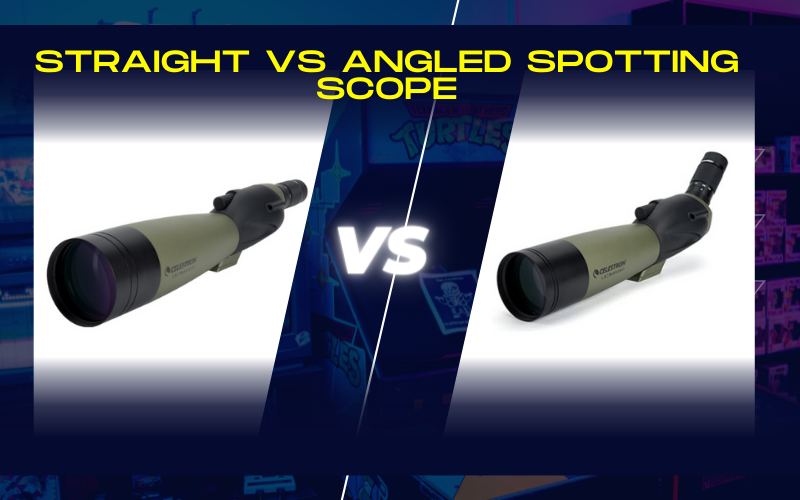 Introduction to Straight and Angled Spotting Scope
Spotting scope has developed itself to meet the advanced requirements of this world. Spotting scopes are of two types, straight and angles. The straight spotting scope has a horizontal shape, and not any sort of curve is added to any side. It has a see-through lens at both ends capable of looking at distant objects.
On the other hand, the angle spotting scope has a little bit of a different shape. It has a curve that brings a see-through lens a little bit higher at user ends. This feature makes it easy to use for a long time, and it can easily see uphill. They almost have the same features, but the debate of straight vs angled spotting scope never gets less.
Features of Straight vs Angles Spotting Scope
If we look at both of these setting scopes' physical appearance and using manual, there is not much difference. Although, if I discuss their features in detail, I will find a vast difference between them. Their features are the main reason that makes this debate more heated between the expert hunters.
Size and Wight are the Primary Keys
Whenever a debate about a spotting scope starts, it starts with its size. Whether you are a hunter, shooter, or any other expert using a spotting scope, you need a perfect size. The ideal size can be around 14.6 inches. So, both spotting scopes have the same length of 14.6 inches. This size can perform the shortest focusing distance of 9.8 feet. This focusing distance can help you to have a better angle with a straight or angled spotting scope for hunting birds.
Spotting scope of every type is mainly used with the help of a tripod. Tripods can help us to stand at the right point for a long time. So, weight plays a vital role on tripods. Straight vs angled spotting scope is almost the same in the case of weight. They weigh around 65.6 oz, making them perfect for hunting and shooting.
Which One is Weather Friendly?
When professional people go for multiple tasks, such as shooting, hunting, birding, or surveillance, they must stand at one point for a long. Special hunter must wait a long time in forests. Also, Weather can be an issue for the hunters. Straight or angled spotting scope for hunting should be perfect in every sort of Weather.
An angled spotting scope review will have an opposing point of Weather. As it is curved upward, it can be a problem in case of rain and snowfall. Whenever you are looking through the lens, you can save it from rain and snowfall. But it will snow and drizzle all over the lens whenever you step behind. A straight spotting scope is weather friendly in this scenario as it is not curved upward. It is made in a horizontal shape, so it will not hurt with hardcore weather.
Watch it Downhill
Whenever I go hunting or shooting, I face many issues. One of these issues is the unlevel surface. Sometimes, I have to set my spotting scope down the hill. This setting can be very tricky if your spotting scope is not friendly.
A straight spotting scope has a perfect structure for the downhill views. If I talk about straight vs angled spotting scope long range in downhill viewing, a straight spotting scope will win. The angle spotting scope failure is because it is curved upward, making it challenging for downhill views.
Windows Mounting Option
Animal hunting, shooting, and birding is not easy task to perform. It tests your patience for a long time. Especially the hunting job requires you to go through many areas in your cars. It raises an important point of windows glass mounting. If I mount my spotting scope on windows glass, I can cover more area easily.
For this purpose, different spotting scopes with mounting options. A straight vs angled spotting scope in case of glass mounting has a clear winner. I can easily adjust a straight spotting scope on the windows, and angled spotting scope can be hard to adjust.
Tripod-Friendly Spotting Scope
Straight vs angled spotting scope for shooting is all about the tripod. Tripod is a stand with three legs on which a camera, spotting scope, or another see-through lens are fitted. It helps you to have the best angles in a long-term job. We cannot complete the angled spotting scope review without adding a negative point that it is not a tripod-friendly scope.
While switching from binoculars, adjusting an angled spotting scope on any tripod will be challenging as it is curved upward. You might need to move a bit for a better experience, which ruins all the plans. A straight spotting scope is perfect for a tripod as it will be easy to use while switching. Also, windy weather cannot shake it.
Portability Must be High
All the professions that are connected to the use of spotting scopes require an excellent backpack for travel. A good bag should include a good spotting scope that can be easily packed and picked.
Straight vs angles spotting scope for portability will depend on your need. I can call straight spotting scope perfectly portable as it is not curved. An angled spotting scope can be challenging for backpacking.
Comfortability is Plus Point
Most important when deciding on the straight vs angled spot combination is its comfort level. We must wait a long time at the same place to reach our target. This issue makes it challenging for us to bend down and use a straight spotting scope. Angles spotting scope is perfect in this feature as it does not cause neck or back pain because of its comfortable posture.
Cheap vs Expensive Spotting Scope
A price is an essential part of any product. Especially when you are deciding on a straight vs angled spotting scope birding or shooting, it becomes tough to decide on a product within budget. Angled and straight spotting scopes are not different in price. Both are almost equal in terms of costs, like their weight and size. It closes the chapter of cheap vs expensive spotting scope for us.
Magnification Power
The primary purpose of the spotting scope is to magnify distant objects. So, while discussing a straight vs angled spotting scope, we should not forget their magnifying power. Straight power scope and angled spotting scope magnification range from 15 to 60x. This magnification power is lovely to see any object clearly from a long distance.
Are western field scopes reliable?
Western field scopes are one of the finest products in the market. Especially if we talk about rifle lovers, these scopes will be a perfect match. Also, it gives a vintage look to the shooter.
What are the qualities of straight power scope?
The power of any spotting scope can be decided while checking its three significant materials. Its magnification, dimension, and weight are the best way to check the power.
What is better straight or angled spotting scope?
This question is part of the most extended debates in this world. We prefer an angled scope because it is comfortable for use in most cases.
To conclude the question of straight vs angled spotting scope, we can call it your personal opinion. There is not much difference between the angled and straight spotting scope. Its price, range, size, dimension, and specs are almost identical. To get better results, you must buy one according to your requirements. A straight spotting scope can be perfect; in some scenarios, an angled spotting scope is ideal for you.

Conclusion