In the hunting world, people are crazy about scopes. A question that has gone viral in the hunters' community is whether Thermal Imaging is better than night vision. This article will uncover all the facts, including pros, cons, specs, features, and more. I'll also tell you how to use one and for what job. It is an exclusive aid you will remember for years to come whenever you go on the field.
Whatever you need optics to do, but with varying specs and position illustrations, these two are there. The prices are different, functionality is not the same, and the basics of tech used in both are distinct. Thermal deals with heat day and night; on the other hand, night vision only deals with optical services at night time. How do these two help you see the images with clarity, and how to get the max out of each? Let's find it below.
What is Thermal Imaging?
Whether you need it for observation, viewing, security, or hunting, it allows you to use it day and night. It detects the light and changes the game altogether. The quality of images depends on various digital technical details, and you need to know that digital information always has limitations, and so does Thermal imaging. However, more pixels will give you higher image clarity and vice versa.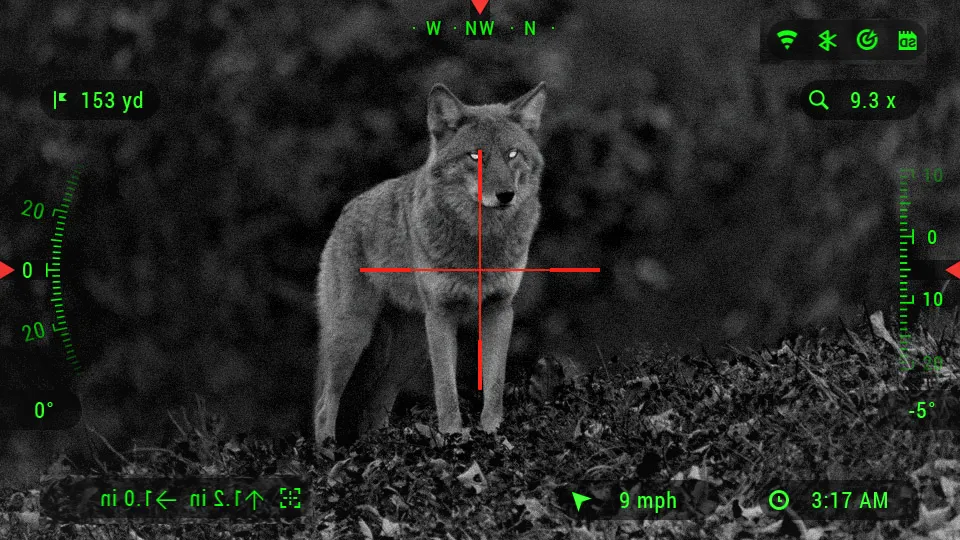 When comparing Thermal vs night vision, first, you need to learn what they are and what they do. If you do a thermal scope review yourself, you can understand the functionality better and more precisely. Thermal devices have issues with zooming-in options, as you face the same problem with cameras. The more you get things in zoom appearance, the quality of pixels deteriorates. 
What is Night Vision?
After reading this night vision review, you will become a pro observer of Thermal vs. night vision. First, the night vision optical system has nothing to do with daylight. It works at night time only. It takes out the light, amplifies it, and uses an intensifier tube. Whatever you can observe with daytime scopes, the same you will get to see with night vision at night time.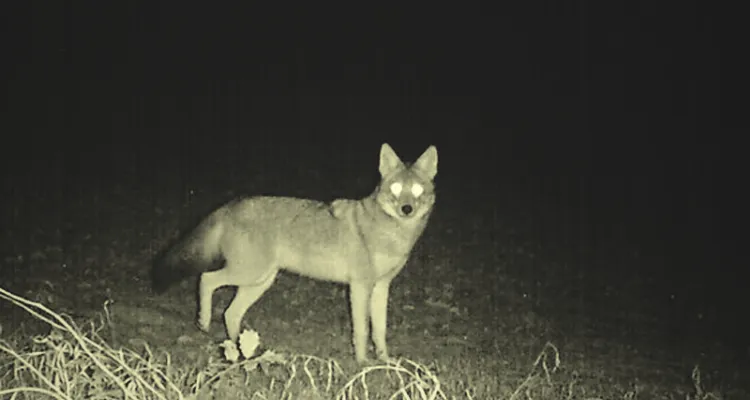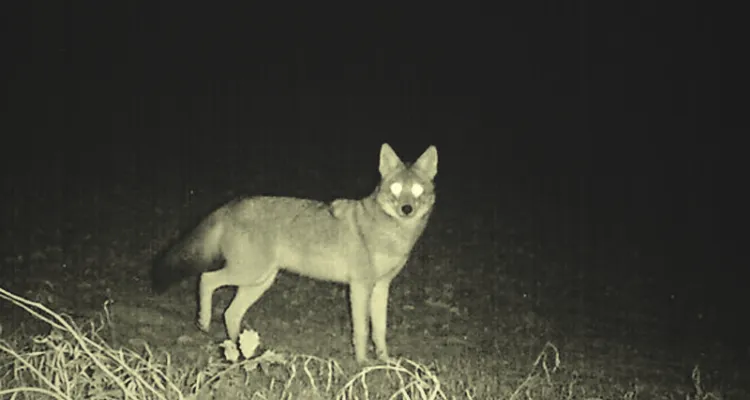 It requires some type of light, such as infrared light, moonlight, ambient light, etc., to get you a clear image output. Moonlight or starlight can go smoothly with viewing protocols, but not in corners where shadows come. So, to avoid such issues, the night vision scope comes with a built-in IR illuminator to lighten up the object you face difficulty seeing. Which one is the best and how to choose, let's find all the details below.
Difference Between Thermal and Night Vision 
I found the Thermal vs night vision topic super exciting, and it is the ultimate need of the hour to learn the facts based on differences. You will find considerable differences if you look at the functionality, imaging quality, prices, and specs. If you are looking for a suitable optical partner, stick to the points below.
1) Greater Magnification Power 
One of the most prominent differences is excellent magnification. Night vision absorbs light and any object with the help of IR illumination. It shows black-and-white images with clarity. You do not get colored images, but black and white contrast is the best for hunting Coyotes, elk, and other animals.
Moreover, thermal imaging works with the measurement of heat. It collects various heat signals, compares them to each other, and smoothly achieves outcomes. However, night vision takes the lead over Thermal regarding magnification power collection. 
2) Day and Night Usage
Regarding day and night usage, thermal imaging takes an absolute lead from night vision. It works fully without making any difference day and night. On the other hand, night vision has nothing to do with daylight. You must need thermal imaging in dark corners, which detects infrared light to lighten the object in dark corners. Using thermal cameras, you can feel the warmer things around you, whether an animal or a human. 
Thermal imaging helps you work in complete darkness and gets crisp, clear, and sharp images. The built-in IR feature is super helpful in illuminating objects. So, when we look at the broader scope of usage with a timespan, you will find Thermal Imaging leading from the front. Moreover, night vision is cheaper and lighter. It makes a little mess compared to thermal imaging. 
3) Weight Difference
When we look at the thermal scopes, we find that these are heavier than night vision. Both have unique offerings with some drawbacks, but overall, you find night vision with the least weight. The lower weight is the reason for its compact sizing, making handling and overall usage easy. So, the weight match between thermal and night vision favors night vision.
4) Price Comparison
When you seek the thermal vs night vision for hunting, it must grab your attention toward the pricing tag. So, when it comes to price lines, night vision is the best option for those with tight budgets. On the other hand, as we know that the thermal scopes are heavier, and they charge more than what you pay for night vision. So, the pricing match between these two favors night vision. 
If you are looking for thermal vs night vision for hog hunting or elk hunting, night vision can do wonders for you. The cost gets compensated when you get results. The thermal vs night vision cost is evident, and you can vote for night vision without having a second thought. 
5) Viewing Quality
When it comes to night vision vs thermal viewing quality, you find that night vision is good with identification, and Thermal imaging is superb for detection. Moreover, the viewing quality has a broader scope with thermal imaging because of day and night usage. 
6) Recognition and Identification 
Regarding recognition of the object, thermal imaging goes super smooth. On the other hand, night vision is suitable for identifying objects. If you need optical assistance at night time only, you can think of night vision, and if you are looking for something to provide you with unlimited backup regarding time, thermal imaging is good. Using thermal and night vision combined makes no sense; it is costly and not usually doable.
Thermal Vs Night Vision for Hunting 
Thermal scopes can do wonders in the field, no matter whether it is daytime or night. Moreover, thermal scopes can detect the object quickly, irrespective of light or darkness, if the object is moving at a long distance. So, thermal is the best option if you specifically seek hunting assistance out of Thermal vs night vision. Before I tell you about the pros and cons of each one, you can learn about the 10×42 vs 10×50 binoculars.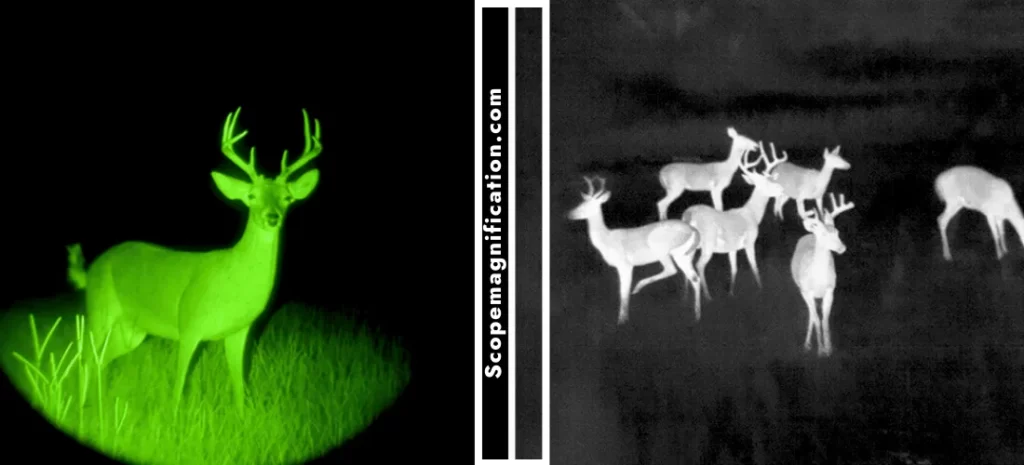 Pros and Cons of Thermal Imaging 
Here is the list of pros and cons, one after the other. By going through this section, you will get a quick review of what you will get and what you will lose by winning a thermal scope. 
Pros of Thermal Scope
It doesn't ask for any extra light source. 
Offers a built-in IR system for illumination. 
It is superb to use day and night. 
It has better precision with crispiness and clarity of the images. 
Gets the best outcomes even in complete darkness.
Cons of Thermal Scope
It has a heavier weight than the night vision. 
Very expensive
Pros and Cons of Night Vision
After reviewing the thermal scope, the course of action will only be beneficial once and if you learn about the pros and cons of night vision. Let's look below.
Pros of Night Vision 
It is the ultimate device for nighttime. 
Gets you black-and-white imaging for more precision and to avoid color contrasts. 
High built quality with lightweight design. 
It offers an affordable pricing range.
Cons of Night Vision 
It lacks color schemes. 
The visual clarity is a bit limited.
Which One is the Best?
You may choose night vision scope for nighttime hunting for the ultimate outcomes. It has better identification protocols and gets you black-and-white images. It is perfect to use in total dark corners but is limited to daylight. On the other hand, the thermal scope is good for the day and nighttime.
It offers built-in IR for the illumination of objects moving at long distances. However, I found Thermal scopes better than Night vision for multiple reasons. You can find them all in the data I explained above. It has better usage, a broader range, and crisp and clear imaging outcomes.
Is thermal better than night vision?
It depends on your usage style mainly. If you want visual assistance at night, you have no other option than night vision. On the other hand, thermal scopes are better if you want a genuine partner that goes beyond time limits and environmental diversity.
Is night vision usable in daylight?
No, Night vision is superb optical assistance at night, and it is not something that you should buy to use in daylight. You can think out of the box and grab the Thermal scope for daylight. It will get you both covers for day and night for an extra cost.
Wrapping up the topic of real vs night vision gives me the ultimate satisfaction of leading you in the right direction with exact information. I have yet to add any data without conducting hand testing. If you are ok with optical assistance that works at night only, you can grab the night vision. On the other hand, an extensive service with no limitations on time is good with Thermal imaging. So, the Thermal scopes are nearly perfect if you need colorful imaging with crispiness and clarity.

Wrap Up: