Coyotes are not easy animals to deal with. It takes massive mastery with a very sharp eye to observe its movement, mood, and due course of dealing. Timing matters the most in Coyote hunting. What is the best time of day to hunt Coyotes? It is the primary topic of this article, but I'll also share much more helpful information that will make your hunting experience a huge success with every shot and a sure kill.
If you love hunting Coyotes, you must observe the best and worst times of Coyote hunting time. When I ask myself, I found Coyote hunting is my second favorite sport after deer hunting. So, I know where to gear up things and how to lead you towards the best hunting outcomes. Winter mornings and evenings are the ultimate times to go out for a Coyote hunt. Let's make it clear with all the details below.
Why You Should Hunt Coyotes?
After hunting deer, turkeys, upland birds, and much more, winter is the best time to hunt predators. Hunters get hunted because of severe weather conditions and cozy cabins to set in to avoid harshness. When we look at Coyotes, they are super destructive and kill a lot of calves and fawns.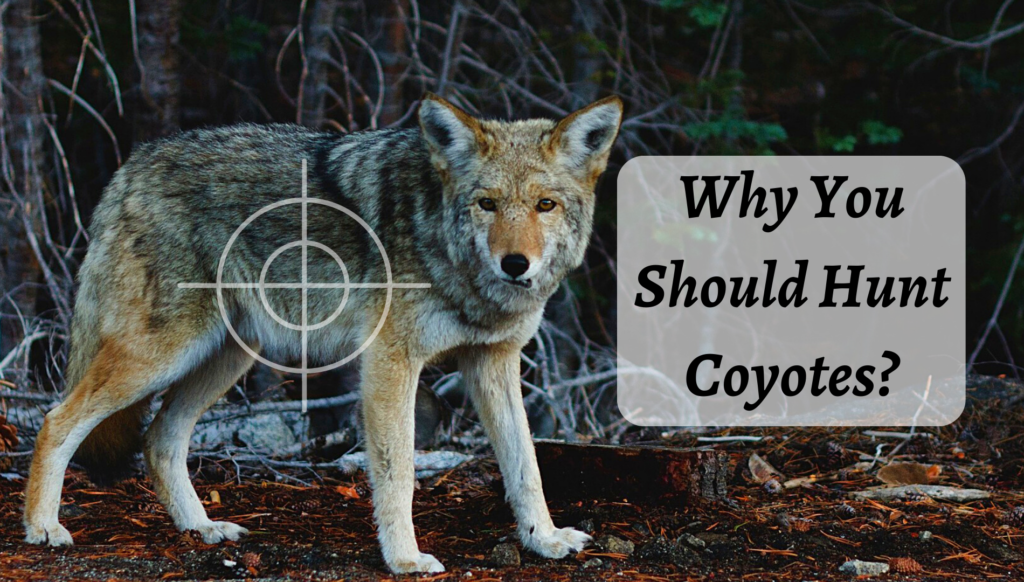 Moreover, a wild animal like a Coyote can cause many other threats to the tiny organism, so hunters go for it. All you need to do is to access its living point or attract the Coyote with prey sounds when it comes out, contain yourself, and place an exact shot. What is the best time of day to hunt Coyotes? It is a question we'll be talking about in the later passages.
Best Time of the Day to Hunt Coyotes
Early morning is the best time to hunt Coyotes in the daytime. It is humans who can sleep day and night. On the other hand, animals are so active in the early morning. Moreover, you can also hunt Coyotes in the evening with great success. I love to hunt in the late mornings, nearly 11:00 am. It is a great time to multiply your hunting success rate. 
Targeting Coyotes between 8 and 11:00 am is the best time for those who are comfortable spending their early mornings outside. Before heading to the targeting, you need to decide where you want to hide. You can also hunt Coyotes in the afternoon and evening, but this article primarily focuses on hunting during the day. Dawn and dusk are also the best times to make up for hunting needs.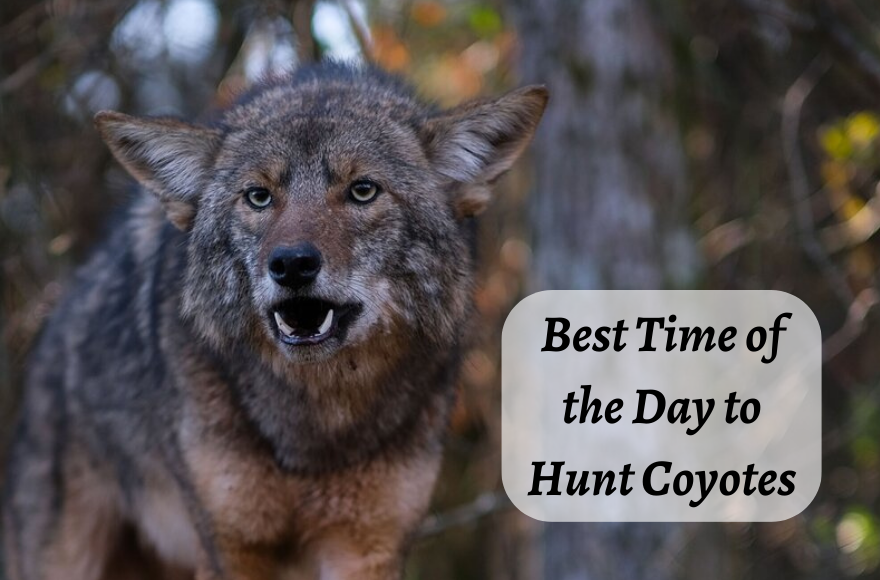 Calling the Coyote is the reason for failure or success benign your hunting venture. If you have the skill of calling the Coyote with an attracted prey sound, you can even hunt at night in the full moon. Temperature, climate, and other factors must be considered when you go on Coyote hunting. Before I tell you in detail about things to consider in Coyote hunting, you can learn about getting a hunting license in California. 
Things to Consider While Hunting Coyotes
When it comes to Coyote hunting, you need to be a multi-tasker personality. It takes enormous attention to make it up for the hunting requirements. Knowing the best time of day to hunt Coyotes is only enough once you learn about other factors. Through this section, you will learn all this with all the necessary details.
1) Perfect Scouting
Perfect Scouting is the key element that enhances your success rate enormously. The scouting needs may differ from area to area, but you must focus on the one with small birds and animals such as mice, vermin, etc. You can also spot Coyotes by observing the new paths. Finding the best place for Scouting can take the chance of natural hunting to the next level. So, be on it with all the diligence. 
2) Weather Conditions
Weather conditions are essential to consider while thinking of hunting Coyotes. It would help if you studied the weather conditions and behavior of Coyotes. Winter is the best season to hunt Coyotes, and in the same way, when it is fine weather out there, you are good to set the fielding. If there is fog and clouds, it is an even better time to hunt Coyotes. Moreover, an extraordinary temperature with a calm wind blow is super good to accommodate your Coyote hunting. 
3) Location Variable
It would help if you learned that Coyotes usually live in areas where small animals' dwell. If you can fix the field nearby, the chances of getting the Coyotes down will surely go up. The variability of the location helps you deceive the Coyotes; meanwhile, you can explore some new Coyote spots. However, patience is vital to a successful Coyote hunting venture.
4) Time of the Day and Year
If we talk about the time of year, you are reasonable to expect the best hunting experience in winter. On the other hand, hunting Coyotes in Foggy season is another good move. When it comes to daytime, dawn, and dusk are the ultimate times to get down as many Coyotes as possible. People used to hunt at night, and it is getting popular amongst the hunter community, but the early morning has no compassion.
5) Wind Speed
Wind speed is one of the most significant factors in burning Coyotes. If you get the wind blowing between 0 to 5 mph, you are super good at packing your bags for Scouting. On the other hand, if the wind speed exceeds 20 mph, you need to rest at home and wait for the wind speed to come down. Anytime can be the best time of day to hunt Coyotes if you know the weather conditions well enough and the Coyote spots. 
If you ask, where do Coyotes hang out during the day? You can find them in dens, open areas, and raised floors. The forest areas with parks and golf courses are familiar places to find Coyotes roaming around.
Most Likely Seasons for Coyote Hunting
This section will teach you about the best seasons for Coyote hunting. Winter, early spring, and late summer are ideal for the job. In winter, Coyotes are hungry and come out of their homes to hunt some small animals, which is when you can get it down. 
Moreover, in early spring, Coyotes mate, and you are good to hunt mature Coyotes at that time. Both the male and female Coyotes enjoy this season very much, as is evident, and you only have to take advantage of the situation. On the other hand, late summer is when pups mature and want to come outside to see the world around them. They have no experience in the vicinity and become super easy prey for the hunters.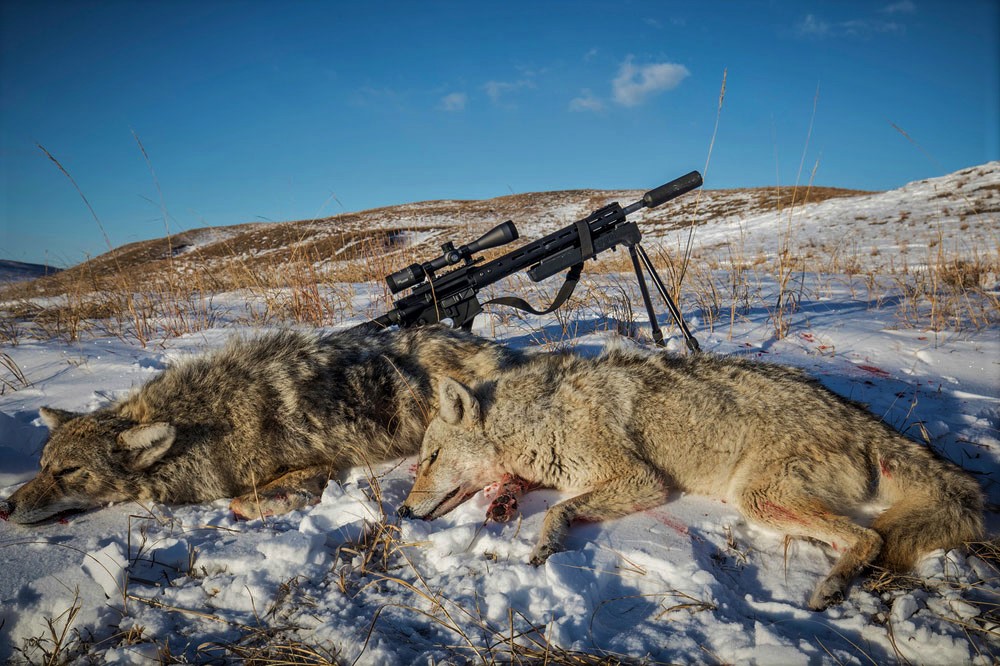 I hope you have learned about the best time of day to hunt Coyotes in winter and the reasons. Before I give you some valuable tips, you need to understand that security is on top and be careful of that. If you can make it up with the security protocols, you can make the winter the best time of day to hunt Coyotes. 
Coyote Hunting Tips for Beginners
Some tips that can turn the game magically. All you need to do is not take things for granted while hunting Coyotes. Let's look below.
Be careful, Coyotes are dangerous
You need to arrange every possible security measure
Do not take a lousy shot, first ensure the right point, and then hit
You need to be patient for the game
It is better if you can explore the Coyote spots before you enter the field
You also need to know the attractive prey for the Coyotes
Calling Coyotes is also a great way to get them out of their dens
I hope you know well about the best time of day to hunt Coyotes now. Early morning in the winter, from 8 to 11:00 am, is the best day to hunt Coyotes. On the other hand, you can also go for evening hunting, which can get you some fruitful outcomes but less than you can get in the daytime. Observing the Coyote's behavior and common patterns can help you hunt them safely. It takes attention and robust quality weapons to get Coyote down in a couple of seconds.

Final Thoughts
What time do Coyotes come out in the morning?
Dawn and dusk are the ideal time when Coyotes come out of their dens. Moreover, if I make it more precise, you must hunt Coyotes between 8:00 am and 11:00 am. It is the ultimate time when Coyotes come out for mating, hunting, and roaming around.
Is it better to hunt Coyotes in the morning or evening?
Of course, the morning time is always better than the evening. Nowadays, evening hunting is popular, but it cannot compete with the results you get in the morning. So, if you have a choice, decide to scout in the morning. Moreover, foggy, and cloudy weather will also be helpful as a bonus.
Where do Coyotes hide during the day?
Coyotes hide in their dens usually. Their dens may dwell in bushes, trees, and heavy rocks. Rocky caves are the ideal dwelling spots for Coyotes. So, you can quickly call them out from their dens during the day.