Rifle users cannot undermine the name of Vortex. Regarding rifle scopes, there are multiple things, including magnification, windage, reticle, elevation, etc., and other features that affect your riflescope usage a lot. In optics, Vortex is one of the leading brands with various options of scopes and parts. Today through this article, we'll be talking about the Dead Hold BDC Vs Vplex. 
An in-depth study of both tells us they belong to the same family but have a few differences. Both have a range of pros and cons with other technical details. The Dead hold BDC can compensate for the drop of a bullet. On the other hand, the Vplex looks as if four arrows meet in the centre of a circle. In most cases, BDC is far better than the Vplex with various solid standings. Let's explore the difference in detail below.
Comparison Table Between the BDC Vs Vplex
Before I take you to the details of these two, I want to draw your attention to the comparison chart for quick understanding. Let's take a look below.
| | | |
| --- | --- | --- |
| Specification | Dead Hold BDC | Vplex |
| Ease of shooting | Easy and relaxing | Easy |
| Bullet drop compensation | Yes | No |
| Illuminating properties | No | No |
| Duplex-type reticle use | Yes | Yes |
| Ballistic math and calculations | No | Yes |
| Setup complications | A bit complex | Easy |
| Different scenarios adaptivity | Highly adaptive | Adaptive but complicated |
After a quick view of the specifications' differences, I hope you got a good idea of what these two reticles are all about. By the time you go down, you will find simple and entirely understandable data. Let's get started right away. 
Dead-Hold BDC Vs Vplex: Head to Head
I will provide you with a comparison between Dead hold BDC vs Vplex full of fun facts. Ease of usage is a thing that no one wants to sacrifice, and you can get it with both reticles, but while choosing one, you need to put each reticle in front of the standards I have mentioned below; I hope you will find the best reticle for power range and better object vision.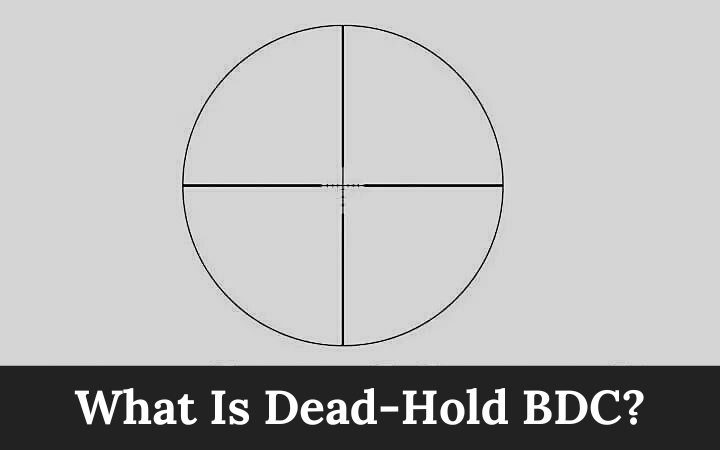 1) Ease of Shooting
Whether it is hunting or shooting competition, ease matters the most. A user can only achieve optimal outcomes by getting comfort. However, if I look at the ease of Dead-hold BDC and Vortex V plex, I find nothing different, and the match draws between these two on equal rankings. Both reticles have nothing to ask extra for a comfortable and powerful range.
2) Bullet Drop Compensation
Bullet drop is a fact, and it happens because of various reasons. It may be the long distance, weight of the bullet, barrel length, speed, etc., behind this phenomenon. However, when dealing with bullet drop, the dead-hold reticle has all that can compensate for the bulletin drop. On the other hand, Vplex cannot do anything to compensate for the bullet drop. So this match between dead-hold BDC Vs Vplex goes in favor of Dead-hold BDC. 
3) Adaptivity of the Scenario
When you have to adapt different scenarios with the ultimate captivity, the BDC has no match in this regard. It gets you better at aiming with no hazards on board. If you know how to follow marking, you can do wonders with the dead hold BDC MOA. So, when it comes to dead-hold BDC Vs Vplex for adaptability of scenarios, the BDC wins the match.
4) Calibration Time
If you are a beginner and don't know much about shooting, you must conduct some practicing sessions to understand how bullets react in different scenarios. Moreover, to know so, you have to do some math first, so I rate Volex on top. So, this match between dead-hold BDC Vs Vplex favors Vplex. 
5) Manual Calculation
When you know that a bullet drop can upset you at any moment, the best way to avoid unfortunate outcomes is to go for manual calculation with the Vplex. However, you can even avoid this hazard by getting a BDC reticle. It knows how to do maths for bullet drop, and you get rid of this heck of doing manual calculations. The dead-hold BDC scope goes well with it. So, the dead-hold BDC calculator is the winner of this particular section. 
6) Ease of Setting Up
When setting up reticles, the Vplex reticle size gets it a huge favor, and no matter which is the gun, it goes so smoothly as far as the fixings are concerned. It takes a few seconds only, and you can set it up for 2 to 3 minutes before you start playing the game. On the other hand, BDC is also not so difficult; it takes more time than the Vplex. So, here comes the Vplex in the first place, and wins the match conveniently.
Pros of Dead-Hold BDC
It is super easy to use and relaxing
You don't need any fancy math calculations with BDC
It compensates for the bullet drop fully
It is super adaptive for varying scenarios instantly
The marking is super accurate
Cons of Dead-Hold BDC
It doesn't get illuminating properties 
It takes a bit more time to set it up
Pros of Vplex
It is a highly versatile retailer for varying users
You can use it for long distances with the ultimate comfort
It gets you the max control of your surrounding for hunting
You can set it up within a few seconds 
Cons of Vplex
It doesn't support bullet drop as BDC does
I hope you have a fair comparison of these two and will clarify everything. Before I help you more with the information about choosing one, you can read about the best time of day to hunt Coyotes. 
Why Choose Dead-Hold BDC?
There are several reasons to choose dead-hold BDC. If you want something that eliminates fancy math calculations, you should select BDC. Moreover, it offers easy-to-use options, and the scenario adaptivity is super good. The BDC has better than Vplex reticle functions. When you compare the dead-hold BDC Vs Vplex, you will find the Dead-hold BDC is on top.
Why Choose Vplex?
When it comes to Vplex reticle, you are good to choose for easy usage. It is easier to fix, and you can do some math calculations. It doesn't get you bullet-drop compensation. Overall it is a good choice but better than the BDC. However, if you want to pursue long-distance hunting or shooting, it will give you much better outcomes than BDC. 
What is Vplex reticle?
The Vortex Vplex reticle is thicker at the edges and is suitable for long-range target acquisition. It is easy to use and easy to set up. It has no facility for supporting bullet drop compensation, which is the only turn-off I found with this reticle.
Is Dead hold BDC better than Vplex?
From a deeper perspective, the BDC is better than Vplex. You will find BDC winning in most heads if you create an unbiased comparison. It has a better usage facility with excellent bullet drop compensation. You don't need to indulge yourself in math calculations with this reticle. On the other hand, it is more complex than the Vplex.
Dead-hold BDC Vs Vplex comparison, I hope you liked what I clarified above. Both reticles have different specs, desires, pros, and cons. If you need reticles for bullet drop compensation, you are good to buy the dead-hold BDC. It also gives you scenarios adaptivity accurately. On the other hand, the Vplex is suitable for the math calculation of long-distance hunting. It gets the max control of its surroundings for a better hunting experience.

Final Thoughts