To establish this review on impartiality and neutrality, we need to choose the same equation for these binoculars. So, we'll talk about the 8×42 standard model for each bino. When it comes to premium quality optics, Vortex is an apparent leading force, and it takes the quality matters to new heights and leaves no room for objection and displeasure. The Vortex Crossfire Vs Diamondback Binoculars review will enable you to reach a reasonable conclusion.
These two pairs of binoculars are super best and share some features equally. But, there are many distinct specs, features, and outlines each bino has. In this article, I'll explain every thick and thin of these two in detail, and after reading it in full, you'll undoubtedly be able to decide for yourself which one better suits your needs and demands. So, before we move forward to find the answer below, let's look at the table of contents.
Table of Content:
Comparison Summary of Vortex Crossfire Vs Diamondback Binoculars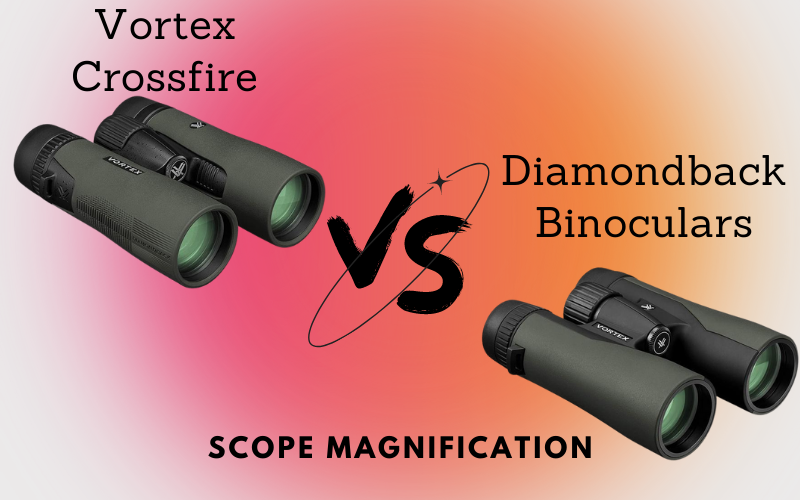 Specs Comparison:
| Description | Vortex Crossfire | Vortex Diamondback |
| --- | --- | --- |
| Magnification | 8x | 42mm |
| Objective lens | 8x | 42mm |
| Field of view | 393 ft @ 1000 yards | 420 ft@ 1000 yards |
| Weight | 23.5 oz | 25.2 oz |
| Color | Black | Black |
| Eye relief | 17mm | 18mm |
You can go for various models in these two picks, but to make you develop a full-fledged understanding of the binoculars, I picked an 8×42 model for each. This much unbiased comparison review will tell you all the technical details of these two top-notch binoculars. 
Overall these two pairs of binos are excellent to use on the field and have distinct specs and outlines. You have to pay for a luxury optical aid when you need a luxury visual aid. And if you manage to spend some extra pennies, you are super good to go for vortex diamondback.
 If you crave a low-budget pair of binos, you are safe to go with the vortex crossfire. It is reliable and has a powerful binocular pair, but vortex diamondback has a moderate fan base.
Multiple models with different technical details are available; you can go for anyone that better suits your needs. I used them myself and found them pretty fantastic vortex additions. However, let's not build a premature opinion and come to the details I gathered for you. So, to know all the thick and thins with reliable and credible information, let's follow the breakdown.
1) Vortex Crossfire Binoculars 8×42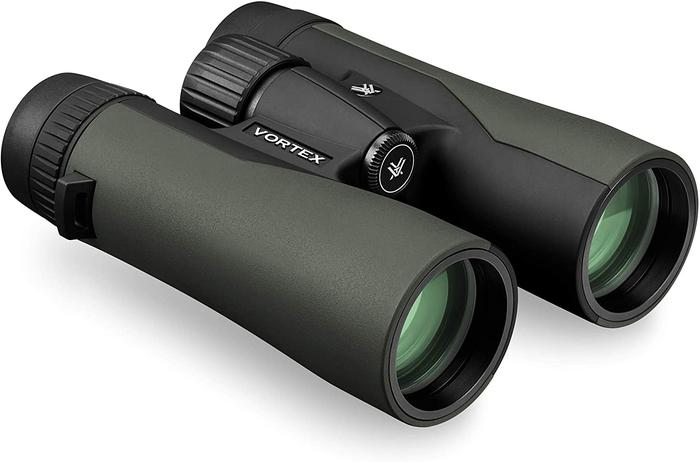 Vortex is a name that no hunter or shooter can set aside. It is the real force when it comes to the optical industry. It has been producing some excellent visual aids for decades, and every passing year the new model comes with exceptionally unique features.
I tried to keep this vortex crossfire binoculars review as unbiased as possible. I hope you'll get the informationrelated to vortex crossfire binoculars 8×42 in the 7 points below.
Coating on Lens
The vortex crossfire binoculars come with fully multi-coated lenses, and you get a super secure kick out of your scope. It allows you to extend your target limits and go beyond what you want to achieve on the field. The fully multi-coating feature gives an unshakable strength to the body and all the glass items in the scope.
Whether you use it on a fine sunny day or in rough weather conditions, it can perform to its optimum level in all harsh situations.You getan8x magnifier which gives you eight times closer shots of the target's image, and a 42mm objective lens is more than enough to get the required amount of light. It lightens up the dark corners for you and leaves no disparity to obtain seamless results.
Formation Material
The formation material of all the models from the same series is high-quality aluminum alloy. Whether you try vortex crossfire binoculars 12×50, 8×42, or any other combo, you'll not find any corner below standard. Vortex crossfire 8×42 has the strength to prove your ideas right, and it gives the ultimate boost to your courage on the field. 
Suppose your target is moving, and you get no clear vision to lock in the same; now, these super magnifying power binoculars can help you without wasting a second more. It makes your hunting a worthwhile activity. However, you can also explore some more options for vortex by reading the vortex strike eagle vs primary arms 1-6×24.
Size and Portability
The size of the bino makes a big difference, and this pair of vortex binoculars come with a great medium size. You may also carry it by keeping it in your pocket, or with the help of a strap, you can hang it on your shoulder while climbing a mountain or a wall. You may go for the vortex crossfire binoculars 10×42 or a more significant equation if you want more precision and accuracy. 
The more you go for precise and small size, the higher the device's portability will be. It won't make you feel overburdened at all. I hope this vortex crossfire vs diamondback binoculars will enable you to make the finest purchase decision you have ever had so far.
Low Lighting Performance
Low lighting performance is the best test to assess the credibility of binoculars. And fortunately, this excellent model of the vortex has nothing to disappoint you in any manner. However, if you want more light, you need to attain a higher objective lens.
To win one, you can give a try to the vortex crossfire binoculars 10×50. It gets you more than enough light to deal with darkness, and you get clear images of the prey in all situations.
Clarity of Vision
The clarity of the vision has no substitute. If your consideration cannot provide a clear and precise image, you waste your time and money. The vortex crossfire binoculars for hunting have all you need on the field; whether you need to extend the range or are interested in mid-range hunting, it can make it up with all your needs with its customization options.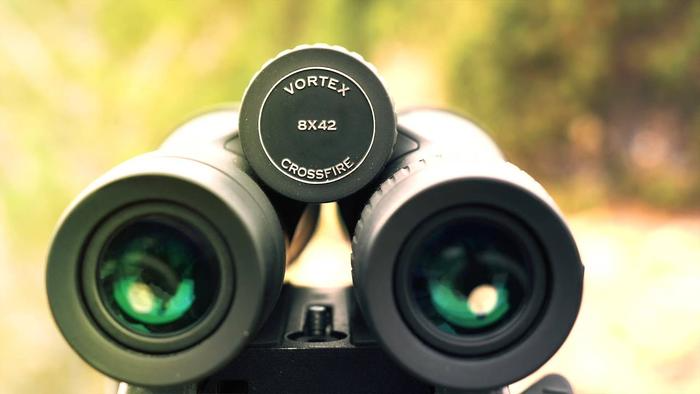 Moreover, you can get a clear view of the objects which are not visible to your naked eye. It comes with premium quality lenses with a fully multi-coating in them. Moreover, the argon purging trait adds the final touches for the perfect view. 
Weight and Durability
If you are looking for vortex crossfire binoculars for elk hunting, deer hunting, or coyote hunting, you are good to invest in this model. All these animals require a lot of patience and effort to follow them for miles. So, this vortex model, with its lightweight body, boosts your confidence immensely and doesn't make you feel any insecurity. 
Price
The price of vortex HD crossfire binoculars is meager compared to vortex diamondback. You need to spend around not more than 200 bucks to get this beautiful pick. It is the best device for beginners and intermediates. There are several reasons you can trust vortex crossfire.
Whether you need quality performance, vision clarity, crisp and clear images, and want all this within a low budget, the vortex crossfire binoculars are the ones to make you believe the real deal.
Pros
Very economical price comparatively
100% whether resistance with argon purging
Protects against drops with rubber armor
Comes with a lightweight build
Beautiful design & aesthetics
Cons
Not enough field of view
Closer focus distance needs to be shrink
2) Diamondback Binoculars 8×42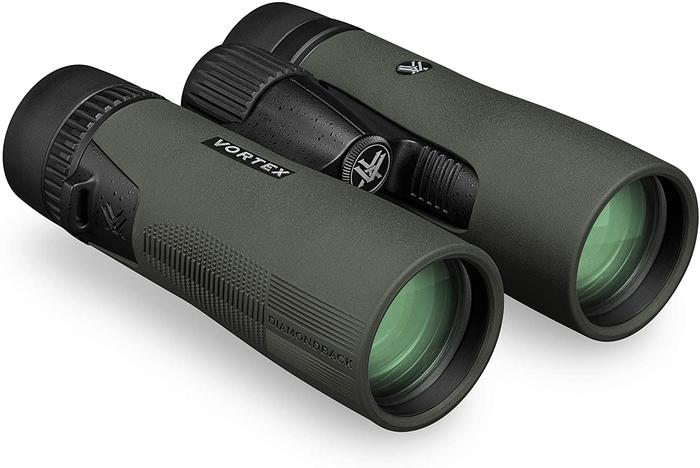 The vortex diamondback binoculars for hunting are an excellent visual tool to give you the best cover for all your needs. It is a pair of binoculars that do not stand with a regular performance but furnish a luxury venture altogether.
It comes with 100% weather resistance by submitting margin urging techniques, as most vortex models have. However, it has a lot of other things to make you feel secure and steady on the field. Let's find out what makes it different from the vortex crossfire below.
Coating on Lens
When it comes to the type of coating, it has the best cover with fully multi-coated optics. Multiple layers on the lenses are more than enough to protect the glass items in the binos. Whether you get diamondback binoculars 10×50, 8×42, or any other model, all can stand firm against weather extremities.
It is good enough to provide you with the best you have ever had within a budgeted price. When I first used it, I realized why Vortex got so much popularity and acceptance amongst millions of hunters globally. There is no single question that it doesn't answer for, and it has all to serve you with the best possible for hunting and shooting. However, to know more about vortex wellness, let's read the vortex venom vs viper.
Formation Material
Formation material is another big turn-on in vortex diamondback, and it comes with an aircraft-grade aluminum alloy material that is super good at resisting harmful objects. If you try diamondback binoculars 8×42, I hope you won't find it going on the back foot when you need precision and accuracy in varying weather patterns.
The high-quality material is the core element that determines the device's fate, and it tells you how long you can use your device. It extends the life of the instrument for years to come. You get to enjoy several perks because of the high-quality solid building material. No matter what penalty you throw at the device, it can survive easily without making you uncomfortable on the field.
Size and Portability
If you are looking for compact size and want something that you can carry by keeping in your pocket, you are good to invest in the diamondback binoculars 12×50, 8×42, or any other combo. It doesn't make you feel uncomfortable to have it for long journeys and gives you the best visual backup.
 Moreover, I prepared this vortex crossfire vs diamondback binoculars review to adorn your venture with the best. It also comes with a great shoulder harness that helps you carry the binoculars, scopes, and other visual devices without fear of loss or damage.
It has strong straps around your shoulders, and the carrying bag comes on your chest to get the device out of the box anytime you need it. Vortex diamondback comes with a small size and portability compared to vortex crossfire. 
Low Lighting Performance
Low light performance is the best check to assess the authenticity and genuineness of an optical instrument. When you try diamondback binoculars 8×32 or 8×42, you get enough light for your eyes to quickly compensate for low light conditions such as dusk and dawn.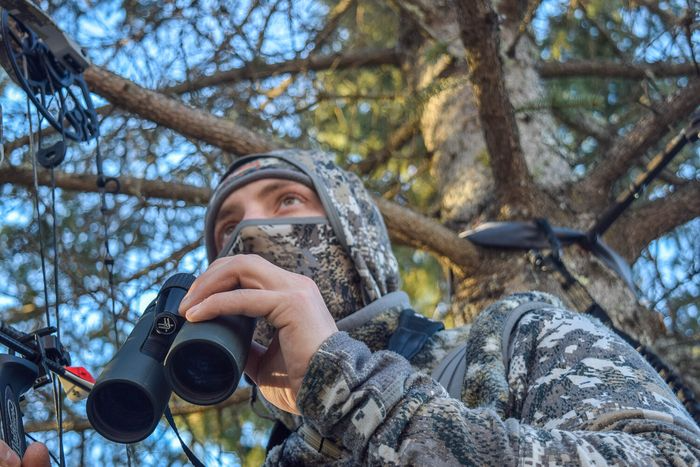 If you go for vortex crossfire, you are safe and will get a respectable performance to deal with low lighting conditions, but when you try the vortex diamondback, it tells you the meaning of real deal. It makes the difference that you crave and provides you with the best possible low-light performance you have ever had before.
Clarity of the Vision
When it comes to vortex diamondback, it has the most refined high-tech touches to furnish you with the max clarity of the vision. It never falls you off because of a blurry image, and it takes the game on to the top. No matter if your target is not in your range and you are unable to lock in the same because of the vagueness of the vision, it takes the matter straight and gets the clarity you need at the time.
Few brands give you the max clarity with your vision, and fortunately, a vortex is a leading force in them. It has been producing exceptional visual assistance for years, and the vortex diamondback has got a stearate fan base. You can send it as a gift to your loved ones, and if you want to explore some more options, you need to read the best gifts for hunters.
Weight and Durability
It comes with a fantastic lightweight body, as you can carry it anywhere you want. Moreover, the eye relief of 18mm distance gets more precision and exactness in your hunting. So whenever you need an excellent optical device, always keep weight and durability factors in due consideration. 
However, the vortex diamondback 8×42 comes with the max durable formation to enable you to aim for more. It boosts your confidence and takes your morale to the sky's heights. Whether you use it on a fine sunny day or a rainy night, it can get the max clarity you crave in these situations.
Price
It is a universal rule that you have to pay for luxury. So, it is pretty hefty but entirely worth it when it comes to the price range of vortex diamondback 8×42. All you need to arrange is around 300 dollars to win this super reliable and super solid optical device. It is the one thing that gets you in the back compared to cortex crossfire; in all other points, it takes the lead. 
However, if you want to leave no stone unturned in getting the max results in the field, you are good to consider this very best visual aid for all your future ventures. It is way more than worth its price. 
Pros
Large field of view for the max clarity
Proper close focus distance for better vision
100% waterproofing with argon purging
Striking design with supreme coating
Shockproof and fog proof building
What Users Say?
If you go to users and ask them about these two, you'll find that most of them like to go with Vortex Diamondback if their tenor budget allows them. If you need potent binoculars, of course, vortex diamondback has more power than vortex crossfire. However, vortex crossfire is also a reliable pick with a solid body to withstand harmful components from the outer environment.
Users' opinion matters the most. Most users who want to pursue excellence in their hunting and shooting within a low budget often like to have vortex crossfire binoculars in their hunting kit. It is easy to carry, comes in small size, and finishes the quality you crave in great binoculars.
Which is better, Vortex Crossfire vs. Vortex Diamondback?
Both binoculars are super impressive, but if you need a low-priced device with high-quality results, you are good to go for the vortex crossfire. However, if you need a luxury experience and you are ready to pay a hefty amount, you are good to invest in vortex diamondback 8×42. You can get a fully rubber-armored coating for anti-slip grip with vortex crossfire.
Are Vortex Crossfire binoculars good?
Vortex crossfire is good enough to deal with all the severities of rough weather conditions, and its argon purging technique helps the device withstand watery elements well enough. It comes in a compact size, with a lightweight body and a low budget. So, overall, you can rely on this super exclusive pair of binoculars with no fear.
Are Vortex Diamondback binoculars good?
Of course, vortex diamondback binoculars are good enough to submit perfect hunting needs with clarity of vision. You can get max clear, crisp, and sharp images with no significant flaw. When you need a luxury product for your visual assistance, you are good to go for this super solid device.
Vortex is a name that needs no introduction in the optical industry, and it has been producing all-time great stuff with so many diverse options. Whether you go for vortex crossfire or diamondback, it can fill the gaps in your hunting to the fullest.
However, I used them both and found the finest deals you have to go for. Vortex crossfire is a lightweight and low-priced pair of binoculars but a more significant size that restricts the portability.
On the other hand, vortex diamondback comes in small size, high priced, and lightweight for the ultimate convenience. It gets more precise, accurate, sharp results. But, I recommend you to go with the Vortex crossfire 8×42 model courageously because of its reliable, transparent, and brilliant results at a low price.

Conclusion