Whether you are a hunter, a wildlife viewer, or military personnel, you need ideas to get your face painted to hide in nature. Camo face paint ideas can change your ventures magically. Regarding camouflage, the range of ideas depends on the creativity level; fortunately, it is infinite on this page. I'll teach you 3 different ideas to blend your face into the environment.
Why Camouflage Face?
Whether you are a hunter, a wildlife viewer, or an army personnel, you must know the significance of the camp face in the environment. If you are looking for hunting face paint designs or army face Paint standard ideas, you will find all the solutions below. So, let's make it on time and dive into the information below. Before you head to the methods, you can read about how to make arrows in the forest .
3 Ideas for Camo Face
There are thousands of camo face designs you can find on the internet, but I'll tell you about three methods only, and you will get a complete cover for all possible designs. The main objective of writing this article is to make camo face Paint easy for you. 
1) Applying Paint on the Face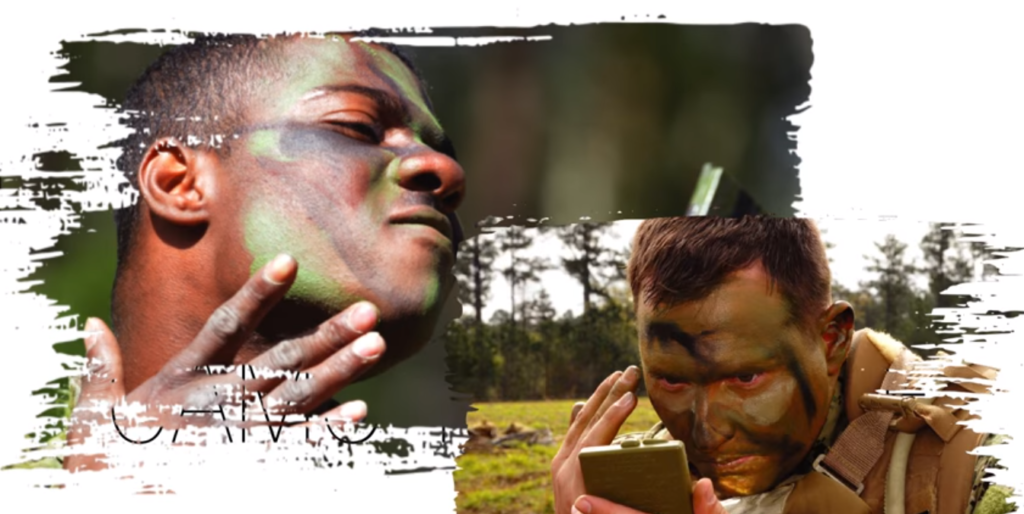 One of the most accessible and valuable ideas is applying Paint on your face. You can go for this idea conveniently if you have the germ of creativity. All you need to do is to follow the points below.  
Choose A Color and Get Some Paint
First, you must select the colors you need in the given environment. You can buy camo face Paint and get wet ashes if you need a black manifestation. You must apply grease on the face you are hunting in the rain. It keeps your Paint stuck and doesn't get it to come out. It is one of the simple camo face paint ideas with no hazards. 
Start with Light Colors and Add Medium Colors to the Shiny Areas
You need to start with the light colors first. It is better to camouflage your nose, eyes, lips, ears, and chin with the color that hides in the surrounding. Regarding the forehead, olive, medium green, and gray colors will be perfect. You can also draw rectangles on the forehead. If it is desert, the tan color will be a better option. 
Dark Colors for Outer Facial Area and Blend the Paint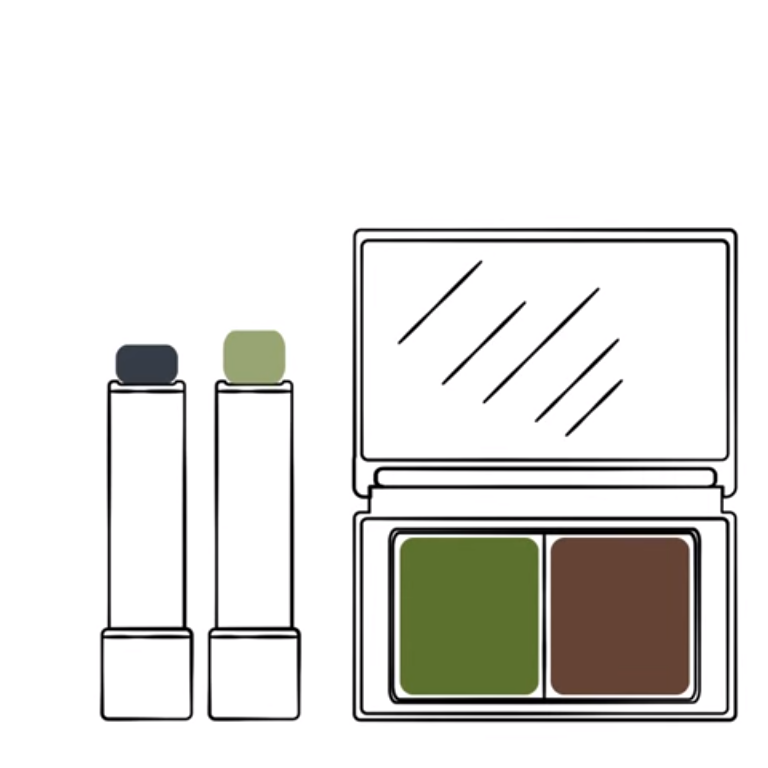 When I started writing about camo face paint ideas, this one attracted me and compelled me to share it. The outsides of your forehead will look good with dark colors. Draw circles on the cheeks and insert them into the skin like there is nothing new in nature. After applying colors, do not forget to blend them thoroughly. 
Add An Irregular Paint Pattern on the Face
After applying Paint successfully, you can draw some disruptive patterns that will help you hide your face in a better way. Green in the forest, tan in the desert, board slash in the jungle, slash in the arctic, dark in the mountains, etc. You can only make cool camo face paint designs if you get irregular paint patterns for more precision. 
Cover Your Neck and Ears and Apply Again When Needed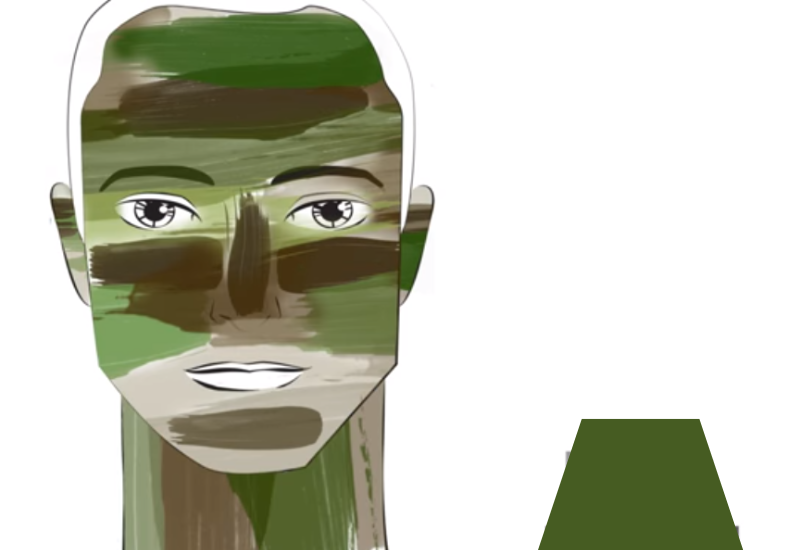 Now you need to color your neck fully and your ears. While doing so, you must ensure that the color schemes you applied on the head go the same for the neck and ears. If you have a bald head, you also need to cover it up, or else it will reflect the sunshine, and that's not good for hiding purposes.
2) Making A Bandana
Another idea to help you seamlessly hide in the environment is making a bandana. It helps you cover your face entirely. All you need to do is make it up with the three steps below.
Get Fabric with the Color You Need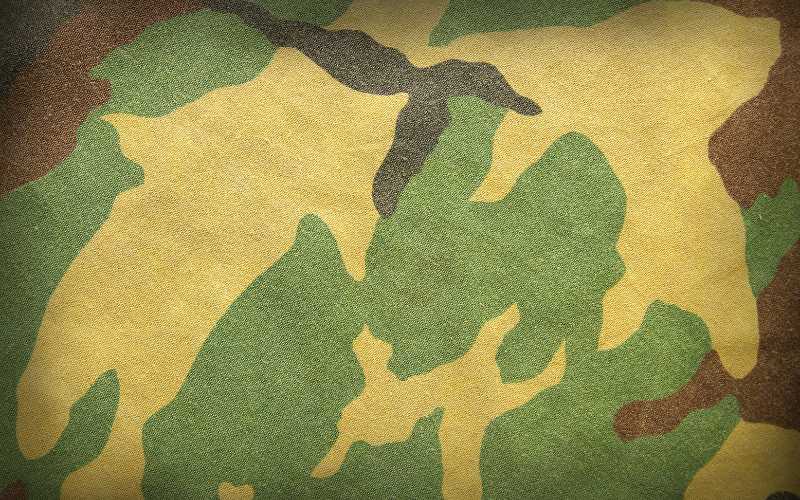 You can buy a fabric with printed patterns that suit your environment or have a plain piece and design it yourself. You at least need to grab a 2×2 ft piece for a comfortable bandana. The Fabric should be breathable, and you are good to have it in cotton or polyester.
Cut it to Fit Your Face and Add Contrasts
After buying, you need to measure it carefully, and the extra must be cut off immediately. If I look at the standard size, it is 22 inches. However, you may get it in extra inches or less. Getting it clean and neat will work best for the hiding job. However, after cutting, you need to stitch the edges all around. 
Tie Around the Face and Make Changes Accordingly
Now you are ready to put it on your face and tie it around it. Before you do so, you can customize the color scheme with some paint. You can decorate the bandana as you feel good; above all, it should be highly relatable to the environment. 
3) Adding Foliage Method
If you are still looking for significant help from the ideas I explained above, you are suitable to apply for foliage. It is one of the most valuable methods with no extra expense. You can buy foliage from Amazon or any other online portal and make it up manually. Let's follow the route below.
Collect Grass and Leaves
You need to collect the grass and leaves from the area you want to hunt or whatever you want to do. It will help you deceive the animal or other organisms nearby. You need to clasp the grass in your clothing in a natural way. Applying fresh foliage is the best way to hide your face and body. 
Stick Herbage into Your Clothing
Gluing the grass in a way they do not remove while you move from one place to another. It helps you stay in the place for longer and doesn't cost you an extra penny. 
If Greenery Gets Wilts, Replace it
Suppose you find the greenery wilts; you need to remove them immediately and get fresh ones. When leaves and grass get wilted, they can go down at any moment, and your face and body will be noticeable. So, to avoid such mistakes, you must fully keep a sharp eye on the foliage. 
I hope you like the camo face paint ideas I illustrated above. Look, camp face ideas based on creativity and some understanding of color schemes. If you know them well enough, you are good to go for manual camp face designing. However, if you need an understanding of colors and designs, you can buy them in printed shape. Keeping the color relatable to the environment can get you the best outcomes.

Wrap Up:
What does camo face paint do?
The scope of camp face paint is extensive and depends on the usage. If you are a soldier, you need camo face paint to hide in visible areas to avoid being attacked by enemies. On the other hand, if you are a hunter or a wildlife viewer, it helps you do your job seamlessly. It keeps you safe and constructive in what you do on the field.
What is the best way to camouflage your face?
There are multiple ways, and each one asks for specific requirements. Painting the camp face with the help of paint and relevant colors, starting with the light colors collection, is the best way. Camouflaging your nose, eyes, ears, neck, cheeks, and all the areas to make it seamless in the environment can be handy.